Conrad Nagel
(Conrad Nagel)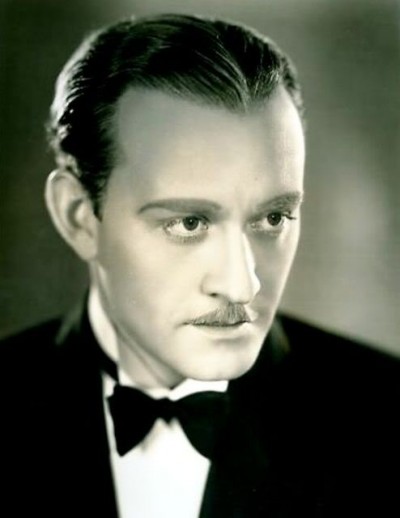 Born in Keokuk, Iowa, into an upper-middle-class family, he was the son of a musician father, Frank, and a mother, Frances (née Murphy), who was a locally praised singer. Nagel's mother died early in his life, and he always attributed his artistic inclination to growing up in a family environment that encouraged self-expression. His father, Frank, became dean of the music conservatory at Highland Park College and when Nagel was three, the family moved to Des Moines.  After graduating from Highland Park College at Des Moines, Iowa, Nagel left for California to pursue a career in the relatively new medium of motion pictures where he garnered instant attention from the Hollywood studio executives. With his 6-foot-tall (1.8 m) frame, blue eyes, and wavy blond hair; the young, Midwestern Nagel was seen by studio executives as a potentially wholesome matinee idol whose unpretentious all-American charm would surely appeal to the nation's nascent film-goers.
Nagel was immediately cast in film roles that cemented his unspoiled lover image. His first film was the 1918 retelling of the Louisa May Alcott classic, Little Women, which quickly captured the public's attention and set Nagel on a path to silent film stardom. His breakout role came in the 1920 film, The Fighting Chance, opposite Swedish starlet Anna Q. Nilsson.  In 1927, Nagel starred alongside Lon Chaney, Sr., Marceline Day, Henry B. Walthall and Polly Moran in the now lost Tod Browning directed horror film, London After Midnight. The film is quite possibly the most famous lost film ever.  Unlike so many silent films stars of the Roaring Twenties, Conrad Nagel had little difficulty transitioning to talkies and spent the next several decades being very well received in high profile films as a character actor. He was also frequently heard on radio and made many notable appearances on television. From 1937 to 1947 he hosted and directed the radio program Silver Theater. From 1949 to 1952, he hosted the popular TV game show, Celebrity Time and from 1953 to 1954, the DuMont Television Network program Broadway to Hollywood. In 1961 he made a guest appearance on Perry Mason as art collector and murderer Nathan Claver in "The Case of the Torrid Tapestry."
On May 11, 1927, Nagel was among 35 other film industry insiders to found the Academy of Motion Picture Arts and Sciences (AMPAS); a professional honorary organization dedicated to the advancement of the arts and sciences of motion pictures. Fellow actors involved in the founding included: Mary Pickford, Douglas Fairbanks, Richard Barthelmess, Jack Holt, Milton Sills, and Harold Lloyd. He served as president of the organization from 1932 to 1933. He was also a founding member of the Screen Actors Guild (SAG).  Nagel was the host of the 3rd Academy Awards ceremony held on November 5, 1930, the 5th Academy Awards on November 18, 1932, and a co-host with Bob Hope at the 25th Academy Awards ceremony on March 19, 1953. The 21-year gap between his appearances in 1932 and 1953 is a record for an Oscar ceremonies host.
Nagel was the announcer for Alec Templeton Time, a musical variety program on NBC in the summer of 1939.  Nagel married and divorced three times. His first wife, Ruth Helms, gave birth to a daughter, Ruth Margaret, in 1920. His second wife was actress Lynn Merrick. His third wife was Michael Coulson Smith, who gave birth to a son Michael in the late 1950s.  In 1970, Nagel died in New York City, aged 72, and was cremated at Garden State Crematory in North Bergen, New Jersey. Nagel's remains are interred at the Lutheran Cemetery in Warsaw, Illinois.
Born
March, 16, 1897
USA
Lee County, Iowa
Died
February, 24, 1970
USA
New York, New York
Cemetery
Lutheran Cemetery
Warsaw, Illinois
USA
16867 profile views