Conrad Burns
(Conrad Ray Burns)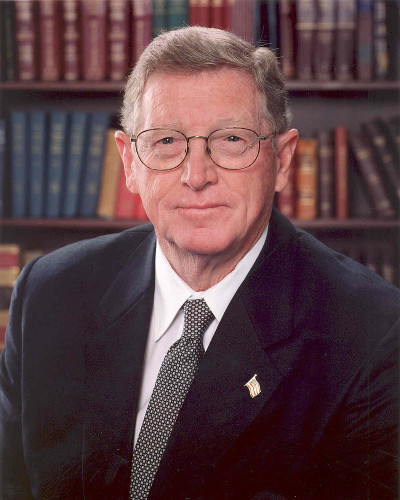 Conrad Burns faced an unexpectedly difficult reelection campaign in 2000. In February 1999, he announced that he would break his 1988 promise to hold office for only two terms, saying, "Circumstances have changed, and I have rethought my position." Later that same month, while giving a speech about American dependence on foreign oil to the Montana Equipment Dealers Association, he referred to Arabs as "ragheads." Burns soon apologized, saying that he "became too emotionally involved" during the speech. The Democratic nominee was Brian Schweitzer, a rancher from Whitefish, Montana. While Burns attempted to link Schweitzer with presidential candidate Al Gore, whom Schweitzer had never met, Schweitzer "effectively portrayed himself as nonpolitical." Schweitzer challenged Burns primarily on the issue of prescription drugs, organizing busloads of senior citizens to take trips to Canada and Mexico for cheaper medicine. Burns charged that Schweitzer favored "Canadian-style government controls" and claimed that senior citizens went to doctors to have "somebody to visit with. There's nothing wrong with them." Burns also faced trouble regarding deaths from asbestos in Libby, Montana. While he initially supported a bill to limit compensation in such cases, he withdrew his support for the bill under public criticism and added $11.5 million for the town to an appropriations bill. Conrad Burns spent twice as much money as Schweitzer on the election and defeated him by only a slim margin, 51-47 percent, while the state voted 58-33 percent for Republican presidential nominee George W. Bush. Schweitzer was elected Governor of Montana in 2004.
In December 2003, Conrad Burns and Senator Ron Wyden, an Oregon Democrat, were pleased that their legislation to combat spam, the CAN-SPAM Act, had been signed into law. Burns said, "Senator Wyden and I have worked during this time to come up with common-sense legislation to deal with spam and I think we've been successful." But in April 2005 anti-spam organization Spamhaus indicated that they were far from satisfied that the problem of spam coming from the U.S. had been addressed. Spamhaus head Steve Linford said, "Until America makes changes, everyone will still be plastered with spam." In mid-2006, Burns told the Associated Press, which was doing an article on Congressional caucuses, that he had joined the Sweetener Caucus at the behest of sugar beet growers in his state. "I don't think I've ever attended," Burns said of caucus meetings. "I do what my growers tell me. I know we grow a lot of sugar beets in Montana."
Because of his narrow win in 2000, the Democratic turnover over of Montana's state government in 2004, polls in 2006 putting his support in the state at around 40 percent, and high disapproval ratings from the Jack Abramoff scandal, Conrad Burns had been singled out as one of the most vulnerable senators facing reelection in 2006. On June 6, 2006, Burns easily won the Republican primary. In the November general election, his Democratic opponent was Montana State Senate President and organic farmer Jon Tester. In early August, CQPolitics changed its rating on the race from "Leans Republican" to "No Clear Favorite." According to some polls, Burns's approval rating had fallen as low as 39 percent, lower than any other U.S. Senator's. Since at least August the Montana Democratic Party had paid staffer Kevin O'Brien to follow Burns around the nation. O'Brien filmed the senator at all his public events, which included Senate committee hearings and various campaign appearances. These tapes' contents were used for a variety of "gotcha" press releases and even a YouTube music video. During the 2000 race against Schweitzer, cameraman Matt McKenna had been paid to trail Burns. McKenna worked as a spokesman for the Tester campaign. In an October election debate with Tester, regarding the Iraq War, Burns said that Tester "says our president doesn't have a plan. I think he's got one. He's not going to tell everyone in the world", and later told Tester, "We're not going to tell you what our plan is, Jon, because you're just going to go out and blow it." These comments were likened by critics to then presidential candidate Richard Nixon's unfulfilled 1968 promise of a "secret plan" to end the war in Vietnam. Burns was also hurt politically when he confronted a U.S. Forest Service Hotshot Crew from Virginia at an airport about a fire. On November 9, 2006, Conrad Burns conceded the election to Tester. On November 15, 2006, Burns angrily responded to questions concerning his time as a lame-duck senator, saying, "I'm not going to negotiate my problems with the goddamn press… Goodbye! Goodbye! Goodbye!"
After the passage of the Civil Rights Act of 1991, Conrad Burns invited a group of racially mixed lobbyists to a "slave auction." Following criticism, Burns responded that in such events "you have an auction and you sell the kids and they perform a day's work for whoever buys them" and said they were "rather common in Montana." During a visit to the Bozeman Daily Chronicle, Conrad Burns told one of the editors an anecdote about an elderly Montana rancher who asked him about life in Washington. The rancher asked "Conrad, how can you live back there with all those niggers?" and Burns replied that it was "a hell of a challenge." After his remarks were criticized, Burns issued an apology, saying, "Such views are inappropriate and belong in the past and that was the context in which the story was told…they are views which I do not condone and do not share." But when asked why he did not condemn the term when he heard it, Burns replied, "I don't know, I never give it much thought." One of Burns's more notable political blunders was blaming Canada for lax immigration policies. He asserted that one or more of the hijackers in the September 11 attacks entered the U.S. from Canada, a statement later proved untrue by the Canadian ambassador.
After leaving office, Conrad Burns joined the lobbying firm of GAGE, founded by his former chief of staff Leo Giacometto. He also founded Rural Solutions Corporation, a communications company that expands broadband communications in rural areas, and maintains his auction business. In February 2008, Burns registered as a lobbyist for the American Quarter Horse Association. On December 9, 2009, Burns was hospitalized after suffering from a stroke, likely as a result of atrial fibrillation, at his Arlington, Virginia home. He was taken to Virginia Hospital Center before being transferred to the intensive-care unit of a Washington, D.C. hospital. He stayed at National Rehabilitation Hospital and then returned home to Montana. In 2012, Burns endorsed Congressman Denny Rehberg in his Senate bid against Tester. Rehberg's bid failed, and Tester was reelected. Conrad Burns died in Billings, Montana on April 28, 2016 at the age of 81.
Born
January, 25, 1935
USA
Gallatin, Missouri
Died
April, 28, 2016
USA
Billings, Montana
Other
3074 profile views