Claudia Barrett
(Imagene Williams)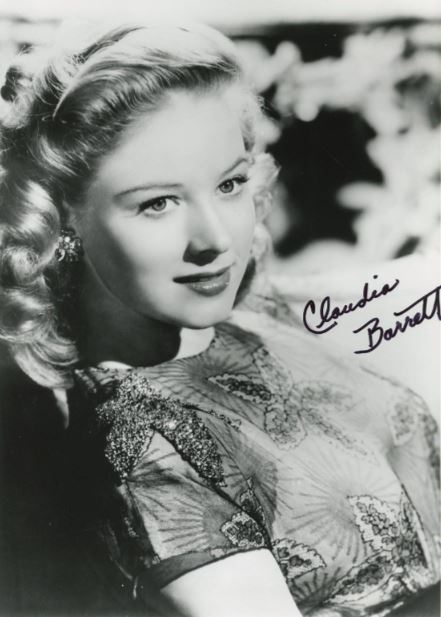 Claudia Barrett, 91, local poet, watercolor artist, and former actor, died of natural causes at her home in Palm Desert on April 30, 2021. She was born Imagene Williams on Nov 3, 1929 in West Los Angeles to Arvilla Benton and Iman Williams, who ran a lunch counter near the Sepulveda VA, where the gassed veterans could taste Arvilla's extra spicy chili.
After Claudia's birth and the onset of the depression, the family moved to Van Nuys to start a business processing and wholesaling eggs, when the San Fernando Valley was still mostly rural. With the help of a large extended family they built a house and barn on an acre of what is now prime real estate. The family practiced Christian Science, so both boys were placed in the Medical Corps in WWII. Fain was killed in New Guinea. Arvilla and Iman divorced after the war.
Imagene was an extremely shy child, and her mother enrolled her in acting, dancing, and singing lessons to help her overcome this trait. The training was successful, and Imagene studied with Harriet Holt through high school, where she was also active in drama activities. She won Miss Sherman Oaks in a local beauty contest, and after graduating from Van Nuys High School, she studied at the Pasadena Playhouse for a year. That summer she acted in a little theater production, where in 2½ months she met, fell in love with, and married actor Alan Wells, then 24 to Imagene's 18. She and Alan divorced in 1957.
Her career took off. She got an agent, signed with Warner Brothers, and had her name changed to Claudia Barrett. She was one of the last actors in the studio system, where she studied acting, dancing, singing, beauty, diction, comportment, modeling, the works. She worked steadily for the next 15 years, mainly in television westerns. She could ride horses, thanks to a childhood in the Scouts and working as a counselor at a Girl Scout camp in her 20s and early 30s. She also taught method acting to young people in a drama school started by Mickey Rooney. To this day, she still receives fan mail and requests for photos.
Although she loved acting, by the mid 60s she realized her career wasn't advancing, so she switched to ancillary jobs in film distribution, publicity, and PR, but was not satisfied. However, in 1981 she found her dream job at the Academy of Motion Picture Arts and Sciences (AMPAS). She worked in the division that produced the awards for scientific and technical advances, got to go to the Academy Awards Show every year, and was able to give tickets to family members in the early years.
Shortly thereafter, Claudia moved to Palm Desert, where her best friend (briefly) lived. Claudia was a life-long learner. She was active in the Coachella Valley Watercolor Society. She joined the Rancho Mirage Public Library Poetry Group, wrote her memoirs, and published a book of her poetry and watercolors. She'd been a follower of Science of Mind for decades, and became active in what became the Center for Spiritual Living, where she volunteered in the gift shop and studied topics including Emerson.
Claudia was loved by many people, and kept friends for life. She was known for her sweet personality, kindness, and cheerfulness. She was an excellent and thoughtful gift giver who loved Christmas and other holidays with her family.
Claudia was predeceased by her parents, Iman Williams and Arvilla Benton Williams Carson, her brothers Fain and Bob Williams, Bob's wife Jeanne, their son Bruce, her special aunt Bernice Retlaw Warner, cousin Marijac Retlaw Comer, lifelong friend and teacher Harriett Holt, and many other family and friends.
She is survived by her niece Bonnie Lloyd (Bob, stepson Brendan), nephew Ron (Jackie, children Alexis, Ronnie, Chris, Pat, Melanie, and their children), numerous cousins and friends.
Service on Wednesday, June 9, at 2:00 at the Center for Spiritual Living, 45630 Portola Ave, Palm Desert, officiated by Dr. Laura Shackleford.
Born
November, 03, 1929
Sherman Oaks, Los Angeles
Died
April, 30, 2021
Palm Desert, California,
Cause of Death
185 profile views