Clarence "Taffy" John "Taffy" Abel
(Clarence John Abel)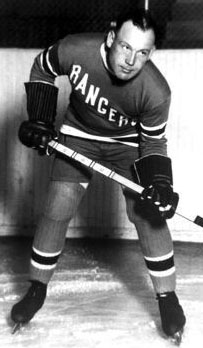 Clarence John "Taffy" Abel (May 28, 1900 – August 1, 1964) was a professional ice hockey player in the National Hockey League (NHL). He was a member of two Stanley Cup championship teams. He was the first United States-born player to become a NHL regular. He is a member of the United States Hockey Hall of Fame.  Clarence "Taffy" Abel was a silver medalist on the United States in the 1924 Olympics, serving as flagbearer for the U.S. delegation. Abel scored 15 goals for the United States in the tournament.  As a member of the Minneapolis Millers of the CHL during the 1925-26 season, Abel was named to the CHL's First All-Star team at the defence position.
Abel played in the NHL for eight years. He was signed by Conn Smythe to the New York Rangers, largely based upon his strong performance at the Winter Olympics in 1924. With the Rangers, he wore sweater number 4, and, paired with defenceman Ching Johnson, was a key member of the Stanley Cup winning Rangers team in 1927-28. After the 1929 season, Abel's rights were sold to the Chicago Black Hawks, where he played five more years, wearing sweater number 2. Abel was a member of the Cup-winning Black Hawks in 1933-34, his last NHL season.
Abel returned to Sault Ste. Marie after retirement, coaching ice hockey and operating a tourist hotel. At the age of 64, on August 1, 1964, Clarence Abel died in his home in Sault Ste. Marie. Nine years later, he was inducted into the United States Hall of Fame as a player.  The home rink for the Lake Superior State University hockey program is named after Taffy Abel.
Born
May, 28, 1900
USA
Sault Sainte Marie, Michigan
Died
August, 01, 1964
USA
Sault Sainte Marie, Michigan
Cemetery
Riverside Cemetery
Sault Sainte Marie, Michigan
USA
16861 profile views