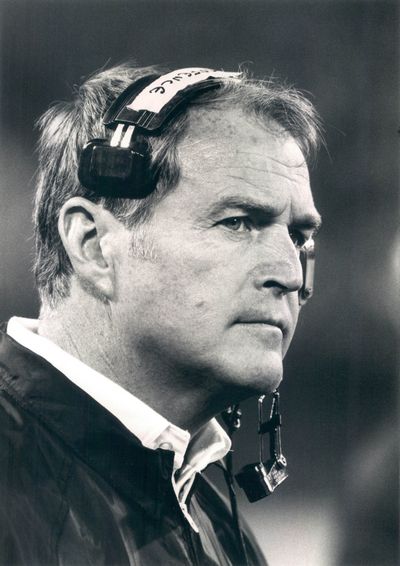 Born in Cleveland, Ohio, Noll attended Benedictine High School where he played running back and tackle, winning All-State honors. He won a football scholarship to the University of Dayton. Noll was drafted by the Cleveland Browns in 1953, where he played until his retirement in 1959 at the age of 27.
Noll was an assistant coach for the American Football League's San Diego Chargers and the NFL Baltimore Colts before becoming the NFL Pittsburgh Steelers' head coach. He is considered part of Sid Gillman's coaching tree. Noll was the defensive coordinator of the Baltimore Colts (under head coach Don Shula) during their 13–1 season in 1968, in which the team set an NFL record of fewest points allowed (144). The 1968 Colts won the NFL championship by routing the Cleveland Browns 34–0 in Cleveland, but were shocked by the upstart AFL champion New York Jets, 16–7, in Super Bowl III at the Orange Bowl in Miami.
Noll was named the 14th head coach of the Pittsburgh Steelers on January 27, 1969, after Penn State coach Joe Paterno turned down an offer for the position. Steelers owner Art Rooney would later credit Don Shula as the person that recommended Noll as a head coach. Noll implemented a defensive system in Pittsburgh that became the legendary "Steel Curtain" defense. His coaching style earned him the nickname of The Emperor Chaz by sports announcer Myron Cope. Noll is the only head coach to win four Super Bowls, coaching the Steelers to victory in Super Bowl IX (1975), Super Bowl X (1976), Super Bowl XIII (1979), and Super Bowl XIV (1980).
The key to Noll's coaching success during this unprecedented run was the Steelers' skill in selecting outstanding players in the NFL college player draft. Noll's first round one pick was Joe Greene, a defensive tackle from North Texas State, who went on to become a perennial All-Pro and anchor the defensive line. During the next few years, the Steelers drafted quarterback Terry Bradshaw (Louisiana Tech) and running back Franco Harris (Penn State) as round one picks. In the 1974 draft, Noll and the Steelers achieved a level of drafting success never seen before or since, when they selected four future Hall of Fame players with their first five picks: wide receivers Lynn Swann and John Stallworth, middle linebacker Jack Lambert, and center Mike Webster. To this day, no other draft by any team has included more than two future Hall of Famers.
A very meticulous coach, Noll was well-known to coach players during practice on fundamentals–such as the three-point stance–that players were already expected to know. For instance, Andy Russell, already a Pro Bowl linebacker before Noll arrived and one of the few players Noll kept after purging the roster his first year, was told by Noll that he didn't have his feet positioned right. As a result of Noll's attention to detail, Russell went on to become a key member for the first two Super Bowl teams and started the linebacker tradition that continues today in Pittsburgh .
While most of his contemporaries (as well as current NFL head coaches) enforced strict curfew rules on its players, Noll was very lax on off-the-field behavior. This was shown at Super Bowl IX. While Noll's counterpart — Minnesota Vikings head coach Bud Grant — strictly kept his team in their hotel rooms except for practice before the game, Noll told his team upon arriving in New Orleans to go out on Bourbon Street "and get the partying out of your system now." It can be argued that Noll allowing his players to go out while in New Orleans helped them be more relaxed when they played the Vikings and contributed to their 16-6 win.
The hallmark of the team during the 1970s was a stifling defense known as the Steel Curtain, loaded with All-Pros. The starting eleven (linemen L. C. Greenwood, Joe Greene,Ernie Holmes (later Steve Furness), Dwight White, linebackers Jack Ham, Jack Lambert, Andy Russell (later Loren Toews), defensive backs Mel Blount, J.T. Thomas, and safeties Glen Edwards (later Donnie Shell) and Mike Wagner had a collective level of talent unseen before in the NFL.
The teams that won Super Bowls IX and X used a run-oriented offense, primarily featuring Franco Harris and blocking back Rocky Bleier. Over the next few years, Terry Bradshaw matured into an outstanding passer, and the teams that won Super Bowls XIII and XIV fully utilized the receiving tandem of Lynn Swann and John Stallworth.
Noll was never a coach who sought a lot of media attention, and his 1970s teams were so talented that his contributions as head coach (and architect of the team) often were overlooked.  In 1989, Noll finally achieved some recognition as NFL Coach of the Year, when he guided the Steelers into the second round of the playoffs. The team was not especially talented and lost its first two regular season games by scores of 51–0 and 41–10. However, Noll did a remarkable job in keeping the team focused and steadily improving its play as they made the playoffs and played competitively in two playoff games.
Noll retired as Steelers head coach after the 1991 season with a record of 209–156–1, regular season and postseason combined. He was elected to the Pro Football Hall of Fame in 1993.  The last team he coached gave him a gift of a stationary bicycle, which he avidly used.
Noll maintained a residence in suburban Pittsburgh, however he spent some time at his Florida home. His mobility was limited by chronic back problems. Noll held the ceremonial title of Administration Adviser in the Pittsburgh Steelers' front office but had no real role in the team's operations after his retirement. He spent about half the year in Pittsburgh with his wife Marianne. They had a son, Chris, who is a teacher in a private high school in Connecticut.

Noll died of natural causes in his suburban Pittsburgh condo on June 13, 2014. He had Alzheimer's disease. Noll's funeral is planned for June 17, 2014 at St. Paul Cathedral in Pittsburgh.

Born
January, 05, 1932
USA
Cleveland, Ohio
Died
June, 13, 2014
USA
Sewickley, Pennsylvania
17626 profile views