Christine White
(Christine White)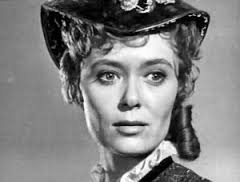 Christine White
Christine Lamson White (May 4, 1926 – April 14, 2013) was an American actress, most noted for her role in the television show Twilight Zone episode "Nightmare at 20,000 Feet".
Early life
White was born in Washington, D.C. to parents Lucia W. and James Andrew White. While studying English at the University of North Carolina at Chapel Hill she began acting in plays. She earned a Masters degree in speech and drama from Catholic University.
Career
By the 1950s she had left her home in New York City and relocated to Los Angeles where she began to appear in television shows. Her first role was in 1952 in the series The Web.
Over the course of her 20-year career she played in over 50 roles including, Bonanza, "Have Gun Will Travel", Perry Mason, The Rifleman, The Loretta Young Show, The Untouchables and Father Knows Best. Her final role was in the 1976 TV movie "James Dean".
Her most popular role was alongside William Shatner in the Twilight Zone episode "Nightmare at 20,000 Feet", where she portrays the wife of "Bob Wilson" (Shatner), "Julia Wilson". Show host Rod Serling told viewers early in the episode that Bob's destination on the flight was the 'darkest corner of the Twilight Zone.'
Death
White died on April 14, 2013, at a nursing home in Washington D.C.
Born
May, 04, 1926
United States
Washington
Died
April, 14, 2013
United States
Washington
16577 profile views