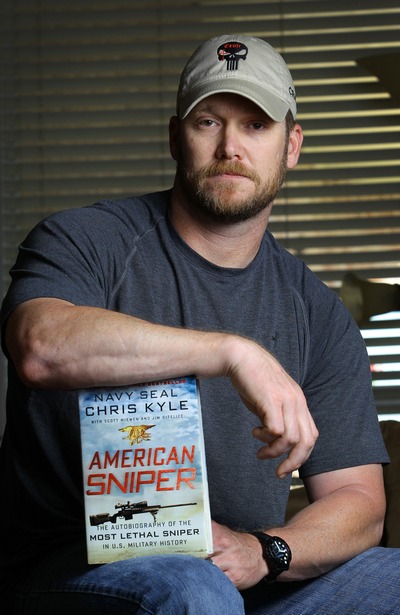 Born in Odessa, Texas, the son of a Sunday school teacher and a deacon, Kyle's father bought his son his first rifle at 8 years old, a bolt-action .30-06 Springfield rifle, and later a shotgun, with which they hunted pheasant, quail, and deer. After school, Kyle became a professional bronco rodeo rider and worked on a ranch, but his profession ended abruptly when he severely injured his arm. After his arm healed, he went to a military recruiting office, interested in joining the United States Marine Corps (USMC) with a special interest in special operations. Kyle signed up, but was rejected because of the pins in his arm. Kyle met with an Army recruiter next who told him about the Special Forces and the Rangers. A Navy recruiter told him about the Navy SEALs as he was leaving the recruiting office. After initally being declined, he received a call and he had the chance to go to BUD/S (Basic Underwater Demolition SEAL school), finally joining the Navy in 1999.
Assigned to SEAL Team 3, Sniper Element Charlie, later Cadillac, platoon within the Naval Special Warfare Command, and with over four tours of duty, Kyle served in many major battles of the Iraq War. His first long-range kill shot was taken during the initial invasion, when he shot a woman approaching a group of Marines with a hand grenade in her hand. As ordered, he opened fire, killing the woman before she could attack. He stated, that "the woman was already dead. I was just making sure she didn't take any Marines with her."   Because of his track record as a marksman during his deployment to Ramadi, the insurgents named him Shaitan Ar-Ramadi (English: The Devil of Ramadi), and put a $21,000 bounty on his head that was later increased to $80,000. They posted signs highlighting the cross on his arm as a means of identifying him.
In 2008, outside Sadr City, Kyle made his longest successful shot, after he spotted an insurgent with a rocket launcher near a US Army convoy at a range of 2,100 yards (1.9 km). As recounted in his book American Sniper, Kyle fired a shot from his .338 Lapua Magnum-chambered McMillan TAC-338 sniper rifle, killing the insurgent from about 2,100 yards away. The fighter was about to launch a rocket-propelled grenade at the Army convoy.  During four tours of duty in Iraq, Kyle was shot twice and caught up in six separate IED explosions. His other weapons included the Mk 12 Designated Marksman Rifle, Sig Sauer P220 Pistol, M4 carbine and a .300 Winchester Magnum sniper rifle.
Kyle left the US Navy in 2009 and moved to Midlothian, Texas, with his wife, Taya, and two children. He was President of Craft International, a tactical training company for the US military and Law Enforcement communities. In 2012, Harper Collins released Kyle's autobiographical book American Sniper.  Kyle paired with FITCO Cares Foundation, a non-profit organization which created the Heroes Project to provide free in-home fitness equipment, individualized programs, personal training, and life-coaching to in-need veterans with disabilities, Gold Star families, or those suffering from post-traumatic stress disorder. On August 13, 2012, Kyle appeared on the reality television show Stars Earn Stripes, which features celebrities pairing up with a special operations or law enforcement professional who will train them in weapons and combat tactics. Kyle was teamed with actor Dean Cain.
On Saturday, February 2, 2013, Kyle and a companion, Chad Littlefield, were shot and killed at the Rough Creek Ranch-Lodge-Resort shooting range in Erath County, Texas by 25-year-old fellow veteran Marine Eddie Ray Routh, whom Kyle and Littlefield had purportedly taken to the gun range in an effort to help him with what they were told by his mother was post traumatic stress disorder (PTSD).
Local police captured Routh after a short freeway chase, which ended when Routh, who had left the scene of the shootings in Kyle's Ford F-350 truck, crashed into a police cruiser. Routh was arrested just before 9 p.m. the same day in Lancaster, Texas. Erath County sheriffs said the motive for the killing was unclear. Routh, from Lancaster, was arraigned February 2, 2013, on two counts of capital murder, according to Sgt. Lonny Haschel of the Texas Department of Public Safety. He was taken to the Erath County Jail for holding under a $3 million bond. Routh's trial was set to begin May 5, 2014, but was delayed to allow more time to comply with DNA test requirements.  A memorial service was held for Kyle at Cowboys Stadium in Arlington, Texas, on February 11, 2013. Kyle was buried on February 12, 2013, in Texas State Cemetery, Austin, Texas, after a funeral procession from Midlothian, Texas, to Austin, stretching over 200 miles. Hundreds of local and out-of-state residents lined Interstate 35 to view the procession and pay their final respects to Kyle.
Born
April, 08, 1974
USA
Odessa, Texas
Died
February, 02, 2013
USA
Erath County, Texas
Cemetery
Texas State Cemetery
Austin, Texas
USA
17908 profile views