Chavela Vargas
(Chavela Vargas)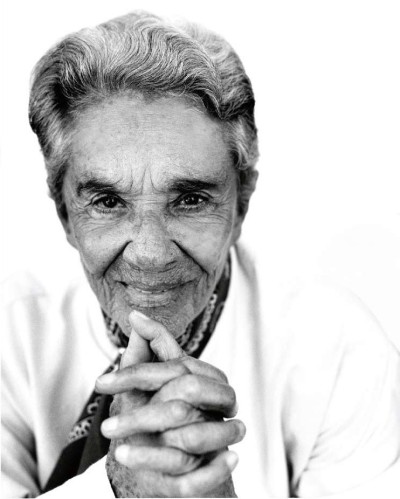 Although the name Chavela Vargas is associated with México and its culture, she was born in Costa Rica, in San Joaquín de Flores, as Isabel Vargas Lizano, daughter of Francisco Vargas and Herminia Lizano. She was baptized on 15 July 1919 with the forenames "María Isabel Anita Carmen de Jesús." She had a difficult childhood: her parents divorced and left her under the care of an uncle, and she contracted poliomyelitis. She went by Chavela, which is a pet name for Isabel. At age 14, she abandoned her native country due to lack of opportunities for a musical career, seeking refuge in Mexico, where an entertainment industry was burgeoning. There she resided for almost eight decades and obtained Mexican nationality.
For many years she sang on the streets, but in her thirties she became a professional singer. In her youth, she dressed as a man, smoked cigars, drank heavily, carried a gun, and was known for her characteristic red jorongo, which she donned in performances until old. Vargas sang the canción ranchera, which she performed in her own peculiar style. The typical ranchera, as represented by José Alfredo Jiménez, was a masculine but emotional song about love and its mishaps, usually mediated by alcohol, since in a macho culture, the display of feelings by men is allowed only to the drunk. The ranchera is sung from a man's perspective and with a mariachi accompaniment. Chavela sang this type of song as a solo, using only guitar and voice, evoking the singing style of a drunk man. She often slowed down the tempo of melodies to draw more dramatic tension out of songs, so they could be taken as naughtily humorous.
Towards the end of the 1950s, she became known within artistic circles, due in part to her performances in Acapulco, center of international tourism, where she sang at the Champagne Room of the restaurant La Perla. Her first album, Noche de Bohemia (Bohemian Night), was released in 1961 with the professional support of José Alfredo Jiménez, one of the foremost singer/songwriters of Mexican ranchera music. She eventually recorded more than 80 albums. Vargas was hugely successful during the 1950s, the 1960s, and the first half of the 1970s, touring in Mexico, the United States, France, and Spain and was close to many prominent artists and intellectuals of the time, including Juan Rulfo, Agustín Lara, Frida Kahlo, Diego Rivera, Dolores Olmedo and José Alfredo Jiménez.
In the late 1970s Vargas partially retired from performing due to a 15-year battle with alcoholism, which she described in her autobiography (Y si quieres saber de mi pasado [And if you want to know about my past], published in 2002) as "my 15 years in hell."[7] Chavela couldn't keep on with her heavy drinking and intense lifestyle. In 1970, "submerged in an alcoholic haze" as she described it, she was taken in by an Indian family who nursed her back to health without knowing who she was. In 2003, she told The New York Times that she had not had a drink in 25 years.
Vargas returned to the stage in 1991, performing at a bohemian nightclub called "El Hábito" in Coyoacán, Mexico City. Her career started to recover international prominence, with performances in Latin America, Europe and the United States. Vargas debuted at Carnegie Hall in 2003 at age 83 at the behest and promotion of Spanish director Pedro Almodóvar, an admirer and friend.  At age 81, she publicly declared on Colombian television that she was a lesbian. In 2000, she told the Spanish newspaper El País: "Nobody taught me to be like this, I was born this way. Since I opened my eyes to the world, I have never slept with a man. Never. Just imagine what purity. I have nothing to be ashamed of."  Vargas died on 5 August 2012 in Cuernavaca, Morelos, Mexico, after she was admitted to a hospital for heart and respiratory problems.
Born
April, 17, 1919
San Joaquín de Flores, Costa Rica
Died
August, 05, 2012
Cuernavaca, Morelos, Mexico
17221 profile views