Charlotte Walker
(Charlotte Walker)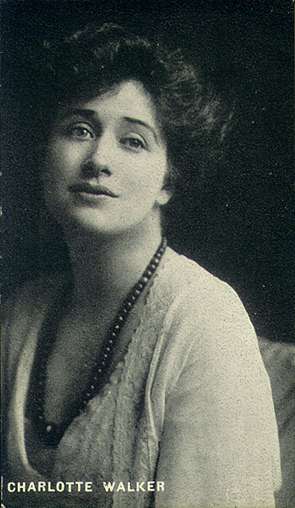 Walker made her stage debut as a teen. At nineteen she performed in London, England in a comedy called The Mummy. She performed with Richard Mansfield. Later returned to her native Texas.  Walker appeared as June in Trail of the Lonesome Pine, in 1911. She would later reprise the role in Cecil B. DeMille's 1916 film Trail of the Lonesome Pine. David Belasco noticed her in On Parole. He signed her for starring roles in plays The Warrens of Virginia, Just a Wife, and Call The Doctor. Each of the Belasco productions was staged prior to World War I.  She continued to act on the Broadway stage. In 1923 she played with Ethel Barrymore in The School For Scandal. It was produced by the Player's Club.
Walker's motion picture career began in 1915 with Kindling and Out of the Darkness. Sloth (1917) is a five-reeler which features Walker. In the third reel of this film she plays a youthful Dutch maid who is about sixteen years old. The setting is an old Dutch settlement on Staten Island, New York. The theme stresses the perils of indolence to a nation of people. It cautions against permitting luxury to replace the simplistic life led by America's forebears. In her later silent film work Walker can be seen in The Midnight Girl (1925) starring alongside a pre-Dracula Bela Lugosi. The Midnight Girl is one of Walker's few silents that survives.  As a film actress Walker continued to perform in films into the early 1930s. Her later screen performances include roles in Lightnin (1930), Millie (1931), Salvation Nell (1931), and Hotel Variety (1933).
Walker's first husband was physician Dr. John B. Haden. A daughter Sara Haden was born of this marriage and there may have been other children. After her divorce, she returned to the stage. Her second husband, Eugene Walter, was a playwright who adapted the novel The Trail of the Lonesome Pine for the Broadway stage. The second marriage also ended in divorce in 1930.  Charlotte Walker died in 1958 at a hospital in Kerrville, Texas at age 81. Her daughter Sara Haden became a well-known character actress.
Born
December, 29, 1876
USA
Galveston, Texas
Died
March, 23, 1958
USA
Kerrville, Texas
Cemetery
Old City Cemetery
Galveston, Texas
USA
16129 profile views