Charlotte of Mecklenburg-Strelitz
(Sophia Charlotte)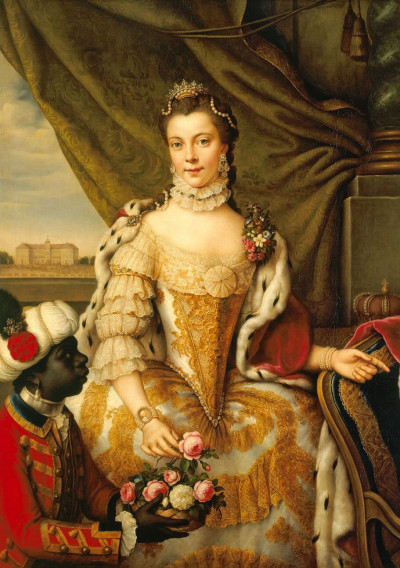 Sophia Charlotte was born on 19 May 1744. She was the youngest daughter of Duke Charles Louis Frederick of Mecklenburg-Strelitz, Prince of Mirow and his wife Princess Elizabeth Albertine of Saxe-Hildburghausen. Mecklenburg-Strelitz was a small north German duchy in the Holy Roman Empire.  The children of Duke Charles were all born at the Untere Schloss (Lower Castle) in Mirow. According to diplomatic reports at the time of her engagement to George III, Charlotte had received "a very mediocre education".  When King George III succeeded to the throne of Great Britain upon the death of his grandfather, George II, he was unmarried. His mother and advisors were anxious to have him settled in marriage. The seventeen-year-old Princess Charlotte of Mecklenburg-Strelitz appealed to him as a prospective consort partly because she had been brought up in an insignificant north German duchy and therefore would have had no experience of power politics or party intrigues. He instructed her on her arrival in London "not to meddle", a precept she was glad to follow.  Charlotte spoke no English but was quick to learn the language, albeit speaking with a strong German accent. It was noted by many observers that she was "ugly", had a dark complexion and flared nostrils. "She is timid at first but talks a lot, when she is among people she knows", said one observer.  The King announced to his Council in July 1761, according to the usual form, his intention to wed the Princess. By the end of August 1761, a party of escorts departed for Germany to conduct Princess Charlotte to England. Arriving at St. James's Palace on 7 September, the Princess met the King and the royal family. The following day at nine o'clock, the wedding ceremony took place in the Chapel Royal and was performed by the Archbishop of Canterbury, Thomas Secker.
Less than a year after the marriage, on 12 August 1762, the Queen gave birth to her first child, the Prince of Wales, who would later become King George IV. In the course of their marriage, they had 15 children, all but two of whom (Octavius and Alfred) survived into adulthood.  Around this time the King and Queen moved to Buckingham House, at the western end of St. James's Park, which would later be known as Buckingham Palace. The house which forms the architectural core of the present palace was built for the first Duke of Buckingham and Normanby in 1703 to the design of William Winde. Buckingham House was eventually sold by Buckingham's descendant, Sir Charles Sheffield, in 1761 to George III for £21,000 (£2,890,000 as of 2015).  The house was originally intended as a private retreat, in particular for Charlotte, and was known as The Queen's House.—14 of their 15 children were born there. St. James's Palace remained the official and ceremonial royal residence.  The King enjoyed country pursuits and riding and preferred to keep his family's residence as much as possible in the then rural towns of Kew and Richmond-upon-Thames. He favoured an informal and relaxed domestic life, to the dismay of some courtiers more accustomed to displays of grandeur and strict protocol. Lady Mary Coke was indignant on hearing in July 1769 that the King, Queen, her visiting brother Prince Ernest and Lady Effingham had gone for a walk through Richmond town by themselves without any servants. "I am not satisfied in my mind about the propriety of a Queen walking in town unattended."  From 1778, the Royal family spent much of their time at a newly constructed residence, Queen's Lodge at Windsor, opposite Windsor Castle, in Windsor Great Park where the King enjoyed hunting deer. The Queen was responsible for the interior decoration of their new residence, described by friend of the Royal Family and diarist Mary Delany: "The entrance into the first room was dazzling, all furnished with beautiful Indian paper, chairs covered with different embroideries of the liveliest colours, glasses, tables, sconces, in the best taste, the whole calculated to give the greatest cheerfulness to the place."  The King's first bout of physical and mental illness in 1788 distressed and terrified the Queen. She was overheard by the writer Fanny Burney, at that time one of the Queen's attendants, moaning to herself with "desponding sound": "What will become of me? What will become of me?" As the King gradually became permanently insane, the Queen's personality altered: she developed a terrible temper, sank into depression, no longer enjoyed appearing in public, not even at the musical concerts she had so loved, and her relationships with her adult children became strained. From 1792, she found some relief from her worry about her husband by planning the gardens and decoration of a new residence for herself, Frogmore House, in Windsor Home Park.
King George III and Queen Charlotte were music connoisseurs with German tastes, who gave special honour to German artists and composers. They were passionate admirers of the music of George Frideric Handel.  In April 1764, Wolfgang Amadeus Mozart, then aged eight, arrived in Britain with his family as part of their grand tour of Europe and remained until July 1765. The Mozarts were summoned to court on 19 May and played before a limited circle from six to ten o'clock. Johann Christian Bach, eleventh son of the great Johann Sebastian Bach, was then music-master to the Queen. He put difficult works of Handel, J. S. Bach, and Carl Friedrich Abel before the boy: he played them all at sight, and those present were quite amazed. Afterwards, the young Mozart accompanied the Queen in an aria which she sang, and played a solo work on the flute. On 29 October, the Mozarts were in town again, and were invited to court to celebrate the fourth anniversary of the King's accession. As a memento of the royal favour, Leopold Mozart published six sonatas composed by Wolfgang, known as Mozart's Opus 3, that were dedicated to the Queen on 18 January 1765, a dedication she rewarded with a present of fifty guineas.
Queen Charlotte was an amateur botanist who took a great interest in Kew Gardens. In an age of discovery, when travellers and explorers such as Captain James Cook and Sir Joseph Banks were constantly bringing home new species and varieties of plants, she ensured that the collections were greatly enriched and expanded. Her interest in botany led to the South African flower, the Bird of Paradise, being named Strelitzia reginae in her honor.  Among the royal couple's favored craftsmen and artists were the cabinetmaker William Vile, silversmith Thomas Heming, the landscape designer Capability Brown, and the German painter Johann Zoffany, who frequently painted the king and queen and their children in charmingly informal scenes, such as a portrait of Queen Charlotte and her children as she sat at her dressing table. In 1788 the royal couple visited the Worcester Porcelain Factory (founded in 1751, and later to be known as Royal Worcester), where Queen Charlotte ordered a porcelain service that was later renamed "Royal Lily" in her honour. Another well-known porcelain service designed and named in her honour was the "Queen Charlotte" pattern.
The queen founded orphanages, and in 1809 became the patron (providing new funding) of the General Lying-in Hospital, a hospital for expectant mothers. It was subsequently renamed as the Queen's Hospital, and is today the Queen Charlotte's and Chelsea Hospital. The education of women was of great importance to her, and she ensured that her daughters were better educated than was usual for young women of the day; however, she also insisted that her daughters live restricted lives close to their mother, and she refused to allow them to marry until they were well-advanced in years. As a result, none of her daughters had legitimate issue (one, Princess Sophia, may have had an illegitimate son).  In 2004, the Queen's Gallery at Buckingham Palace staged an exhibition illustrating George and Charlotte's enthusiastic arts patronage, which was particularly enlightened in contrast to that of earlier Hanoverian monarchs. It compared favorably to the adventuresome tastes of the King's father, Frederick, Prince of Wales. Up until 1788, portraits of Charlotte often depict her in maternal poses with her children, and she looks young and contented; however, in that year her husband fell seriously ill and became temporarily insane. It is now thought that the King was suffering from porphyria, but at the time the cause of the King's illness was unknown. Sir Thomas Lawrence's portrait of her at this time marks a transition point, after which she looks much older in her portraits; the Assistant Keeper of Charlotte's Wardrobe, Mrs. Papendiek, wrote that the Queen was "much changed, her hair quite grey".
The Queen died in the presence of her eldest son, the Prince Regent, who was holding her hand as she sat in an armchair at the family's country retreat, Dutch House in Surrey (now known as Kew Palace). She was buried at St George's Chapel at Windsor Castle. Her husband died just over a year later. She is the second longest-serving consort in British history (after the present Duke of Edinburgh), having served as such from her marriage (on 8 September 1761) to her death (17 November 1818), a total of 57 years and 70 days.  Her eldest son, the Prince Regent, claimed Charlotte's jewels at her death, but the rest of her property was sold at auction from May to August 1819. Her clothes, furniture, and even her snuff were sold by Christie's. It is highly unlikely that her husband ever knew of her death. He died blind, deaf, lame and insane fourteen months later.
Born
May, 19, 1744
Minow, Germany
Died
November, 17, 1818
United Kingdom
Kew Palace, Kew, England
Cemetery
St George's Chapel at Windsor Castle
Windsor, England
United Kingdom
10929 profile views