Charlie Trotter
(Charlie Trotter)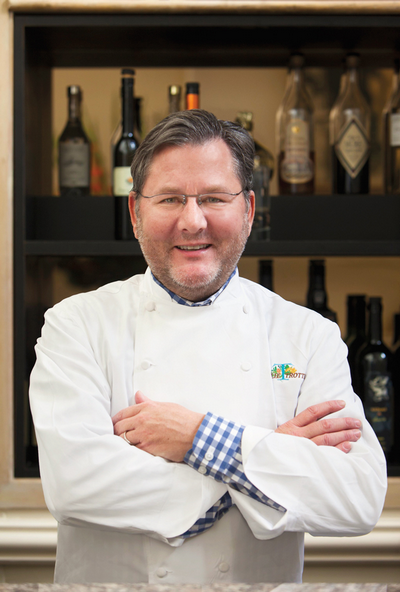 For five years after college, he worked and studied in Chicago, San Francisco (at the California Culinary Academy), Florida and Europe.  Trotter was the host of the 1999 PBS cooking show The Kitchen Sessions with Charlie Trotter, in which he details his recipes and cooking techniques. He likened cooking to an improvisational jazz session in that as two riffs will never be the same, so too with food. He also wrote 14 cookbooks and three management books, and promoted a line of organic and all-natural gourmet foods distributed nationally.  Trotter was involved with his philanthropic Charlie Trotter Culinary Education Foundation and other causes. He was awarded the Humanitarian of the Year award in 2005 by the International Association of Culinary Professionals. He invited groups of public high school students into his restaurant as part of his Excellence Program two to three times per week: after eating a meal, the students were told how the food was prepared and the motivations of those preparing it.
Trotter also was unusual among celebrity chefs for his outspokenness in matters of ethics, most famously when he took foie gras off the menu in 2002 for ethical reasons. However, Trotter refused to be associated with the animal rights group Farm Sanctuary stating, "These people are idiots. Understand my position: I have nothing to do with a group like that. I think they're pathetic. … [S]ome of their tactics are crude and uncivilized even."  Trotter made a cameo appearance in the 1997 film My Best Friend's Wedding, screaming at an assistant, "I will kill your whole family if you don't get this right! I need this perfect!" a parody of a stereotypical screaming angry chef.
Trotter was the subject of a number of lawsuits. In 2003 he was the subject of two class-action lawsuits pertaining to the compensation of his employees and alleged violations of labor law, both front-of-the-house (service) and back-of-the-house (cooks). The first, filed by former waiter Kurt Sorensen, alleges that rather than receiving the tips they collected, waiters were paid from a restaurant-wide pool, and their share was significantly lower than the amount they had collected, in violation of minimum-wage law. This suit was settled confidentially. The second, filed September 17, 2003 by former cook Beverly Kim, alleged that cooks were required to work unpaid overtime. This suit was settled in 2005, resulting in a liability of almost $700,000, though of this only about $300,000 was paid out, as many eligible former employees returned their share.  On June 13, 2013, Trotter was sued by Bekim and Ilir Frrokaj, two wine-collecting brothers, who accused him of selling them a counterfeit magnum bottle of 1945 Domaine de la Romanée-Conti for $46,000.
Trotter married his first wife, Lisa Ehrlich, on August 31, 1986. They met in 1981 at University of Wisconsin-Madison. Lisa helped open the restaurant and served as its first dining room manager and wine director until the couple divorced in August 1990.  Trotter's second marriage, which ended in divorce, produced a son, Dylan.  In February 2010, Trotter married longtime girlfriend Rochelle Smith, who later became his publicist.  On November 5, 2013, Trotter's son Dylan found him unconscious in his Lincoln Park home. Trotter was taken to Northwestern Memorial Hospital, where he was pronounced dead. Trotter died from a stroke. Former understudy Graham Elliot called Trotter a "mentor, trailblazer, philosopher, artist, teacher [and] leader."
Born
September, 08, 1959
USA
Wilmette, Illinois
Died
November, 05, 2013
USA
Chicago, Illinois
Other
15750 profile views