Charles O'Banion
(Charles O'Banion)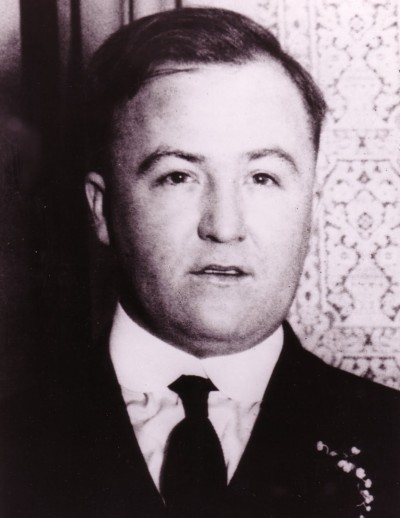 O'Banion was born to Irish Catholic parents in the small town of Maroa in Central Illinois. The O'Banion family moved to Aurora, Illinois, when Dean was a small child. In 1901, after his mother's death, he moved to Chicago with his father and one of his brothers (a second brother, Frank, remained in Maroa). The family settled in Kilgubbin, otherwise known as, "Little Hell," a heavily Irish area on the North Side of Chicago that was notorious citywide for its crime.  As a youngster, "Deanie," as he became known, sang in the church choir at Chicago's Holy Name Cathedral. However, neither music nor religion held O'Banion's interest; instead the street life of Kilgubbin caught his eye. An early nickname for O'Banion was "Gimpy" due to his short left leg, but few people had enough nerve to call him that. The shorter leg was said to be the result of a childhood streetcar accident.
O'Banion and his friends (Earl "Hymie" Weiss, Vincent "The Schemer" Drucci, and George "Bugs" Moran) joined the Market Street Gang, which specialized in theft and robbery for Chicago's black market. The boys later became, "sluggers," thugs hired by a newspaper to beat newsstand owners who did not sell the paper. The Market Street Gang started out working for the Chicago Tribune. However, they later switched to the rival Chicago Examiner due to a more attractive offer from newspaper boss Moses Annenberg. Through Annenberg, the gang met safecracker Charles "The Ox" Reiser, who taught them his trade. In 1909, O'Banion was arrested first for safecracking and then for assault. These were the only times O'Banion ever spent in a correctional institution.
O'Banion worked as a waiter at McGovern's Liberty Inn, where each evening he would delight patrons with his beautiful Irish tenor voice as his pals were picking pockets in the coatroom. O'Banion also drugged his patrons' drinks, known then as, "slipping a Mickey Finn." When the drunk patrons left the club, O'Banion and his pals would rob them.  The gang also met the political bosses of the 42nd and 43rd ward through Annenberg; their job was to use violence to help steer the outcome of elections.
With the onset of Prohibition in 1920, O'Banion started a bootlegging operation. He arranged for beer suppliers in Canada to start shipments immediately, and also struck deals with whiskey and gin distributors. O'Banion pioneered Chicago's first liquor hijacking on December 19, 1921. He and the "lads of Kilgubbin" quickly eliminated all their competition. The O'Banion mob, known as the North Side Gang, now ruled the North Side and the Gold Coast, the wealthy area of Chicago situated on the northern lakefront of Lake Michigan. As O'Banion's name grew in the underworld, he attracted more followers, including Samuel "Nails" Morton, Louis "Two Gun" Alterie, and "Handsome" Dan McCarthy.
At the height of his power, O'Banion was supposedly making about $1 million a year on liquor. During one famous caper, O'Banion and his men stole over $100,000 worth of Canadian whiskey from the West Side railroad yards. In another famous robbery, O'Banion looted the padlocked Sibly Distillery and walked off with 1,750 barrels of bonded whiskey.
In 1921, O'Banion married Viola Kaniff and bought an interest in William Schofield's River North flower shop, near the corner of West Chicago Avenue and North State Street (now a parking lot). He needed a legitimate front for his criminal operations; in addition, he was fond of flowers and was an excellent arranger. Schofield's became the florist of choice for mob funerals. The shop happened to be directly across the street from Holy Name Cathedral, where he and Weiss attended Mass. The rooms above Schofield's were used as the headquarters for the North Side Gang.
Meanwhile, O'Banion continued on the offensive. In February 1924, he moved against his South Side rivals by unsuccessfully trying to frame Torrio and Capone for the murder of North Side hanger-on John Duffy, a gun for hire out of Philadelphia.
Duffy, following a violent drunken argument, had smothered his bride Maybelle Exley with a pillow while she slept (although other sources claim Duffy shot her twice in the head). When he awoke the following morning, he panicked and called a friend, asking for a car and money to get out of town. He was soon contacted by O'Banion, who agreed to help him. He told Duffy to meet him at the Four Deuces, a South Wabash club run by the Torrio-Capone organization.
At the club, several eyewitnesses reported seeing Duffy being picked up around 8:00 pm in a Studebaker by O'Banion and an unidentified man. Later on, Duffy's body was found in a snowbank outside of Chicago; he had been shot three times in the head with a .38 caliber revolver. Another witness later told police that he saw O'Banion and two other men dump Duffy's body, but he later retracted his statement.
As Duffy had been last seen at the Four Deuces, suspicion logically focused on club manager Al Capone. The subsequent investigation brought unwanted attention from law enforcement on the club, as it was a source of illegal gambling, prostitution and bootlegging. When police started to view O'Banion as a possible suspect, the gang leader told reporters: "The police don't have to look for me, I'll go and look for them. I'll be at the state's attorney's office at 2:30 PM Monday afternoon … I can tell the state's attorney anything he wants to know about me. Whatever happened to Duffy is out of my line. I don't mix with that kind of riffraff."
Police officials were never able to amass enough evidence to charge O'Banion with Duffy's murder. They theorized that O'Banion and two accomplices drove Duffy to a remote woodland area. Stopping on Nottingham Road, Duffy and O'Banion got out of the car to relieve themselves. At that point, O'Banion stood behind the unsuspecting Duffy and shot him in the back of the head. O'Banion then shot Duffy twice more before dumping his body in the snowbank. Police think that O'Banion killed Duffy because he wanted to avoid a highly publicized investigation into the murder of Duffy's wife. By meeting Duffy at a Chicago Outfit club and taking Duffy for "a one way ride", he hoped to shift blame for Duffy's murder onto Torrio and Capone.
On November 3, 1924, Dean O'Banion inadvertently signed his own death warrant during an argumentative phone call to arch-rival Angelo Genna. Their disagreement originated at The Ship, the gambling casino that the North Side gang boss owned along with the Torrio Syndicate. On this day, O'Banion sat in with Al Capone, Frank Nitti, Frank Rio, and others to tally the week's profits. It was mentioned that Angelo Genna had dropped a large amount of cash, plus a sizable marker. Capone recommended that they cancel the marker as a professional courtesy. O'Banion, instead, got Genna on the telephone and demanded that he pay his debt within a week. With this personal insult, Angelo Genna and his family could no longer be restrained. Until then, Mike Merlo and the Unione Siciliana had refused to sanction a hit on O'Banion. However, Merlo had terminal cancer and died on November 8, 1924. With Merlo gone, the Gennas and South Siders were free to move on O'Banion.  Using the Merlo funeral as a cover story, over the next few days Brooklyn gangster Frankie Yale and others visited Schofield's, O'Banion's flower shop, to discuss floral arrangements. However, the real purpose of these visits was to memorize the store layout for the hit on O'Banion.
On the morning of November 10, 1924, O'Banion was clipping chrysanthemums in Schofield's back room. Yale entered the shop with Genna gunmen John Scalise and Albert Anselmi. When O'Banion and Yale shook hands, Yale grasped O'Banion's hand in a tight grip. At the same time, Scalise and Anselmi stepped aside and fired two bullets into O'Banion's chest and two into his throat. One of the killers fired a final shot into the back of his head as he lay face down on the floor.
Since O'Banion was a major crime figure, the Catholic Church denied him burial in consecrated ground. However, a priest O'Banion had known since childhood recited the Lord's Prayer and three Hail Marys in his memory. Despite this restriction, O'Banion received a lavish funeral, much larger than the Merlo funeral the day before. O'Banion was buried in Mount Carmel Cemetery in Hillside, Illinois under the direction of Sbarbaro & Co. Undertakers, 708 N. Wells, Chicago, directly four blocks west of O'Banion's flower shop. Dating back to 1885, this Italian firm handled many of the funerals for reputed gangsters, including the lavish funeral for Merlo the day before. Due to opposition from church officials, O'Banion was originally interred in unconsecrated ground. However, his family persevered and he finally was reburied in consecrated ground elsewhere in the cemetery.
The O'Banion killing sparked a brutal five-year gang war between the North Side Gang and the Chicago Outfit that culminated in the killing of seven North Side gang members in the St. Valentine's Day Massacre in 1929.
Born
July, 08, 1892
USA
Maroa, Illinois
Died
November, 10, 1924
USA
Chicago, Illinois
Cemetery
Mount Carmel Cemetery
Hillside, Illinois
USA
17508 profile views