Charles Laughton
(Charles Laughton)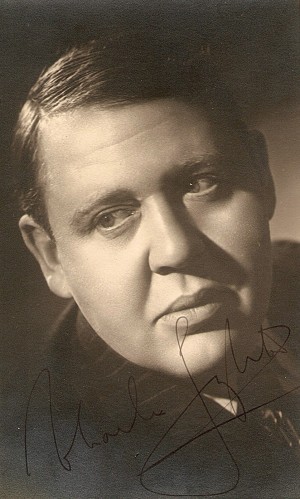 Charles Laughton
In 1927, Laughton began a relationship with Elsa Lanchester, at the time a cast mate in a stage play. The two were married in 1929, became US citizens in 1950, and remained together until Laughton's death. Over the years, they appeared together in several films, including Rembrandt (1936), Tales of Manhattan (1942) and The Big Clock (1948). Lanchester portrayed Anne of Cleves, Henry VIII's fourth wife, opposite Laughton in The Private Life of Henry VIII. They both received Academy Award nominations for their performances in Witness for the Prosecution (1957)—Laughton for Best Actor, and Lanchester for Best Supporting Actress—but neither won. Although Laughton's bisexuality has been corroborated by several of his contemporaries and is generally accepted by Hollywood historians,actress Maureen O'Hara, a friend and co-star of Laughton, has disputed the contention that his sexuality was the reason Laughton and Lancaster did not have children. O'Hara claimed that Laughton had told her that he wished he had had children but that it had not been possible because of a botched abortion which Lanchester had early in her career of performing burlesque. In her own autobiography, Lanchester acknowledged having had two abortions in her youth—one of the pregnancies purportedly by Laughton—although she didn't mention whether this had indeed rendered her infertile. According to her biographer, Charles Higham, the reason she did not have children was that she did not want any.
Laughton owned a spectacular estate on the bluffs above Pacific Coast Highway at 14954 Corona Del Mar in Pacific Palisades. The property suffered a landslide in 1944, alluded to by Bertold Brecht in his poem "Garden in Progress".
In 2012 Scotty Bowers released his "tell all" autobiography Full Service: My Adventures in Hollywood and the Secret Sex Lives of the Stars. Bowers claimed to have arranged numerous sexual encounters for various Hollywood celebrities during the Golden Era of Hollywood. Bowers claimed in the book that Laughton was a homosexual coprophage.
Born
July, 01, 1899
Scarborough, England
Died
December, 15, 1962
Hollywood, California
Cause of Death
Cemetery
Forest Lawn Memorial Park
Hollywood,California
16142 profile views