Catfish Hunter
(James Augustus Hunter)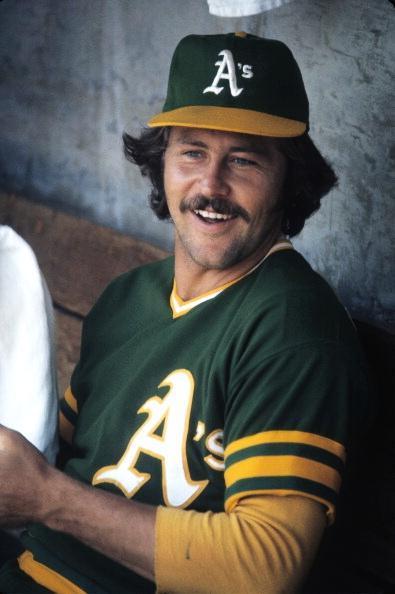 Finley gave Hunter the nickname "Catfish" in 1965 because he thought his 19-year-old pitcher needed a flashy nickname. A story circulated that Hunter's family gave him the nickname as a child when he went missing and was later found with a string of catfish; there is no truth to that explanation. Hunter never played in the minor leagues and his first major league victory came on July 27, 1965 in Fenway Park against the Boston Red Sox. In 1966 and 1967, Hunter was named to the American League All-Star team. Prior to the 1968 season, Finley moved the A's from Kansas City to Oakland. On Wednesday, May 8, against the Minnesota Twins, Catfish Hunter pitched the ninth perfect game in baseball history. He became the American League's first perfect game pitcher since Charlie Robertson in 1922 (excluding Don Larsen's perfect game in the 1956 World Series), as well as the franchise's first no-hit pitcher since Bill McCahan in 1947 with what were then the Philadelphia Athletics. The game was scoreless until the bottom of the seventh inning; at the plate, Hunter got three hits and drove in three of Oakland's four runs with a squeeze bunt in the seventh and a bases-loaded single in the eighth. Hunter continued to win games, and in 1974 received both The Sporting News's "Pitcher of the Year" award and the American League Cy Young Award after going 25–12 with a league leading 2.49 earned run average. The A's also won their third consecutive World Series. After a contract violation on an annuity by Finley in 1974, Catfish Hunter won arbitration in December and he was allowed to leave the Athletics as a free agent. Hunter's statistics while he was with the Athletics were impressive: four consecutive years with at least 20 wins, and four World Series wins without a loss. He had won 161 games for the A's, 131 in seven seasons in Oakland and 30 in his first three seasons in Kansas City. Hunter recalled being scared after he was declared a free agent. "We don't belong to anybody", he told his wife.
Two weeks after he won his arbitration, Catfish Hunter became the highest-paid player in baseball when he signed a five-year contract with the New York Yankees worth $3.35 million. He had been courted by 23 of the 24 teams, including the A's but not the San Francisco Giants, and refused higher offers from the San Diego Padres and the Kansas City Royals. New York was closer to his home in North Carolina and the team played on natural grass. Finley attempted to have the arbitration ruling overturned, but was unsuccessful after several appeals. Further details of Finley's history with Hunter gave the A's owner added negative publicity. Catfish Hunter became known as baseball's "first big-money free agent". Hunter got off to a rough start going 0–3 in his first three starts, but settled down and was named to his seventh All-Star team. He led the league in wins (23) for the second year in a row, and also led the league in innings pitched (328) and complete games (30) to finish second to Jim Palmer of the Baltimore Orioles in the American League Cy Young balloting. Hunter also became only the fourth (and last) American League pitcher to win 20 games in a season for five consecutive seasons (1971–1975). The others were Walter Johnson (10), Lefty Grove (7), and Bob Feller (5). In 1976, Hunter won 17 games, led the Yankees in complete games and innings pitched, and was again named to the All-Star team. The Yankees won three straight pennants with Hunter from 1976 to 1978. In 1976, Hunter became the fourth major league pitcher to win 200 games before the age of 31 and the only one since Walter Johnson in 1915, preceded by Cy Young and Christy Mathewson. Catfish Hunter was also a competent hitter, with a career batting average of .226; in 1971 he hit .350 with 36 hits in 38 games. After the designated hitter was adopted by the American League in 1973, Hunter had only two plate appearances in his final seven seasons, with one base hit in 1973.
Arm injuries plagued Catfish Hunter beginning in 1978. In spring training, he was diagnosed with diabetes and combined with his chronic arm trouble the disease began to sap Hunter's energy. Following the 1979 season and the end of his five-year contract, Hunter retired from baseball at age 33. Hunter won 63 games in his five seasons with the Yankees. He retired with appearances in six World Series and with five World Series championships. While with the Yankees, Hunter was a resident of Norwood, New Jersey, preferring to live outside of New York City. He returned to his farm in Hertford where he grew soybeans, corn, peanuts, and cotton, and was a spokesman for diabetes awareness. Hunter noticed arm weakness while hunting in the winter of 1997–1998. He was diagnosed with amyotrophic lateral sclerosis(ALS), or Lou Gehrig's disease. Catfish Hunter died at his home in Hertford in 1999 at age 53, a year after his ALS diagnosis. A month before his death, Hunter fell and hit his head on concrete steps at home. He was unconscious for several days after the fall, but he had returned home from that hospitalization when he died. Hunter is interred at Cedarwood Cemetery in Hertford, adjacent to the field where he played high school baseball.
Born
April, 08, 1946
USA
Hertford, North Carolina
Died
September, 09, 1999
USA
Hertford, North Carolina
Cause of Death
Cemetery
Cedarwood Cemetery
Hertford, North Carolina
USA
969 profile views