Cary Grant
(Archibald Alexander Leach)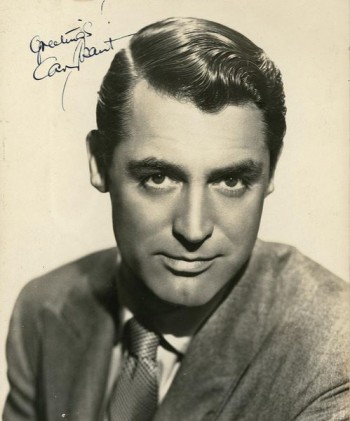 Cary Grant
Archibald Alexander Leach was born at 15 Hughenden Road, Horfield, Bristol, England, the only surviving child of Elsie Maria (née Kingdon) Leach (1877–1973) and Elias James Leach (1873–1935). Young Archie Leach, whose mother had suffered clinical depression since the death of a previous child, had an unhappy upbringing, attending Bishop Road Primary School and, for just a few months, North Street Wesleyan School in Stokes Croft. Elias Leach placed Archibald's mother in a mental institution and told the 9-year-old that she had gone away on a "long holiday" later declaring that she had died. Believing she was dead, Leach did not learn otherwise until he was 31 when his father confessed to the lie, shortly before his own death, and told him that he could find her alive in a care facility. When Leach was 10, his father remarried and started a new family that did not include young Archibald. Little is known about how he was cared for, and by whom.  Leach was expelled from the Fairfield Grammar School in Bristol in 1918. After joining the "Bob Pender Stage Troupe", Leach performed as a stilt walker and traveled with the group to the United States in 1920 at the age of 16 on the RMS Olympic, on a two-year tour of the country. He was processed at Ellis Island on July 28, 1920.  When the troupe returned to Britain, he decided to stay in the U.S. and continue his stage career. During this time, he became a part of the vaudeville world and toured with Parker, Rand, and Leach. Still using his birth name, he performed on the stage at The Muny in St. Louis, Missouri, in such shows as Irene (1931), Music in May (1931), Nina Rosa (1931), Rio Rita (1931), Street Singer (1931), The Three Musketeers (1931), and Wonderful Night (1931). Leach's experience on stage as a stilt walker, acrobat, juggler, and mime taught him "phenomenal physical grace and exquisite comic timing" and the value of teamwork, skills which would benefit him in Hollywood.  Leach became a naturalized United States citizen on June 26, 1942, at which time he also legally changed his name from "Archibald Alexander Leach" to "Cary Grant".
After appearing in several musicals on Broadway under the name Archie Leach, Leach went to Hollywood in 1931. When told to change his name, he proposed "Cary Lockwood", the name of the character he had played in the Broadway show Nikki, based upon the recent film The Last Flight. He signed with Paramount Pictures, where studio bosses decided that the name "Cary" was acceptable but that "Lockwood" was too similar to another actor's surname. Paramount gave their new actor a list of surnames to choose from, and he selected "Grant" because the initials C and G had already proved lucky for Clark Gable and Gary Cooper, two of Hollywood's biggest film stars.  Grant appeared as a leading man opposite Marlene Dietrich in Blonde Venus (1932), and his stardom was given a further boost by Mae West when she chose him for her leading man in two of her most successful films, She Done Him Wrong and I'm No Angel (both 1933). I'm No Angel was a tremendous financial success and, along with She Done Him Wrong, which was nominated for an Academy Award for Best Picture, saved Paramount from bankruptcy. Paramount put Grant in a series of unsuccessful films until 1936, when he signed with Columbia Pictures. His first major comedy hit was when he was loaned to Hal Roach's studio for the 1937 Topper (which was distributed by MGM).  The Awful Truth (1937) was a pivotal film in Grant's career, establishing for him a screen persona as a sophisticated light comedy leading man. As Grant later wrote, "I pretended to be somebody I wanted to be and I finally became that person. Or he became me. Or we met at some point." Grant is said to have based his characterization in The Awful Truth on the mannerisms and intonations of the film's director, Leo McCarey, whom he resembled physically. As writer/director Peter Bogdanovich noted, "After The Awful Truth, when it came to light comedy, there was Cary Grant and then everyone else was an also-ran."
The Awful Truth began what The Atlantic later called "the most spectacular run ever for an actor in American pictures". During the next four years, Grant appeared in several classic romantic comedies and screwball comedies, including Holiday (1938) and Bringing Up Baby (1938), both opposite Katharine Hepburn; The Philadelphia Story (1940) with Hepburn and James Stewart; His Girl Friday (1940) with Rosalind Russell; and My Favorite Wife (1940), which reunited him with Irene Dunne, his co-star in The Awful Truth. During this time, he also made the adventure films Gunga Din (1939) with Douglas Fairbanks, Jr. and Only Angels Have Wings (1939) with Jean Arthur and Rita Hayworth and dramas Penny Serenade (1941), also with Dunne, and Suspicion (1941), the first of Grant's four collaborations with Alfred Hitchcock.  Grant remained one of Hollywood's top box-office attractions for almost 30 years. Howard Hawks said that Grant was "so far the best that there isn't anybody to be compared to him". David Thomson called him "the best and most important actor in the history of the cinema".  Grant was a favorite of Hitchcock, who called him "the only actor I ever loved in my whole life". Besides Suspicion, Grant appeared in the Hitchcock classics Notorious (1946), To Catch a Thief (1955), and North by Northwest (1959). Biographer Patrick McGilligan wrote that in 1965 Hitchcock asked Grant to star in Torn Curtain (1966) only to learn that Grant had decided to retire after making one more film, Walk, Don't Run (1966); Paul Newman was cast instead, opposite Julie Andrews. Producers Broccoli and Saltzman originally sought Cary Grant for the role of James Bond in Dr. No but discarded the idea as Grant would be committed to only one feature film and the producers decided to go after someone who could be part of a franchise.
In the mid-1950s, Grant formed his own production company, Granart Productions, and produced a number of films distributed by Universal, such as Operation Petticoat (1959), Indiscreet (1958), That Touch of Mink (co-starring with Doris Day, 1962), and Father Goose (1964). In 1963, he appeared opposite Audrey Hepburn in Charade. His last feature film was Walk, Don't Run three years later, with Samantha Eggar and Jim Hutton.  Grant was the first actor to "go independent" by not renewing his studio contract, effectively leaving the studio system, which almost completely controlled what an actor could or could not do. In this way, Grant was able to control every aspect of his career, at the risk of not working because no particular studio had an interest in his career long term. He decided which films he was going to appear in, often had personal choice of directors and co-stars, and at times even negotiated a share of the gross revenue, something uncommon at the time. Grant received more than $700,000 for his 10% of the gross for To Catch a Thief while Hitchcock received less than $50,000 for directing and producing it.
Grant was nominated for two Academy Awards, for Penny Serenade (1941) and None But the Lonely Heart (1944), but never won a competitive Oscar; he received a special Academy Award for Lifetime Achievement in 1970. Accepting the Best Original Screenplay Oscar in 1965, Father Goose co-writer Peter Stone had quipped, "My thanks to Cary Grant, who keeps winning these things for other people." In 1981, Grant was accorded the Kennedy Center Honors.  Grant poked fun at himself with statements such as "Everyone wants to be Cary Grant—even I want to be Cary Grant", and in ad-lib lines—such as in the film His Girl Friday, saying, "I never had so much fun since Archie Leach died". In Arsenic and Old Lace (1944), a gravestone is seen bearing the name Archie Leach. According to a famous story now believed to be apocryphal, after seeing a telegram from a magazine editor to his agent asking "How old Cary Grant?" Grant reportedly responded with "Old Cary Grant fine. How you?"
Grant was married five times. He wed Virginia Cherrill on February 10, 1934. She divorced him on March 26, 1935, following charges that Grant had hit her. In 1942, he married Barbara Hutton, one of the wealthiest women in the world, and became a father figure to her son, Lance Reventlow. The couple was derisively nicknamed "Cash and Cary", although in an extensive prenuptial agreement Grant refused any financial settlement in the event of a divorce. After divorcing in 1945, they remained lifelong friends. Grant always bristled at the accusation that he married for money: "I may not have married for very sound reasons, but money was never one of them".  On December 25, 1949, Grant married Betsy Drake. He appeared with her in two films. This would prove to be his longest marriage, ending on August 14, 1962. Drake introduced Grant to LSD, and in the early 1960s he related how treatment with the hallucinogenic drug—legal at the time—at a prestigious California clinic had finally brought him inner peace after yoga, hypnotism, and mysticism had proved ineffective. Grant and Drake divorced in 1962.  He eloped with Dyan Cannon on July 22, 1965, in Las Vegas. Their daughter, Jennifer Grant, was born on February 26, 1966. He frequently called Jennifer his "best production". Grant and Cannon divorced in March 1968.  On April 11, 1981, Grant married Barbara Harris, a British hotel public-relations agent who was 47 years his junior. They renewed their vows on their fifth wedding anniversary. (Fifteen years after Grant's death, Harris married former Kansas Jayhawks All-American quarterback David Jaynes in 2001.)  Some, including Hedda Hopper and screenwriter Arthur Laurents, have said that Grant was bisexual. Grant allegedly was involved with costume designer Orry-Kelly when he first moved to Manhattan, and lived with actor Randolph Scott off and on for 12 years. Richard Blackwell wrote that Grant and Scott were "deeply, madly in love". Scotty Bowers alleged in his memoir Full Service, published in 2012, that he was a lover of both Grant and Scott. William McBrien, in his biography Cole Porter, says that Porter and Grant frequented the same upscale house of male prostitution in Harlem, run by Clint Moore and popular with celebrities. All of these claims were published many years after Grant had died.
Barbara Harris, Grant's widow, has disputed that there was a relationship with Scott. When Chevy Chase joked about Grant being gay in a television interview, Grant sued him for slander; they settled out of court. However, Grant's one-time girlfriend Maureen Donaldson wrote in her 1989 memoir, An Affair to Remember: My Life with Cary Grant, that Grant told her that his first two wives had accused him of being homosexual. In Chaplin's Girl, a biography of Virginia Cherrill (Grant's first wife), the writer Miranda Seymour acknowledged that Grant and Scott were only platonic friends.  Former showgirl Lisa Medford claimed that Cary Grant wanted her to have his child, but she did not want children. Grant's daughter Jennifer Grant denied that her father was gay in her 2011 memoir. Jennifer's mother, Dyan Cannon, Grant's fourth wife, also denied that Grant was gay when she was promoting her memoir of Grant in 2012. Betsy Drake, in an interview during the American Movie Classics Channel's documentary on Grant's life, was quoted as saying, "When we were married we were fucking like rabbits."
Cary Grant retired from the screen at 62 when his daughter Jennifer was born, to focus on bringing her up and to provide a sense of permanency and stability in her life. While bringing up his daughter, he archived artifacts of her childhood and adolescence in a bank-quality room-sized vault he had installed in the house. His daughter attributed this meticulous collection to the fact that artifacts of his own childhood had been destroyed during the Luftwaffe's bombing of Bristol in the Second World War (an event that also claimed the lives of his uncle, aunt, and cousin as well as the cousin's husband and grandson), and he may have wanted to prevent her from experiencing a similar loss.  Although Grant had retired from the screen, he remained active.  In the late 1960s, he accepted a position on the board of directors at Fabergé. By all accounts this position was not honorary, as some had assumed; Grant regularly attended meetings and his mere appearance at a product launch would almost certainly guarantee its success. The position also permitted use of a private plane, which Grant could use to fly to see his daughter wherever her mother, Dyan Cannon, was working. He later joined the boards of Hollywood Park, the Academy of Magical Arts (The Magic Castle, Hollywood, California), Western Airlines (now Delta Air Lines), and MGM.  He was a keen motoring enthusiast and, like many other Hollywood stars of the era, owned many notable cars. One of the first he owned was a 1929 Cadillac Cabriolet. His love of Cadillacs never waned and he later purchased a Cadillac Eldorado Biarritz. Other cars that he owned included an MG Magnette and a Sunbeam Alpine series one roadster.  In the last few years of his life, Grant undertook tours of the United States in a one-man show, A Conversation with Cary Grant, in which he would show clips from his films and answer audience questions. Grant was preparing for a performance at the Adler Theatre in Davenport, Iowa, on the afternoon of November 29, 1986, when he sustained a cerebral hemorrhage (he had previously suffered a stroke in October 1984). His wife did not know what was going on and she went to a local pharmacy to get aspirin. He died at 11:22 p.m. in St. Luke's Hospital at the age of 82. The bulk of his estate, worth millions of dollars, went to his fifth wife, Barbara Harris, and his daughter, Jennifer Grant.
Born
January, 18, 1904
Horfield, United Kingdom
Died
November, 29, 1986
Davenport, Iowa
Cause of Death
Cemetery
Other
Cremated. Ashes scattered in California.
21037 profile views