Carrie Hamilton
(Carrie Louise Hamilton)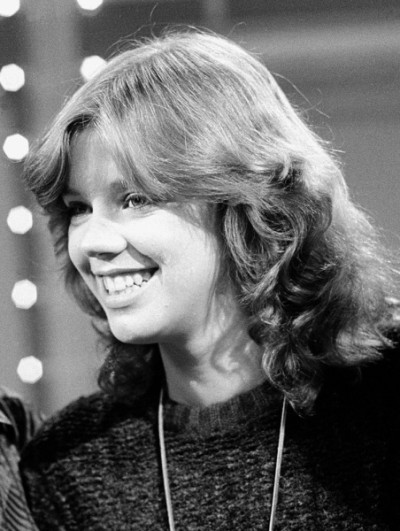 Hamilton worked in a number of productions for stage, film, video, and television. She took the role of Reggie Higgins in the TV version of the musical Fame for the fifth and sixth seasons (1985–1987), and portrayed the role of Maureen Johnson in the first national tour of the stage musical Rent to considerable acclaim. She also studied music and acting at Pepperdine University in Malibu, California.  One of her films was Tokyo Pop (1988), in which she played an American singer who journeys to Japan. There she found a relationship with both a singer (played by Diamond Yukai aka Yutaka Tadokoro) and a band that made it into the Tokyo pop charts Top Ten. She performed several songs in the movie.
In 1992, she took a minor role in the movie Cool World, which starred Gabriel Byrne, Kim Basinger and Brad Pitt.  Hamilton occasionally appeared with her mother on film. In 1987, Carol Burnett guest starred in an episode of Fame entitled "Reggie and Rose". They co-starred in a 1988 TV movie titled Hostage. Nine years later, mother and daughter also starred on an episode of Touched by an Angel entitled "The Comeback". Hamilton played an aspiring Broadway star whose mother (Burnett) had also made a run for Broadway fame but failed (thanks to a dirty trick on the part of her conniving best friend, played by Rita Moreno).
In 1999, she starred in a popular sixth season episode of The X-Files, entitled "Monday". She played the role of Pam, the girlfriend of a would-be bank robber who is forced to relive the same day over and over.  She was the inspiration for the 1983 hit single "Carrie's Gone" (#79, Billboard), written by former boyfriend Fergie Frederiksen and recorded by his band, Le Roux, after the couple broke up. The 12-year age difference (Carrie was 19 and Fergie was 31 at the time) was cited as the main reason for the break-up. She also dated American singer/songwriter Ryan Adams in the late 90s. He was hit hard by her death and many of his songs are also written about and/or dedicated to Carrie, including much of his albums Demolition and Love is Hell.  Hamilton worked with her mother to adapt Burnett's memoir, One More Time, for the stage play Hollywood Arms, but never lived to see it produced.
Born
December, 05, 1963
USA
New York, New York
Died
January, 20, 2002
USA
Los Angeles, California
Cause of Death
complications from cancer
Cemetery
Westwood Memorial Park
Los Angeles, California
USA
18181 profile views