Carol Channing
(Carol Elaine Channing)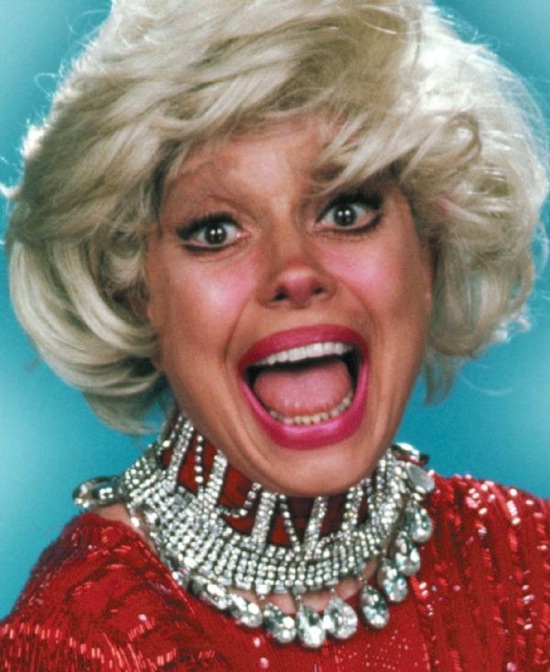 Carol Channing
Carol Channing was born on this date in 1921. She was an African American actress.
She was born in Seattle, Washington. When she left home to attend Bennington College, her mother informed her that her father, a journalist whom she had believed was born in Rhode Island, was actually a light-complected African-American born in Augusta, Georgia who had passed for white, saying that the only reason she was telling her was so she wouldn't be surprised "if she had a black baby".
She kept her heritage secret so she would not be typecast on Broadway and in Hollywood, ultimately revealing it only in her autobiography, Just Lucky I Guess.  It was published in 2002, when she was more than 80 years old. As an actress, Channing's career was built largely on two roles, Lorelei Lee in Gentlemen Prefer Blondes and Dolly Gallagher Levi in Hello Dolly!. She is easily recognized by her distinctive voice and wide eyes. Her first Broadway play was Let's Face It, where she was an understudy for Eve Arden. She had a featured role in a review, Lend an Ear, where she was spotted by Anita Loos and cast in the role of Lorelei Lee, which was to bring her to prominence.
(Her signature song from the production was "Diamonds Are a Girl's Best Friend.") Carol's persona and that of the character were strikingly alike: simultaneously smart yet scattered, naïve but worldly. She truly came to national prominence as the star of Jerry Herman's Hello, Dolly! She never missed a performance during her run, attributing her good health to her Christian Science faith. Her performance won her the Tony Award for Best Actress in a Musical, in a year. She reprised the role of Lorelei Lee in the musical Lorelei, and appeared in two New York revivals of Hello, Dolly!, in addition to touring with it extensively throughout the United States.
She was nominated for the Academy Award for Best Supporting Actress for her performance in Thoroughly Modern Millie, opposite Julie Andrews and Mary Tyler Moore. Channing married four times. Her first husband, Theodore Naidish, was a writer; her second, Alexander Carson, was center for the Ottawa Rough Riders Canadian football team (they had one son, Channing Lowe, an editorial cartoonist for the South Florida Sun-Sentinel. In 1956 she married her manager and publicist Charles Lowe. They remained married for 42 years, but she filed for divorce in 1998, alleging they had had marital relations only twice in that timespan.
He died before the divorce was finalized. On May 10, 2003, she married Harry Kullijian, her high school sweetheart, who reunited with her after she mentioned him fondly in her memoir. Carol Channing died on January 14th 2019.
Born
January, 31, 1921
Seattle, Washington
Died
January, 15, 2019
Rancho Mirage, California
Cause of Death
984 profile views