Carmine Galante
(Camillo Carmine Galante)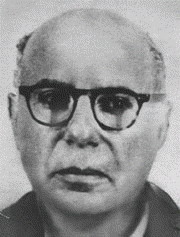 Carmine Galante
Organized Crime Figure. He was the boss of the Bonanno Organized Crime Family. Also known as "The Cigar," he, along with New York City, New York crime boss Charles "Lucky" Luciano and Montreal, Quebec crime boss Frank Petrula organized the heroin distribution line known as the infamous "French Connection". He was murdered at Joe and Mary's' restaurant in Brooklyn, New York City.
The New York crime families were alarmed at Galante's brazen attempt at taking over the narcotics market. Galante also refused to share any drug profits with the other families. Although Galante was aware that he had many enemies, he said, "No one will ever kill me, they wouldn't dare." Genovese crime family boss Frank Tieri  began contacting Cosa Nostra leaders to build a consensus for Galante's murder, even obtaining approval from the exiled Joseph Bonanno. They received a boost when Rastelli, the official boss, sought Commission approval to kill Galante as an illegitimate usurper. In 1979, the Mafia Commission ordered Galante's execution.
On July 12, 1979, Carmine Galante was assassinated just as he finished eating lunch on an open patio at Joe and Mary's Italian-American Restaurant at 205 Knickerbocker Avenue in Bushwick, Brooklyn. Galante was dining with Leonard Coppola, a Bonanno capo, and restaurant owner/cousin Giuseppe Turano, a Bonanno soldier. Also sitting at the table were Galante's Sicilian bodyguards, Baldassare Amato  and Cesare Bonventre. At 2:45 pm, three ski-masked men entered the restaurant, walked into the patio, and opened fire with shotguns and handguns. Galante, Turano, and Coppola were killed instantly. Galante's death picture showed a cigar still in his mouth. Amato and Bonventre, who did nothing to protect Galante, were left unharmed. The gunmen then ran out of the restaurant.
Galante was murdered by Anthony Indelicato, Dominick Trinchera, Dominick Napolitano  and Louis Giongetti. These men were hired by Alphonse Indelicato .
According to the 2006 book The Ice Man. Confessions of a Mafia Contract Killer by Philip Carlo, Galante and Coppola were actually shot and killed by the infamous contract killer and serial murderer Richard Kuklinski. 
Born
February, 21, 1910
Manhattan, NY
Died
July, 12, 1979
New York City, New York,
Cause of Death
Cemetery
Saint John Cemetery
Queens, New York
19089 profile views