Buster Crabbe
(Clarence Linden Crabbe)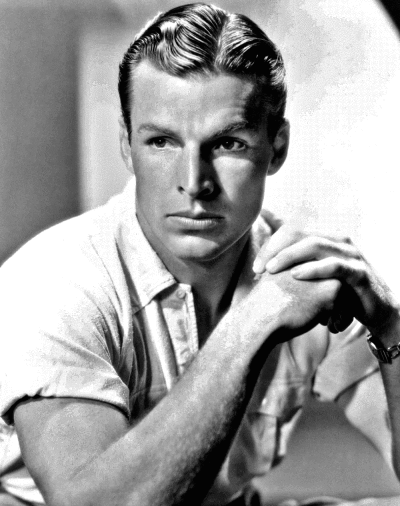 Raised in Hawaii, Buster Crabbe graduated from the Punahou School in Honolulu. He competed in two Olympic Games as a swimmer. In 1928 he won the bronze medal for the 1,500 meters freestyle, and in 1932 he won the gold medal for the 400 meters freestyle when he beat Jean Taris of France by a tenth of a second. He attended the University of Southern California, where he was the school's first All-American swimmer (1931) and a 1931 NCAA freestyle titlist. He also became a member of the Sigma Chi Fraternity before graduating from USC in 1931. In 1933 he married Adah Virginia Held, (December 16, 1912 – August 26, 2004) and gave himself one year to make it as an actor. If he didn't, he would start law school at USC. Crabbe and his wife were the parents of two daughters, Sande and Susan, and a son, Cullen. Sande died of apparent anorexia in 1957, after a long fast when she was 20; at the time of her death, she weighed only 60 pounds.
Buster Crabbe's role in the 1933 Tarzan serial, Tarzan the Fearless, began a career in which he starred in more than one hundred movies. In the 1933 King of the Jungle, 1941 Jungle Man, and the 1952 serial King of the Congo, he played typical "jungle man" roles. He starred in several popular films at this time, including The Sweetheart of Sigma Chi alongside Betty Grable in 1933 and Search for Beauty (1934), and in 1936 he was Flash Gordon in the very successful Flash Gordon serial, followed by two sequels, released by Universal in 1938 and 1940. The series was shown later extensively on American television in the 1950s and 1960s, then edited for release on home video. He also portrayed a Western folk-hero version of Billy the Kid, in 36 films, starred as Buck Rogers. In some movies he is credited as "Larry Crabbe" or "Larry (Buster) Crabbe". His sidekick in most of his westerns was actor Al St. John. In 1939 Crabbe reunited with Betty Grable for a lead role in the mainstream comedy hit Million Dollar Legs. Crabbe is the only actor to play Tarzan, Flash Gordon, and Buck Rogers – the top three syndicated comic strip heroes of the 1930s. Crabbe starred at the Billy Rose's Aquacade at the New York World's Fair in its second year of 1940, replacing a fellow Olympic swimmer Johnny Weissmuller.
Buster Crabbe starred in the television series, Captain Gallant of the Foreign Legion (1955 to 1957) as Captain Michael Gallant; the adventure series aired on NBC. His real-life son, Cullen Crabbe, appeared in this show as the character "Cuffy Sanders". He was featured frequently in archival footage in the children's television program, The Gabby Hayes Show. Prior to his playing "Captain Michael Gallant" Crabbe had hosted a local NYC based children's film wraparound television series The Buster Crabbe Show. The series, which was set against the backdrop of a ranch foreman's bunk house featured Crabbe engaging his viewers in games, stories, craftmaking, hobbies, informational segments, and interviews with guest performers and personalities in between reruns of old movie serials, westerns and comedies. The Buster Crabbe Show was seen weekday evenings on WOR-TV (Channel 9) in New York City from Monday March 12, 1951, to Friday October 3, 1952. The series returned to the NYC airways on WJZ-TV (Channel 7) (now WABC) on Monday September 21, 1953, and was retitled Buster's Buddies!. The WJZ TV version of the series included a studio audience of kids and became more of a kids' variety show. Despite the addition of the studio audience and Crabbe's personality, Buster's Buddies! was not a hit and it was canceled on Friday March 26, 1954. Crabbe made regular television appearances, including one on an episode of the 1979 series Buck Rogers in the 25th Century, in which he played a retired fighter pilot named "Brigadier Gordon" in honor of Flash Gordon. When Rogers (Gil Gerard) praises his flying, Gordon replies "I've been doing that sort of thing since before you were born." Rogers (who was born over 500 years earlier) responds "You think so, old timer?" to which Gordon replies "Young man, I know so." Crabbe had, in fact, been playing "Buck Rogers" since long before Gerard was born. Buster Crabbe died on April 23, 1983 of a heart attack after tripping over a wastebasket in his Scottsdale, Arizona home. He is interred at Green Acres Memorial Park in Scottsdale.
Born
February, 07, 1908
USA
Oakland, California
Died
April, 23, 1983
USA
Scottsdale, Arizona
Cause of Death
Cemetery
Green Acres Memorial Park
Scottsdale, Arizona
USA
4304 profile views