Burt Reynolds
(Burton Leon Reynolds Jr)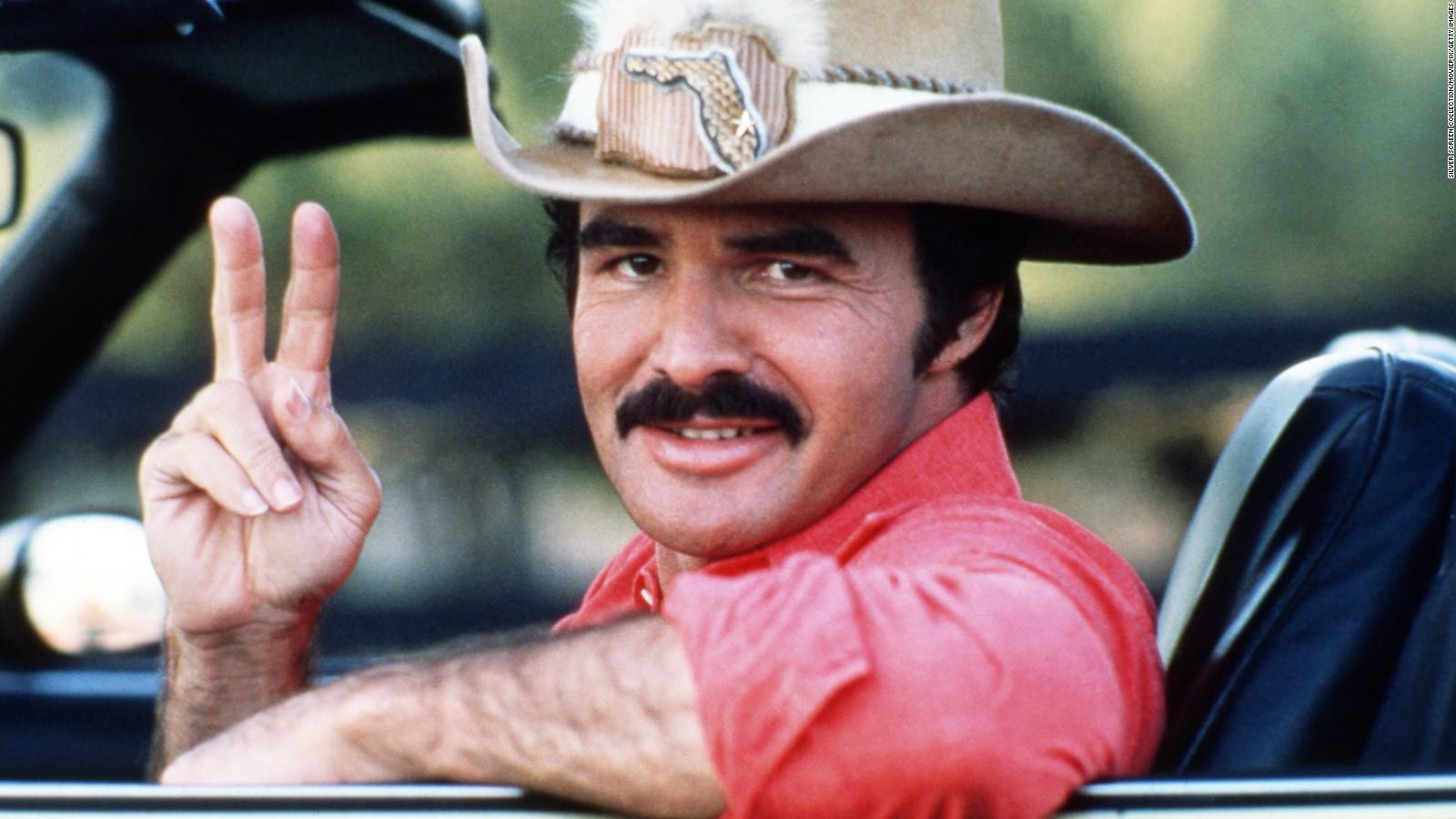 Burt Reynolds
Burt Reynolds, the handsome film and television star known for his acclaimed performances in "Deliverance" and "Boogie Nights," commercial hits such as "Smokey and the Bandit" and for an active off-screen love life which included relationships with Loni Anderson and Sally Field, has died at age 82.
His death was confirmed Thursday by his agent Todd Eisner. In a statement, his niece, Nancy Lee Hess, called his death "totally unexpected," although she acknowledged he had health issues.
"He was tough. Anyone who breaks their tail bone on a river and finishes the movie is tough. And that's who he was. My uncle was looking forward to working with Quentin Tarantino, and the amazing cast that was assembled," she said, referring to the upcoming film "Once Upon a Time in Hollywood" with Leonardo DiCaprio and Brad Pitt.
Hess noted her uncle's kindness and generosity, and thanked "all of his amazing fans who have always supported and cheered him on, through all of the hills and valleys of his life and career."
The mustachioed, smirking Reynolds inspired a wide range of responses over his long, erratic career: critical acclaim and critical scorn, popular success and box office bombs. Reynolds made scores of movies, ranging from lightweight fare such as the hits "The Cannonball Run" and "Smokey and the Bandit" to more serious films like "The Longest Yard" and "The Man Who Loved Cat Dancing."
He received some of the film world's highest and lowest honors. He was nominated for an Oscar for "Boogie Nights," the Paul Thomas Anderson film about the pornography industry; won an Emmy for the TV series "Evening Shade," and was praised for his starring role in "Deliverance."
But he also was a frequent nominee for the Razzie, the tongue-in-cheek award for Hollywood's worst performance, and his personal life provided ongoing drama, particularly after an acrimonious divorce from Anderson in 1995. He had a troubled marriage to Judy Carne, a romance with Dinah Shore and a relationship with Field damaged by his acknowledged jealousy of her success.
Through it all he presented a genial persona, often the first to make fun of his own conflicted image.
"My career is not like a regular chart, mine looks like a heart attack," he told The Associated Press in 2001. "I've done over 100 films, and I'm the only actor who has been canned by all three networks. I epitomize longevity."
Reynolds was candid about his flops, his regrets and about his many famous friends. He would call posing nude for Cosmopolitan one of his biggest mistakes because it undermined the respect he had gained for "Deliverance." He revered Spencer Tracy as an early mentor and came to know Johnny Carson, Clint Eastwood, Frank Sinatra and many others.
"Burt Reynolds was one of my heroes," tweeted Arnold Schwarzenegger. "He was a trailblazer. He showed the way to transition from being an athlete to being the highest paid actor, and he always inspired me. He also had a great sense of humor – check out his Tonight Show clips. My thoughts are with his family."
Born in Lansing, Michigan and raised in Florida, he was an all-Southern Conference running back at Florida State University in the 1950s. Reynolds appeared headed to the NFL until a knee injury and an automobile accident ended his chances. He dropped out of college and drifted to New York, where he worked as a dockhand, dance-hall bouncer, bodyguard and dish washer before returning to Florida in 1957 and enrolling in acting classes at Palm Beach Junior College.
He won the Florida Drama Award in 1958 for his performance in the role John Garfield made famous in "Outward Bound." He was subsequently discovered by a talent agent at New York's Hyde Park Playhouse.
Early theater roles included performances in "Mister Roberts" and "Look: We've Come Through."
After moving to Hollywood, he found work as a stuntman, including one job that consisted of flying through a glass window. As a star, he often performed his own stunts, and he played a stuntman in the 1978 film "Hooper," one of his better reviewed films.
Because of his dark features, he was cast frequently as an Indian early in his career, including the title role in the 1967 spaghetti western "Navajo Joe." He also played Iroquois Indian detective John Hawk in the short-lived 1966 TV series "Hawk."
In the 1960s he made dozens of guest-star appearances on such TV shows as "Bonanza," ″The Twilight Zone" and "Perry Mason." His first film role came in 1961′s "Angel Baby," and he followed it with numerous other mediocre movies, the kind, he liked to joke, that were shown in airplanes and prisons.
He did become famous enough to make frequent appearances on "The Tonight Show," leading to his most cherished film role and to his greatest folly.
In the early 1970s, director John Boorman was impressed by how confidently Reynolds handled himself when subbing for Carson as host of "The Tonight Show." Boorman thought he might be right for a film adaptation of James Dickey's novel "Deliverance."
Reynolds starred as Lewis Medlock, the intrepid leader of an ill-fated whitewater canoe trip. When he and three other Atlanta businessmen are ambushed by violent backwoodsmen, Reynolds must guide the group to safety.
"Deliverance" was an Oscar nominee for best picture and no film made him prouder. In his 2015 memoir "But Enough About Me," he wrote that "Deliverance" would be his choice could he put one of his movies in a time capsule.
"It proved I could act," he wrote.
But soon after filming was completed, he made a decision he never stopped regretting. While appearing on "The Tonight Show" with Cosmopolitan editor Helen Gurley Brown, he agreed to her invitation, offered during a commercial break, to be the first male centerfold for her magazine.
"I was flattered and intrigued," Reynolds wrote in his memoir. The April 1972 issue of Cosmopolitan quickly sold more than 1 million copies, but turned his life into a "carnival." The centerfold would appear on T-shirts, panties and other merchandise and Reynolds began receiving obscene fan mail. Reynolds' performance in "Deliverance" was snubbed by the movie academy.
"It was a total fiasco," he wrote. "I thought people would be able to separate the fun-loving side of me from the serious actor, but I was wrong."
He did remain an A-list movie star, starring in such films as "Shamus," ″The Best Little Whorehouse in Texas" and three popular "Smokey and the Bandit" comedies, with co-stars including Field and Jackie Gleason.
Reynolds also directed a few of the films he starred in, including "Gator," ″Sharky's Machine" and "Stick," and made cameo appearances in the Hollywood spoof "The Player" and Woody Allen's "Everything You Always Wanted to Know About Sex (But Were Afraid to Ask)."
One of his first encounters with the tabloids came in 1973 with the mysterious death of Sarah Miles' manager during filming of "The Man Who Loved Cat Dancing." Reynolds testified during a highly publicized inquest; the death was eventually ruled a suicide.
His romance with Shore, 20 years his senior, brought intense media scrutiny. The two met when Reynolds made a surprise appearance on her talk show, bursting out of a closet on the set.
In the 1980s, his career was nearly destroyed when false rumors surfaced that he was infected with the AIDS virus, in the height of hysteria over the disease. He had injured his jaw making the 1984 comedy "City Heat" with Clint Eastwood. Barely able to eat, he lost 50 pounds and suddenly looked ill and emaciated.
"For two years I couldn't get a job," he told the AP in 1990. "I had to take five physicals to get a job. I had to take the pictures that were offered to me. I did action pictures because I was trying to prove that I was well."
Reynolds later said that at the same time he became addicted to the prescription sleep-aid Halcion for several years.
He eventually regained his health, and in 1988 he married Anderson. The actress, one of the stars of the sitcom "WKRP in Cincinnati," had met him on a talk show.
The marriage was often ugly, the breakup even uglier. The couple divorced in 1995, and their breakup was an embarrassing public spectacle, with the pair exchanging insults in print interviews and on television shows. Reynolds finally paid her a $2 million settlement and a vacation home to settle the divorce.
"There was pain. There was some abuse," Anderson told the AP in 1995. There was drug addiction, on his part. There was always me trying to save it and feeling very empowered that I thought I could. And there was great love on my part."
Reynolds rebounded once again, this time with the role of porn movie impresario Jack Horner in Paul Thomas Anderson's "Boogie Nights," which brought him some of his best reviews even though he felt ambivalent about his character and felt limited rapport with the director.
He won a Golden Globe for best supporting actor and received an Oscar nomination. Convinced he would win, he was devastated when the Oscar went to Robin Williams for "Good Will Hunting."
"I once said that I'd rather have a Heisman Trophy than an Oscar," he wrote in his memoir. "I lied."
Reynolds had previously won a Golden Globe in 1992 for "Evening Shade," in which he played Wood Newton, a former professional football player who returns to his Arkansas hometown to coach the high school team. He also received an Emmy for the role in 1991.
He was back in the tabloids again in 2005 after he appeared in a remake of "The Longest Yard," which starred Adam Sandler in Reynolds' old role as an imprisoned former football star. Reynolds costarred as the coach, the role Michael Conrad had in the original film.
At a premiere in New York, a studio publicist admitted he hadn't seen either movie, and Reynolds responded by slapping him across the face. He joked later that it was just a "love tap."
Burton Leon Reynolds was born on Feb. 11, 1936, the son of a police chief who looked down on his son's ambitions to become an actor. After several years in California, he returned in 1969 to Florida, where he had gone to college. He bought eight acres of waterfront property in the wealthy community of Jupiter and spent most of the rest of his life there, devoting much of his later years to his only son, Quinton, whom he had adopted with Anderson.
He opened the Burt Reynolds Jupiter Theatre and a Burt Reynolds and Friends Museum, where he displayed his memorabilia and sometimes lectured to drama students.
Born
February, 11, 1936
Lansing, Michigan
Died
September, 06, 2018
Jupiter, Florida
Cause of Death
Cemetery
Other
cremated and ashes given to niece
851 profile views