Burl Ives
(Burl Icle Ivanhoe Ives)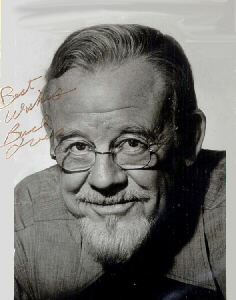 Burl Ives
Burl Ives was one of six children born to a Scottish-Irish farming family. He first sang in public for a soldiers' reunion when he was age 4. In high school, he learned the banjo and played fullback, intending to become a football coach when he enrolled at Eastern Illinois State Teacher's College in 1927. He dropped out in 1930 and wandered, hitching rides, doing odd jobs, street singing.
Summer stock in the late 1930s led to a job with CBS radio in 1940; through his "Wayfaring Stranger" he popularized many of the folksongs he had collected in his travels. By the 1960s, he had hits on both popular and country charts. He recorded over 30 albums for Decca and another dozen for Columbia. In 1964 he was singer-narrator of Rudolph, the Red-Nosed Reindeer (1964), an often-repeated Christmas television special. His Broadway debut was in 1938, though he is best remembered for creating the role of Big Daddy in the 1950's Cat on a Hot Tin Roof (1958) when it ran on Broadway through the early 1950s.
His four-decade, 30+ movie career began with Ives playing a singing cowboy in Smoky (1946) and reached its peak with (again) his role as Big Daddy role in the movie version of Cat on a Hot Tin Roof (1958) and winning an Oscar for best supporting actor in The Big Country (1958), both in 1958. Ives officially retired from show business on his 80th birthday in 1989 and settled in Anacortes, Washington, although he continued to do frequent benefit performances at his own request. Burl Ives died in 1995.
Born
June, 14, 1909
Jasper County, Illinois
Died
April, 14, 1995
Anacortes, Washington
Cause of Death
fell into a coma and died from complications of oral cancer
Cemetery
Mound Cemetery
Hunt City, Illinois
17373 profile views