Bud Tingwell
(Charles William Tingwell)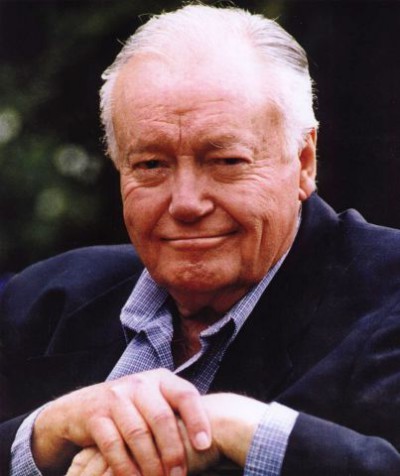 Tingwell was born in the Sydney suburb of Coogee, the son of William Harvey Tingwell and Enid (née Green). As an adolescent, his father encouraged him to be an accountant, but Tingwell failed the entrance exam. While still at school, he became a cadet at Sydney radio station 2CH, soon becoming the youngest radio announcer in Australia. In 1941, aged 18, Tingwell volunteered for war service overseas with the Royal Australian Air Force. Under the British Commonwealth Air Training Plan, personnel from Commonwealth air forces formed part of a joint training and assignment system. Consequently, Tingwell trained as a pilot in Canada during 1942. Despite damaging a Harvard training aircraft in August, he later qualified as a pilot and was commissioned as a pilot officer that December. He was posted to the Mediterranean Theatre and underwent operational training with No. 74 OTU RAF, in British Palestine, and qualified to fly the Hawker Hurricane and Supermarine Spitfire. Later, he was posted to a photo reconnaissance unit, No. 680 Squadron RAF, and flew 75 sorties in Mosquitos and Spitfires during the North African Campaign and the Allied invasion of Sicily. Other aircraft that Tingwell was qualified to fly included the Bristol Blenheim, Martin Baltimore, Bristol Beaufighter and Airspeed Oxford. He was promoted to flying officer in June 1943 and flight lieutenant in December 1944. Towards the end of the war, Tingwell was transferred back to Australia. He was posted to No. 5 Operational Training Unit RAAF as a flying instructor and then to No. 87 Squadron RAAF, flying photo reconnaissance Mosquitoes over the Dutch East Indies. On demobilisation in 1946, he was awarded the 1939–45 Star, Italy Star and Defence Medal. Tingwell remained a reservist into the 1950s.
After returning to Australia, Tingwell married his childhood sweetheart, Audrey May Wilson. They had two children. In 1946, Tingwell was given his first film role, as a control tower officer in Smithy. He took on several roles over the next few years, rising in prominence, until he caught the attention of Hollywood in 1952 and was awarded the part of Lt Harry Carstairs in The Desert Rats, in which he appeared opposite Chips Rafferty, James Mason and Richard Burton. After the filming of The Desert Rats, Tingwell remained in Australia for three years, making three further films, which included King of the Coral Sea, also featuring Rafferty. In 1954, he co-starred with Gordon Chater in Top of the Bill, the first of the famous satirical revues staged at Sydney's Phillip Street Theatre. In 1956, Tingwell moved to England. The following year, he took on his first recurring television role, as Australian surgeon Alan Dawson in the live TV serial Emergency – Ward 10 and its film spin-off Life in Emergency Ward 10 (1959). He also played the role of Inspector Craddock in all four films of the Miss Marple series, starring Margaret Rutherford, from 1961 to 1964. In the late 1960s, he performed various minor voice roles for the Gerry Anderson "Supermarionation" TV series Thunderbirds and Captain Scarlet and the Mysterons, besides appearing in the first series of Catweazle. He was the recurring character of Motel Manager Kevin McArthur in Crossroads in the late 1960s and early 1970s. Tingwell appeared in many other films during his time in England, spending a total of 16 years as a "London Aussie". In 1973, he returned to Australia with his wife and children, and shortly after won the role of Inspector Reg Lawson in the long-running TV series Homicide. This was followed by small roles in a number of major Australian films, such as Breaker Morant (1980), Puberty Blues (1981) and All the Rivers Run (1983). He also played the recurring role of farmer Ted Campbell in the soap A Country Practice in the late 1980s and early 1990s. and as The Narrator From The Flying Scotsman In Australia
Tingwell's career went through a quiet period during the late 1980s and early 1990s, until he took on the role of "Gramps" in "Charlie the Wonderdog", a recurring segment on The Late Show, in 1993. His role in The Late Show was later to win him a major role as lawyer Lawrence Hammill in the film The Castle (1997). He later stated that this role helped him to recover from the death of his wife the previous year. After the success of The Castle, Tingwell's career underwent a revival during the late 1990s and early 2000s. This saw him take on small roles in the commercial films The Craic (1999) and The Dish (2000), and in the TV mini-series Changi, as well as the lead role in the romantic drama film Innocence (2000). Tingwell also had a recurring guest role in the soap opera Neighbours from 2000 to 2003, playing Henry O'Rourke. He had previously appeared in the soap in 1993 as Bert Willis. He appeared as John Conroy in the musical theatre production The Man from Snowy River: Arena Spectacular, which toured Australian capital cities twice during 2002. In 2004, Tingwell published a memoir, Bud: A Life. In 2006, he launched his own website, which attracted 500 registered users in just over a week. On 5 October that year, he created his first blog. He continued to act regularly until his death, in a number of films and TV programs that are still in production. Among his last appearances, he hosted both Celebrity Circus, and 20 to 1, and appeared on a celebrity special of Temptation with his daughter, Virginia. Tingwell died in Melbourne from prostate cancer, aged 86, on 15 May 2009. He was given a state funeral, which was held at St Paul's Cathedral on 20 May.
Born
January, 03, 1923
Australia
Coogee, New South Wales
Died
May, 15, 2009
Australia
Melbourne, Victoria
Cause of Death
Cemetery
Sandgate Cemetery
Newcastle, New South Wales
Australia
7959 profile views