Brian Wilde
(Brian George Wilde)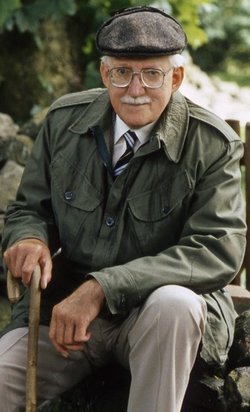 Though born in Ashton-under-Lyne, Lancashire, he was brought up in Devon and Hertfordshire and attended Hertford Grammar School. He trained as an actor at RADA. He had a small part in the horror film Night of the Demon (1957). He had an earlier role as a small time crook in the 1954 film "Forbidden Cargo" (uncredited) starring Jack Warner and Nigel Patrick. Early television roles included the series The Love of Mike (1960) and supporting Tony Hancock in episodes of his ATV series in 1963. He also played Detective Superintendent Halcro in a series of two-part thrillers about undercover Scotland Yard officers, The Men from Room Thirteen (BBC, 1959–61). He had minor roles in films such as Life for Ruth (1962), The Bargee (1964), The Jokers (1967) and Carry On Doctor (1967), and on television in Room at the Bottom (1966–67) as Mr Salisbury. His first major television success was in 1970 as refuse depot manager "Bloody Delilah" in the ITV sitcom The Dustbinmen. He showed his sinister side as the mischievous magician Mr Peacock in the children's drama series Ace of Wands between 1970 and 1972. That year he starred as a murderer in The Uninvited, an episode of the BBC's supernatural thriller series Out of the Unknown. Also in 1971, in the television drama Elizabeth R, Wilde played the efficient, merciless 'rackmaster' Richard Topcliffe, who was charged with the torture of prisoners in the Tower of London. He also played a character in the 1970s British comedy series on Children's TV The Ghosts of Motley Hall" by Richard Carpenter.
In 1973, he starred as a different kind of gaoler in the second episode of Seven of One, a series of seven individual stories, all of which starred Ronnie Barker. In the episode, entitled "Prisoner and Escort", Wilde played Mr Barrowclough, one of two prison officers whose job it is to escort Barker's character Fletcher across the moors to his prison (The other was Mister MacKay, played by Fulton Mackay). The episode proved popular and a series was commissioned by the BBC, called Porridge. Wilde reprised his role as the timid and eager-to-please Barraclough. Porridge was popular and successful; it ran until 1977, with a film version being made in 1979. Wilde gained and established another role in 1976, when he took over from Michael Bates as the third member of a trio of old men in the BBC sitcom Last of the Summer Wine. The character, Walter "Foggy" Dewhurst, was a determined ex-army man who planned the group's misadventures with military precision and a painstaking eye for detail. Wilde saw the long-running series gather momentum and continue its success; he stayed with the series for nine years, before leaving in 1985 to work on other projects. Foggy was written out of the series – it was said that he had moved to Bridlington to take over the family egg painting business – and was replaced by Michael Aldridge as Seymour Utterthwaite until 1990.
When Aldridge left Last of the Summer Wine, Wilde returned as Foggy in 1990, reuniting the series' most popular and enduring line-up. Suffering from pneumonia, Wilde stood down for the first five episodes of the 1998 series in case his illness worsened. His temporary absence was covered by Frank Thornton; Wilde himself suggested Thornton as a replacement. The filming of a Christmas special made to introduce Thornton's character resulted in a scheduling problem that made it impossible for Wilde, who was by then fully fit, to return in that series. Producer Alan J.W. Bell said, "Since then, he has been invited to return many times, but says he feels he has 'done it now' and doesn't want to go back. I am sure that one day he will make an appearance – we still have his costume standing by," but Wilde never did return to the role and the show ran for another thirteen years, the last series being filmed the year after Wilde's death. In 1967 the ABC TV series The Avengers episode "The Fear Merchants" original air date (UK) 21 January 1967. He played Jeremy Raven a ceramics manufacturer caught up in a sinister plot to get rid of the competition. In 1988 he starred in his own BBC series, Wyatt's Watchdogs as Major Wyatt, a retired soldier, who forms his own neighbourhood watch group. As a stuffy ex-army member who leads a motley bunch of comic characters, Wyatt was quite similar to Foggy. The programme, which co-starred Trevor Bannister, was written by Miles Tredinnick and ran for one series of six episodes. He also supplied the voice of the magician Meredith in the children's animated series Alias the Jester and has narrated an animated series, Microscopic Milton, about a microscopic little chap who lives in a clock on the mantelpiece, in the parlour of the house that belongs to a lady called Mrs. Witherspoon. In 1978, Wilde voiced the public information film series Play Safe, highlighting the dangers of overhead power lines to children. Wilde suffered a fall in January 2008 from which he never recovered. He died in his sleep on the morning of 20 March 2008 at his home in Ware, Hertfordshire and was survived by Eva, his wife, and their son and daughter. His son, Andrew Wilde, had been film editor on Last of the Summer Wine since the mid-1990s, working initially on many of the episodes that had starred his father and later on the Frank Thornton editions.
Born
June, 13, 1927
United Kingdom
Ashton-under-Lyne, Lancashire, England
Died
March, 20, 2008
United Kingdom
Ware, Hertfordshire, England
Cause of Death
Cemetery
Harwood Park Crematorium
Stevenage, Hertfordshire, England
United Kingdom
8446 profile views