BCrushrCrushiCrushaCrushnCrush CrushACrushdCrushaCrushmCrushsCrush
(Brian Adams)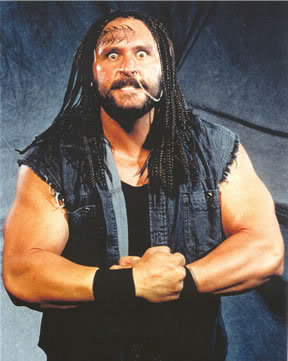 Brian Adams
Brian Adams was born in Kona, Hawaii and was raised in Kealakekua, Hawaii and attended Konawaena High School. After graduating from high school, Adams joined the military, where he began boxing. It was during his time in the military, while stationed in Japan, that he was also exposed to wrestling. Adams was trained in wrestling by famed Japanese wrestler and mixed martial artist Antonio Inoki. In 1986, after training in Japan, Adams came to the United States and began working in Portland, Oregon's Pacific Northwest Wrestling (PNW).
In the Pacific Northwest Wrestling (PNW) promotion, he was given the nickname The American Ninja and was put in a tag team called "The Wrecking Crew" with Len Denton, who wrestled under a mask, billed as "The Grappler." Adams and Denton were the Pacific Northwest Tag Team Champions for a time and worked a feud with the Southern Rockers, Steve Doll and Rex King. In 1990, he won the Pacific Northwest Heavyweight Championship after winning a tournament final match against Larry Oliver in Portland on April 21, 1990 for the vacant title. He lost the title to Scott Norton on May 12, 1990 in Portland.
In June 1990, while still working for the PNW, Adams debuted in the World Wrestling Federation (WWF) as Crush, the third member of the WWF World Tag Team Championship team Demolition. With Adams joining Demolition, the stable exercised the Freebird Rule allowing any combination of the three to defend the tag team title, which allowed Crush to become a World Tag Team Champion without being involved in the match where the team won the title (Demolition had begun their third reign as champions at Wrestlemania VI in April 1990 before Adams even debuted for the WWF). At the SummerSlam pay-per-view in 1990, Demolition, with new member Adams, lost the Tag Team title to The Hart Foundation in a two out of three falls match with Adams getting pinned for the final fall to lose the title. After SummerSlam, Demolition resumed an earlier feud with The Legion of Doom. Adams continued to perform as part of Demolition until after WrestleMania VII where he and Smash lost to Genichiro Tenryu and Koji Kitao. After WrestleMania, the WWF decided to disband Demolition as a team.
Upon his departure from the WWF, Adams, who continued to use the Crush gimmick, returned to PNW. He was portrayed as a dominant wrestler, winning both the Pacific Northwest Tag Team Championship and the Pacific Northwest Heavyweight Championship. Adams received the first of these two championships during this stint in the PNW while teaming with previous rival Steve Doll and defeating The Bruise Brothers for the Tag Team Championship on July 27, 1991 in Portland, Oregon. They remained the champions until September 1, 1991 when they lost the title to The Grappler and Don Harris. A little more than a month later, Adams received his second Pacific Northwest Heavyweight title, on October 12, 1991, in Portland after he defeated Rip Oliver via submission to the Full Nelson hold. Adams was the champion for just over three months, losing the title to Ron Harris at a show in Portland, on January 18, 1992.
Adams went back to work for the WWF in 1992 and was given a new fan favorite character: an easygoing surfing Hawaiian who wore bright neon tights and utilized a new two-handed skull vice finisher called the Kona Crush. Crush made his televised debut in WWF under his new character on May 9, 1992 episode of Superstars, defeating Kato. At SummerSlam 1992 at the famous Wembley Stadium in London, England in front of 80,355 fans, he defeated his former tag team partner Barry Darsow (Smash) who was now known as Repo Man. Crush then engaged in a feud with Doink the Clown (Matt Osborne), after he was attacked with a loaded prosthetic arm while confronting the clown about his cruel pranks on children at ringside, which caused Crush to miss the 1993 Royal Rumble. The feud culminated at WrestleMania IX in Las Vegas, where Crush lost after a second, identical Doink (played by Steve Keirn) appeared from underneath the ring and struck Crush with the prosthetic arm. At the first King of the Ring pay-per-view, Crush challenged Shawn Michaels for the Intercontinental Championship, but lost the match after a distraction by Doink.
On July 4, 1993, Crush injured his back in the stars and stripes challenge trying to bodyslam WWF Champion Yokozuna who at the time had a billed weight of 580 lb (260 kg) (the bodyslam challenge took place on the US Navy Aircraft carrier USS Intrepid). Crush, generally considered to have the best chance of those present, was the first wrestler to actually get Yokozuna off his feet but his back gave out forcing him to stop. Lex Luger, repackaged from the heel character The Narcissist to an all-American hero, arrived soon after via helicopter and slammed the 580 lb WWF Champion. On the July 12 edition of Monday Night RAW, Crush faced Yokozuna for the WWF Championship in a losing effort. To send a message to Luger, Yokozuna performed several Banzai Drops to Crush, leaving him off TV for several months.
Crush returned in the fall of 1993 and attacked his on-screen friend Randy Savage, because Savage had encouraged him to enter the Body Slam Challenge, and had failed to contact him during recuperation. Crush then allied himself with Yokozuna and Mr. Fuji, becoming a villain. Adams adopted a "Japanese sympathizer" gimmick to go with his new attitude, including growing a beard, using face paint (albeit a design far different from his Demolition days), and wearing darker colors. This rivalry led to a falls count anywhere match against Savage at WrestleMania X, which he lost when Savage hogtied him to a metal rack and returned to the ring before a 60 second count. The match with Savage is notable for being Savage's final WrestleMania appearance.
In January 1995, Adams took part in the 1995 Royal Rumble match as the 30th entrant in the elimination match. He eliminated Billy Gunn, Bart Gunn, Adam Bomb, and Fatu before being eliminated by Davey Boy Smith. Shortly after he was arrested, and subsequently jailed, for purchasing steroids and possessing an illegal hand gun, while home in Hawaii.
After a brief stint in jail, Adams was brought back to the WWF with a new biker look at the beginning of the Monday Night Wars in 1996, with his real-life incarceration being referenced as part of a storyline on Monday Night Raw. Upon his return, the WWF gave Adams Clarence Mason, who portrayed a lawyer-like character on-screen, as a manager. Shortly after his return, he was made a member of the Nation of Domination (NOD) along with Faarooq and Savio Vega. Adams was later kicked out of the group, while once again turning face and subsequently formed and led a wrestling biker gang stable called the Disciples of Apocalypse (DOA). The DOA feuded with Faarooq's NOD and Vega's new stable, Los Boricuas. Adams later left the WWF in 1997, partially in protest to the Montreal Screwjob, while in storyline, he was injured by Kane even though his real last appearance was on Shotgun Saturday Night that week as he and the rest of the DOA defeated Steve Corino, Marty Garner, Mike Hollow, and Jason Ahrndt.
Adams signed with World Championship Wrestling (WCW) in 1998 and debuted as part of the New World Order. As a lower card performer, he often tag-teamed with the likes of Scott Norton and Stevie Ray, occasionally losing matches against smaller and lesser known wrestlers. However, he also gained squash victories over jobbers in singles competition. During his time with the promotion, he was involved in a tag team tournament steel cage match on WCW Thunder in February 1999, in which he and Horace Hogan lost to Chris Benoit and Dean Malenko. Afterwards, he was chosen to portray the KISS-themed wrestler "The Demon" after walking out on the New World Order and entering a limo that supposedly had the band inside. He played the character for its debut on WCW Monday Nitro in which KISS also played a live concert. He would play it one more time to come out and have a staredown with heel wrestler Vampiro and abandoned it afterwards, never wrestling a single match with the gimmick. The Demon mantle was subsequently passed to Dale Torborg with no explanation given. Later, he formed a team with Bryan Clark called KroniK, which won the WCW World Tag Team Championship twice (Clark had wrestled under the name Adam Bomb in the WWF during the mid-1990's).
After the WWF's purchase of WCW, KroniK appeared in WWF as part of the Alliance storyline. During their time in WWF, they were managed by Steven Richards and were placed in a short feud with the Brothers of Destruction (The Undertaker and Kane). Adams and Clark faced, and lost to, the duo at the 2001 Unforgiven pay-per-view. Both men were accosted by the Undertaker in the locker room after the match for their lackluster performance. Clark was released from his WWF contract after refusing to go to the then WWF developmental territory Heartland Wrestling Association in Cincinnati, Ohio, while Adams did go to the HWA, where he performed until he, too, was released from his WWF contract in November 2001.
Adams and Clark briefly worked for World Wrestling All-Stars in early 2002. They then traveled to Japan to work for All Japan Pro Wrestling (AJPW). On July 17, 2002, at an AJPW pay-per-view, Adams and Clark defeated Keiji Mutoh and Taiyō Kea for the World Tag Team Championship. Adams and Clark remained champions until November 2002 when AJPW declared the title vacant, because Adams had left the promotion to pursue a boxing career.
Adams was scheduled to have his first boxing match, against Rick Zufal, on November 16, 2002 at the Mandalay Bay Resort and Casino in Las Vegas, Nevada with professional wrestler Randy Savage in his corner. This bout was to air on the Never Surrender boxing pay-per-view, but during his training for the bout, Adams injured his shoulder and was unable to fight. After recovering from his shoulder injury, Adams returned to wrestling for "Wrestle 1", a pay-per-view for the Japanese promotion W-1, which was held at the Tokyo Dome in Japan. In January 2003, he made his last in-ring performance, teaming with Bryan Clark, and facing Bill Goldberg and Keiji Mutoh in a losing effort. He suffered a spinal injury in this match that forced him into retirement.
In 1996, Adams had an uncredited role in the Bollywood movie Khiladiyon Ka Khiladi. In the movie, he played "Crush" and was killed by "The Undertaker" (played by Brian Lee) in a wrestling match.  After retiring from professional wrestling, Adams had surgery to attempt to correct his spinal injury, but it left him unfit to continue to wrestle. Following his retirement, Adams became a bodyguard for his longtime friend, wrestler-turned-rapper Randy Savage, who was touring to promote his CD, Be a Man. It was reported that Adams was living on income from a Lloyd's of London insurance policy. Adams expressed interest in opening a health club in Tampa, Florida, which was to be a franchise of fellow wrestler Marc Mero's "Body Slam" training center. Brian Adams and his wife have two children,
On August 13, 2007, Adams was found unconscious in his bed by his wife at their Tampa, Florida home. She called 911, but he was pronounced dead by paramedics when they arrived. He was 43 years old. Adams reportedly received illegal steroids in February 2006, including nandrolone, testosterone and HGH. These drugs were speculated to have played a role in his death.
Born
April, 14, 1964
Kona, Hawaii
Died
August, 13, 2007
Tampa, Florida
Cause of Death
Cemetery
Other
Cremated and ashes given to family
17294 profile views