Brandon Burlsworth
(Brandon Vaughn Burlsworth)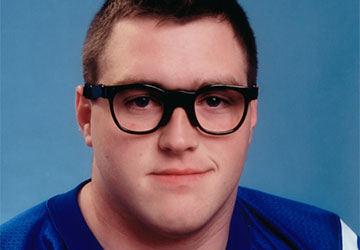 Brandon Burlsworth
Former Arkansas football player and Indianapolis Colts draft pick Brandon Burlsworth died Wednesday in a car crash while travelling to his home, state police said.
State police Cpl. Philip Straub said the call came in at 4:17 p.m. that there was a crash involving a car and a tractor-trailer on U.S. 412 near Carrolton.
Burlsworth, 22, was a third-round draft pick of the Colts.
The 6-3 1/4, 308-pound offensive guard had earned a master's degree in business administration while playing at Arkansas. He was a walk-on who rose to become a starter and earned All-Southeastern Conference honors. He was a second-team All-American.
After the season, he attended an NFL combine last February and impressed scouts. Burlsworth ran a 40-yard dash in 4.88 seconds and recorded a 31.5-inch vertical leap.
Burlsworth had lifted weights at the university on Wednesday afternoon and was on his way from Fayetteville to Harrison, Arkansas sports information director Rick Schaeffer said.
"You never expect it. You never expect a 22-year-old to not be there," Schaeffer said in a phone interview from his home.
Coach Houston Nutt had been informed of Burlsworth's death and issued a statement. "We are stunned by this tragic news. You just can't believe it happened. We hurt for Brandon Burlsworth's family. There are no words that can describe the way we feel," Nutt said in a statement read by Schaeffer.
Arkansas Athletic Director Frank Broyles said the university would work to honor Burlsworth's memory.
"We've been in a state of shock," Broyles said in a phone interview. "We're just … saddened and offer our thoughts and prayers to the family."
He said he and the team's coaches would work to "honor Brandon for all that he stood for and all that he meant to this university." When he was drafted April 17, Burlsworth said he was relieved to have been picked and said he was eager to go to Indianapolis for a minicamp that was to start April 22.
He said his study of business prepared him well for the money he anticipated making in the NFL, saying he knew better than to spend freely.
"I've learned not to do that," Burlsworth told The Associated Press on April 17. "I'm really a tight individual by nature. I'll put that [money] up somewhere and let it grow." Schaeffer said Burlsworth, who started his last 34 games, was the first Arkansas player to have earned a master's degree before playing his last game. "You talk about the cream of the crop," Schaeffer said.
Born
September, 20, 1976
Harrison, Arkansas
Died
April, 28, 1999
Alpena, Arkansas
Cause of Death
Cemetery
Gass Cemetery
Omaha, Arkansas
4018 profile views