Boxcar Willie B o x c a r W i l l i e
(Lecil Travis Martin)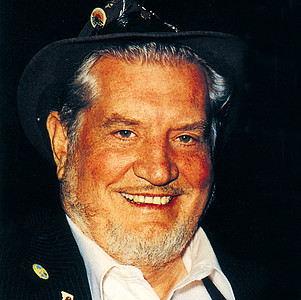 Boxcar Willie
Boxcar Willie was perhaps the most successful invented character in the history of country music. With his kitschy persona and stage act — highlighted by his amazingly accurate impersonation of a train whistle — Willie played into the stereotype of the lovable, good-natured hobo who spent his life riding the rails and singing songs. Since his popularity had more to do with his image than his music, it makes sense that he was massively successful in England, where he personified Americana. Willie's English success carried him over to American success in the early '80s, where he ironically was perceived as carrying the torch for traditional country, because he kept the stereotypes alive.
Born Lecil Travis Martin, Boxcar Willie never worked on the railroads — his father did. However, Willie loved the railroads and kept running away to ride the trains when he was a child. He also loved country music, particularly the songs of Jimmie Rodgers, Roy Acuff, and Ernest Tubb. As a teenager, Boxcar Willie would perform under his given name, eventually becoming a regular on the Big D Jamboree in Dallas, TX. In his early twenties, he served in the Air Force. After he left the service, he continued to sing in clubs and radio shows. In the late '50s, he began performing as Marty Martin, while working blue-collar jobs during the day. Marty Martin released an album, Marty Martin Sings Country Music and Stuff Like That, around 1958, but it was ignored.
In the mid-'60s, Martin wrote a song called "Boxcar Willie," based on a hobo he saw on a train. Martin continued to struggle in his musical career until the mid-'70s. By that time, he had become a DJ in Corpus Christi, TX. In 1975, he decided to risk everything he had on one final chance at stardom. He moved to Nashville and developed the Boxcar Willie character, using his song as the foundation.
Initially, Boxcar Willie wasn't very successful, but he had a lucky break in 1976 when he was called in to replace a sick George Jones at a Nashville club. During that performance, he was spotted by Drew Taylor, a Scottish booking agent. Taylor brought Boxcar Willie over to England for a tour, where he was enthusiastically received. Later that year, he released his first album, which was a moderate success in the U.K. Through the rest of the '70s, Willie toured Britain and every tour was more successful, culminating in a performance at the International Country Music Festival at Wembley in 1979. After his Wembley show was finished, he received a standing ovation — the performance established Boxcar Willie as a star. His next album, King of the Road, became a huge success in England, reaching number five on the album charts; the record was helped immeasurably by its accompanying television advertisements, which sold the record through the mail.
By the end of 1980, Willie had become the most successful country artist in England, and his American success had just begun. King of the Road was available through an American television advertisement. "Train Medley" was a minor hit on the country charts, and he was becoming a popular attraction on U.S. concert circuits. In 1981, he received a spot on the Country Music Hall of Fame's Walkway of the Stars and became a member of the Grand Ole Opry.
Boxcar Willie enjoyed his time in the spotlight, becoming a regular on the television show Hee Haw in 1982 and turning out albums as fast as he could make them. "Bad News" became his only American country Top 40 hit in 1982. In 1985, he played a hobo in Sweet Dreams, a film about Patsy Cline. By the mid-'80s, his star had faded, but he remained a popular concert attraction, particularly in England, into the '90s. Boxcar Willie died in Branson, MO, on April 12, 1999, after a three-year battle with leukemia.
Born
September, 01, 1931
Ellis County, Texas
Died
April, 12, 1999
Branson, Missouri
Cause of Death
Cemetery
Ozarks Memorial Park
Branson, Missouri
12462 profile views