Bobby Vee
(Robert Thomas Velline)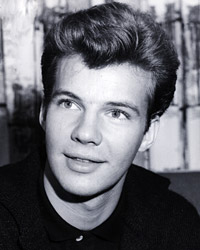 Bobby Vee
If you've never experienced a funeral where the priest spoke of "jam sessions" and the Eucharist was followed by rock 'n roll, then you've likely never been to a funeral quite like Bobby Vee's.
Hundreds of mourners gathered at the St. John's Abbey church at midday Wednesday for the funeral of the pop singer. Before the service, mourners quietly and prayerfully stopped at an open casket surrounded by candles and flowers.
Father Greg Miller conducted the ceremony, calling Vee an "ambassador of joy" before escorting the body to the altar.
Rejoicing in life and music was a constant theme throughout the ceremony, highlighted in the homily given by Father Eugene McGlothlin, who married Vee and his wife Karen Velline in 1963.
"I doubt we've ever had so many wonderful voices in this church," said McGlothlin. "So sing out! I doubt Bob would love anything more than hearing you all together, singing and enjoying being with each other."
As the Eucharist was prepared, Vee's five grandchildren acted as gift bearers to the altar, while an instrumental performance of Vee's hit song "Take Good Care of My Baby" filled the church.
Harold "Hal" Velline, a cousin of Vee, gave a eulogy for the man he knew as "that kid who grew up in South Fargo." He reminisced about Vee and the influence of their grandmother, who decreed two rules: No speaking Norwegian in the house, and every Velline child would learn to sing and play an instrument.
"You couldn't find a house anywhere with more love," said Velline.
"As I read the numerous articles (about Vee's passing), I was struck by the fact that just about every positive adjective was used to describe Bob. Decent, hardworking, humble, generous, sweet, sincere, accomplished, kind, loyal, helpful, happy — the list goes on," said Velline. "But none of us here today need to read that list. We've experienced it."
"I'd like you all to promise me that when some time has passed, and at that moment when you have the pleasure of hearing one of Bob's hits, and before you get ready to start singing, that you take a second and remember what a fantastic human being he really was. I find it fitting to end my talk on Bob with his own words, from 'Every Opportunity': 'You've accomplished all that matters in the end.'"
Tearful family members followed as the casket was carried out to the song "Every Grain Of Sand." Bells rang out as the service concluded about 1:30 p.m.
The Velline family continued on to a private burial, while other mourners went to a luncheon at the parish center.
Tyler Michaels, who portrayed Vee in "Teen Idol: The Bobby Vee Story" at History Theatre in St. Paul throughout the month of October, attended the funeral and said the service was "a wonderful mix of celebration and honor."
"I'm very strongly impacted right now. It was very powerful, great to get some rock and roll in there as well," said Michaels. "It's really surreal. I never had the pleasure to meet (Vee), but I feel like I know him so well, having played him for so long. It was a true honor to portray him."
Bobby Vee was born Robert Thomas Velline in 1943 in Fargo, North Dakota. Vee's career began dramatically at age 15 on Feb. 3, 1959, when Vee and his band The Shadows took the stage in Moorhead after Buddy Holly's tragic death.
He rose to fame as a teen idol in the early 1960s following the release of hit singles including "Take Good Care of My Baby," "The Night Has A Thousand Eyes" and "Rubber Ball." Throughout his career he won the admiration of many popular musicians, including Bob Dylan, who once described Vee's voice as "as musical as a silver bell." In total, Vee produced 38 Billboard Hot 100 hits in his career.
In 1980, Vee moved with his wife Karen and their children to St. Cloud, where their charitable outreach made a substantial impact on the community. Vee was diagnosed with early onset Alzheimer's disease on Jan. 7, 2011, but continued to perform until July 3 of that year when he made his final public musical performance at Joetown Rocks in St. Joseph.
Karen Velline died of complications from a chronic lung disease on Aug. 3, 2015, after which Vee moved to The Wellstead of Rogers & Diamondcrest, a memory care facility where the singer would live out his final months.
Vee died Oct. 24 of complications from advanced Alzheimer's disease. He is survived by his children Jeffrey, Thomas, Robert and Jennifer.
Born
April, 30, 1943
Fargo, North Dakota
Died
October, 24, 2016
Rogers, Minnesota
Cause of Death
complications from advanced Alzheimer's disease
Cemetery
Saint John the Baptist Parish Cemetery
Collegeville, Minnesota
2455 profile views