Bobby Sands
(Robert Gerard Sands)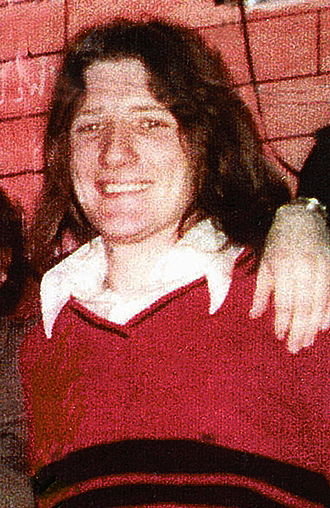 Sands was the firstborn son of a Roman Catholic family. His parents were both raised in the Catholic slums of Belfast. After marrying, they relocated to the new development of Abbots Cross in Newtownabbey, County Antrim outside north Belfast in an effort to avoid the poverty and sectarian violence of their youth. His parents were able to live in an Ulster Protestant-dominated neighbourhood (home to three Protestant churches and a Protestant-only school but no Catholic church) by deliberately concealing their Catholicism; the fact that Sands was not a traditional Catholic surname aided them in this effort. Bobby Sands was born in 1954, his sisters, Marcella and Bernadette, were born in April 1955 and November 1958, respectively. By 1960, the secret of the Sands's religion had leaked out, and after experiencing harassment and intimidation from their neighbours, the family abandoned their house and moved in with neighbours for six months before being granted housing in the nearby Rathcoole development. Rathcoole was 30% Catholic and featured Catholic schools as well as a nominally Catholic but religiously-integrated youth football club known as the Star of the Sea (which Sands was a member of and for whom he played left-back), an unusual circumstance for the time. His parents, John and Rosaleen, had another son, John, in 1962.
By 1966, sectarian violence in Rathcoole (along with the rest of Belfast) had considerably worsened, and the minority Catholic population there found itself under siege; Sands and his sisters were forced to run a gauntlet of bottle- and rock-throwing Protestant youths on the way to the Catholic school every morning, and the formerly integrated Rathcoole youth football club banned Catholic members and renamed itself "The Kai", which stood for "Kill All Irish". Despite always having had Protestant friends, Sands suddenly found that none of them would even speak to him, and he quickly learned to associate only with Catholics. He left school in 1969 at age 15, and enrolled in Newtownabbey Technical College, beginning an apprenticeship as a coach builder at Alexander's Coach Works in 1970. He worked there for less than a year, enduring constant harassment from his Protestant co-workers, which according to several co-workers he ignored completely, as he wished to learn a meaningful trade. He was eventually confronted after leaving his shift in January 1971 by a number of his colleagues wearing the armbands of the local Ulster loyalist tartan gang. He was held at gunpoint and told that Alexander's was off-limits to "Fenian scum" and to never come back if he valued his life. This event, by Sands's own admission, proved to be the point at which he realised peaceful coexistence with the local Protestants was no longer possible and decided that counter-militancy was the only answer. In June 1972, Sands' parents' home was attacked and damaged by a loyalist mob and they were again forced to move, this time to the West Belfast Catholic area of Twinbrook, where Sands, now thoroughly embittered, rejoined them. He attended his first Provisional IRA meeting in Twinbrook that month and joined the IRA the same day. By 1973, almost every Catholic family had been driven out of Rathcoole by violence and intimidation.
In 1972, Sands joined the Provisional IRA. He was arrested and charged in October 1972 with possession of four handguns found in the house where he was staying. Sands was convicted in April 1973 sentenced to five years imprisonment and released in April 1976.  Upon his release from prison in 1976, he returned to his family home in West Belfast, and resumed his active role in the Provisional IRA. Sands and Joe McDonnell planned the October 1976 bombing of the Balmoral Furniture Company in Dunmurry. The showroom was destroyed but as the IRA men left the scene there was a gun battle with the Royal Ulster Constabulary. Leaving behind two wounded, Seamus Martin and Gabriel Corbett, the remaining four (Sands, McDonnell, Seamus Finucane, and Sean Lavery) tried to escape in a car, but were arrested. One of the revolvers used in the attack was found in the car. In 1977 the four were sentenced to 14 years for possession of the revolver. They were not charged with explosive offenses.  Immediately after his sentence, Sands was implicated in a ruckus and spent the first 22 days "on boards" (all furniture was removed from his cell) in Crumlin Road Prison, 15 days naked, and a No. 1 starvation diet (bread and water) every three days.
In prison, Sands became a writer of both journalism and poetry, with work published in the Irish republican newspaper An Phoblacht. In late 1980 Sands was chosen as Officer Commanding of the Provisional IRA prisoners in Long Kesh, succeeding Brendan Hughes who was participating in the first hunger strike.  Republican prisoners organised a series of protests seeking to regain their previous Special Category Status which would free them from some ordinary prison regulations. This began with the "blanket protest" in 1976, in which the prisoners refused to wear prison uniform and wore blankets instead. In 1978, after a number of attacks on prisoners leaving their cells to "slop out" (i.e., empty their chamber pots), this escalated into the "dirty protest", wherein prisoners refused to wash and smeared the walls of their cells with excrement.
Sands died on 5 May 1981 in Maze prison hospital after 66 days of hunger-striking, aged 27. The original pathologist's report recorded the hunger strikers' causes of death as "self-imposed starvation", later amended to simply "starvation" after protests from the dead strikers' families. The coroner recorded verdicts of "starvation, self-imposed".  The announcement of Sands's death prompted several days of rioting in nationalist areas of Northern Ireland. A milkman, Eric Guiney, and his son, Desmond, died as a result of injuries sustained when their milk float crashed after being stoned by rioters in a predominantly nationalist area of north Belfast. Over 100,000 people lined the route of Sands's funeral and he was buried in the 'New Republican Plot' alongside 76 others. Their grave is maintained and cared for by the National Graves Association, Belfast.  In response to a question in the House of Commons on 5 May 1981, British Prime Minister Margaret Thatcher said, "Mr. Sands was a convicted criminal. He chose to take his own life. It was a choice that his organisation did not allow to many of its victims".
Born
March, 09, 1954
United Kingdom
Newtownabbey, Ireland
Died
May, 05, 1981
United Kingdom
HM Prison Maze, Maze, County Down, Ireland
Cause of Death
Cemetery
Milltown Cemetery
Belfast, County Antrim, Ireland
United Kingdom
10847 profile views