Bobby Keys
(Robert Henry Keys)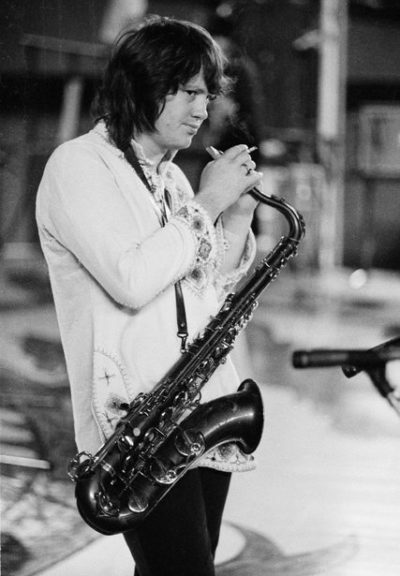 Bobby Keys met the Rolling Stones at the San Antonio Teen Fair in 1964. He is best known for his impressive resume as a musician (his contributions include the saxophone solo on the 1971 hit "Brown Sugar") and his friendship with Keith Richards. Keys and Richards share exactly the same date of birth. Notably, Keys and Richards threw a television set from the 10th floor of the Continental Hyatt House in West Hollywood, California during the group's 1972 American tour, as seen in the Stones' unreleased 1972 concert movie Cocksucker Blues. After renewing his acquaintance with the band via Gram Parsons, a mutual friend, Keys made his debut with The Rolling Stones on the Let It Bleed track "Live with Me" in 1969. In addition to "Brown Sugar," he was prominently featured on such early 1970s Stones songs as "Can't You Hear Me Knocking" and "Happy". Bobby Keys and Mick Jagger also became close in the early 1970s, with Keys serving as best man at Jagger's wedding. Together with Jim Price on trumpet, Keys toured with the Stones from 1970 to 1972. Along with trumpeter Steve Madaio and fellow saxophonist Trevor Lawrence, Keys continued as a touring member for the first half of the 1973 European tour before leaving in Frankfurt, Germany on September 30. According to legend, Keys was abruptly dismissed by an incensed Jagger after filling a bathtub with Dom Perignon champagne (resulting in a debt to the band that encompassed his entire salary for the tour) and drinking most of it. Although Keys did not dispute the incident, he subsequently maintained in his memoir that he left the tour of his own volition to curtail his heroin addiction for the sake of his family. As a result of this turmoil, Keys only guested on some shows of the 1975 and 1978 American tours, missing the 1976 European tour completely. He performed only four tracks on the 1981 tour, on which Ernie Watts was the saxophonist. Keys was reinstated as the band's main touring saxophonist on the 1982 European Tour, together with Gene Barge. Keys played with the Stones on all subsequent tours up to his death.
Prior to touring with the Stones, Bobby Keys played with Delaney & Bonnie and Friends with Eric Clapton and George Harrison in 1969. In particular, the year 1970 was an extraordinary series of notable performances. Keys started the year working on Clapton's first solo LP. With Leon Russell, he supported Joe Cocker on the 48-city Mad Dogs & Englishmen tour. The live album Mad Dogs & Englishmen was released in 1970, followed by a concert movie in 1971. During the tour, Cocker and the band were accompanied by a largely American entourage, including a choir, friends, wives, children, groupies and a single dog named Canina; the entire group numbered almost 40 people. After work on George Harrison's All Things Must Pass and more Sticky Fingers tracks, he joined the Rolling Stones for their fall 1970 European tour. From 1973 to 1975, Keys participated in Lennon's "Lost Weekend" in Los Angeles along with Ringo Starr, Harry Nilsson and Keith Moon; while in Los Angeles, he played on Lennon's albums Walls and Bridges (including the #1 American hit "Whatever Gets You thru the Night") and Rock 'n' Roll. Although it is believed that he took part in the last known recording session between Paul McCartney and Lennon (widely bootlegged as A Toot and a Snore in '74), he could not recall contributing to the session. He also played the solo on Leo Sayer's 1977 international soft rock hit "When I Need You" from the Endless Flight album. In 1989, Bobby Keys became the musical director for Ronnie Wood's new Miami club, Woody's On the Beach. The first week the club opened Keys booked Jerry Lee Lewis, Fats Domino and the Crickets. In the early 1990s Keys was a resident of Miami and had a band with former Stones guitarist Mick Taylor, Stones pianist Nicky Hopkins, Ivan Neville, bassist Calvin "Fuzzy" Samuels and others called Tumbling Dice. Although better known as a session musician, Keys released two albums of his own in the 1970s: a self-titled instrumental album on Warner Bros. Records that featured Ringo Starr, George Harrison and Eric Clapton in 1972; and Gimme the Key on Ringo Starr's record label Ring O'Records in 1975.
Bobby Keys appeared on December 16, 2011, with the Athens, Georgia-band Bloodkin in their "Exile on Lumpkin Street" show at the Georgia Theater, which re-opened in August 2011 in its remodeled and enlarged space after the building had been gutted by fire in June 2009. Besides performing some of their own music, Bloodkin rocked out with Keys on numerous hits from three of the biggest Stones' albums on which Keys had performed, Let It Bleed, Sticky Fingers, and Exile on Main St. In 2013 he played with the Rolling Stones at their Glastonbury Festival debut, headlining on Saturday, June 29.[9] Keys played on their 14 On Fire tour with Roskilde Festival in Denmark being his last ever gig for the Stones. Keys was married to Holly Keys. Their children were Jesse, Huck, Amber, and stepson Randy Kaune.Bobby Keys died from liver cancer in hospice care at his home in Franklin, Tennessee, on December 2, 2014, sixteen days before his 71st birthday.
Born
December, 18, 1943
USA
Slaton, Texas
Died
December, 02, 2014
USA
Franklin, Tennessee
Cause of Death
Cemetery
Williamson Memorial Gardens
Franklin, Tennessee
USA
1473 profile views