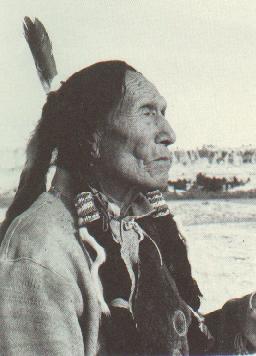 Black Elk was born into an Oglala Lakota family in December 1863 along the Little Powder River (at a site thought to be in the present-day state of Wyoming). According to the Lakota way of measuring time (referred to as Winter counts), Black Elk was born "the Winter When the Four Crows Were Killed on Tongue River". When Black Elk was nine years old, he was suddenly taken ill; he lay prone and unresponsive for several days. During this time he had a great vision in which he was visited by the Thunder Beings (Wakinyan), and taken to the Grandfathers — spiritual representatives of the six sacred directions: west, east, north, south, above, and below. These "… spirits were represented as kind and loving, full of years and wisdom, like revered human grandfathers." When he was seventeen, Black Elk told a medicine man, Black Road, about the vision in detail. Black Road and the other medicine men of the village were "astonished by the greatness of the vision. Black Elk had learned many things in his vision to help heal his people. He had come from a long line of medicine men and healers in his family; his father was a medicine man, as were his paternal uncles. Late in his life as an elder, he related to John G. Neihardt the vision that occurred to him. Among other things he saw a great tree that symbolized the life of the earth and all people. Neihardt recorded his account in great detail, later publishing it as Black Elk Speaks. Since the late 20th century, Black Elk's words have received renewed attention, including from non-Lakota. An annotated edition was published by the State University of New York in 2008.
In his vision, He is taken to the center of the earth, and to the central mountain of the world. Mythologist Joseph Campbell explains this recurring symbol among religions as "the axis mundi, the central point, the pole around which all revolves … the point where stillness and movement are together …." He was residing at the axis of the six sacred directions. Campbell viewed Black Elk's statement as key to understanding myth and symbols. In 1887, Black Elk traveled to England with Buffalo Bill's Wild West, an experience he described in chapter twenty of Black Elk Speaks. On May 11, 1887, the troop put on a command performance for Queen Victoria, whom they called "Grandmother England." Black Elk was among the crowd at her Golden Jubilee. In spring 1888, Buffalo Bill's Wild West set sail for the United States. He became separated from the group and the ship left without him, stranding him with three other Lakota. They subsequently joined another wild west show and he spent the next year touring in Germany, France, and Italy. When Buffalo Bill arrived in Paris in May 1889, Black Elk obtained a ticket to return home to Pine Ridge, arriving in autumn of 1889. During his sojourn in Europe, Black Elk was given an "abundant opportunity to study the white man's way of life," and he learned to speak rudimentary English.
Black Elk participated in the fighting at Wounded Knee in 1890. While on horseback, he charged soldiers and helped to rescue some of the wounded. He arrived after many of Spotted Elk's (Big Foot's) band of people had been shot, and he was grazed by a bullet to his hip. For at least a decade, beginning in 1934, He returned to work related to his performances earlier in life with Buffalo Bill. He organized an Indian show to be held in the sacred Black Hills. But, unlike the Wild West shows, used to glorify Indian warfare, Black Elk created a show to teach tourists about Lakota culture and traditional sacred rituals, including the Sun Dance.
Born
December, 01, 1863
USA
Little Powder River, Wyoming
Died
August, 19, 1950
USA
Pine Ridge, South Dakota
Cemetery
Saint Agnes Catholic Cemetery
Manderson, South Dakota
USA
1720 profile views