Billy Barty
(William John Bertanzetti)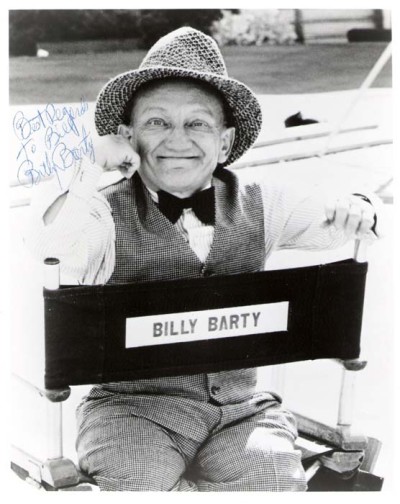 Barty co-starred with Mickey Rooney in the Mickey McGuire shorts, a comedy series of the 1920s and 1930s based on the Toonerville Folks comics. Small for his age even then, Barty would impersonate very young children alongside brawny authority figures or wild animals, making these threats seem even larger by comparison. In the 1933 film Gold Diggers of 1933, a nine-year-old Barty appeared as a baby who escapes from his stroller. He also appeared as The Child in the 1933 film Footlight Parade. He is briefly seen in the 1935 film Bride of Frankenstein, in an uncredited role as a baby in one of Dr. Pretorius' experiments, although his close-ups were cut out of the picture. Much of Barty's film work consisted of bit parts and gag roles. He appeared in Fireman Save My Child (with Spike Jones), and also appeared in two Elvis Presley films. He had one scene in Roustabout and co-starred without dialogue in Harum Scarum. Barty appeared several times on the The Dennis Day Show, including once as a leprechaun. Beginning in 1958, he played pool hustler Babby, an occasional "information resource", in eight episodes of the Peter Gunn TV series. Barty starred in the Rawhide episode "Prairie Elephant" in 1961. Barty was known for his boundless energy and enthusiasm for any productions in which he appeared. He performed with the Spike Jones musical comedy show on stage and television, and is remembered for his remarkable parody of flamboyant pianist Liberace.
Barty also starred in a local Southern California children's show, Billy Barty's Bigtop, in the mid-1960s, which regularly showed The Three Stooges shorts. In one program, Stooge Moe Howard visited the set as a surprise guest. The program gave many Los Angeles area children their first opportunity to become familiar with little people, who until then had been rarely seen on the screen except as two-dimensional curiosities. He also appeared as a guest host on KTTV's Sheriff John's Lunch Brigade whenever "Sheriff John" Rovick was on vacation. Barty also starred as "Sparky the Firefly" in the popular children's television shows The Bugaloos from 1970 to 1972 and as "Sigmund" in Sigmund and the Sea Monsters produced by Sid Krofft and Marty Krofft from 1974 to 1976. Barty played the evil sidekick on the 1970s Saturday morning TV series Dr. Shrinker, and was a regular cast member of comedian Redd Foxx's variety show The Redd Foxx Show. Barty appeared in an episode of The Love Boat in 1978. He also guest starred in an episode of Little House On The Prairie playing a single dad trying to raise a baby daughter. Barty was regularly seen on Bizarre, a weekly Canadian TV sketch comedy series, airing from 1980 to 1985. In 1983, Barty supplied the voice for "Figment" in EPCOT Center's Journey Into Imagination dark ride. He subsequently supplied a reprisal for the second incarnation, though very brief. Barty was an annual guest-star on Canada's Telemiracle telethon, one of the most successful (per capita) telethons in the world. Billy appeared on a 1971 episode of Celebrity Bowling paired with Dick Martin, defeating John Schuck and Michael Ansara, 120-118.
Barty was born William John Bertanzetti on October 25, 1924 in Washington, Pennsylvania, the son of Ellen Cecial (Bettegar) and Albert Steven Bertanzetti. His paternal grandfather was Italian. In 1962, he married Shirley Bolingbroke of Malad City, Idaho. They had two children, Lori Neilson and TV/film producer and director Braden Barty. Barty and his family were members of The Church of Jesus Christ of Latter-day Saints. Barty died of heart failure in 2000 at age 76. He was entombed in Glendale's Forest Lawn Memorial Park Cemetery.
Born
October, 25, 1924
USA
Washington, Pennsylvania
Died
December, 23, 2000
USA
Glendale, California
Cause of Death
Cemetery
Forest Lawn Memorial Park (Glendale)
Glendale, California
USA
8622 profile views