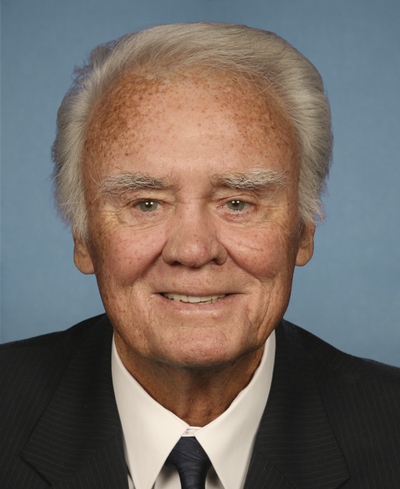 Young was born in Harmarville, Pennsylvania, a suburb of Pittsburgh, in 1930. He had Irish, German, and Swiss ancestry. He grew up in a Pennsylvania coal town in a shotgun shack. His father abandoned the family and a flood washed away their home at age 6. An uncle had a hunting camp in Florida, so the family moved there when he was 16. Young dropped out of St. Petersburg High School to support his ill mother, Wilma M. (Hulings) Young, and was wounded in a hunting accident. He married Marian Ford on August 20, 1949, when he was an 18-year-old high school dropout and she was 17, entering her senior year at St. Petersburg High School. When he was 18, he joined the Army National Guard and served from 1948 to 1957. After finishing his service, he applied for a job as an insurance salesman and ultimately ran an insurance agency.  In 1960 Young was elected to the Florida Senate, where he served from 1961 to 1970, and was minority leader in that chamber from 1966 to 1970. Until 1963, Young was the only Republican in Florida's upper chamber.
From 1962 through 1964, Young served on the Florida Legislative Investigation Committee, commonly known as the Johns Committee (for its Chairman Charley Eugene Johns), a legislative panel that investigated the activities of homosexuals, communists and others thought to be subversive. In 1964, the committee released a pamphlet entitled Homosexuality and Citizenship in Florida, which drew criticism at the time for its use of explicit photographs of homosexual acts. At the time, Young said of homosexuality: "Our report tried to show it in its true light – it's a very repulsive subject." Responding to reports that reprints of the pamphlet were being sold as pornography for a gay audience, Young said: "This indicates how bold the homosexual is becoming and further proves the necessity of state government taking the lead in responsibility for preventing these confirmed homosexuals from preying on the youth of the state." In 1993, Young was asked about his involvement with the report by the St. Petersburg Times and said: "I am not supportive of homosexuality, but that's the decision of the people who are involved in it. If someone wants to engage in that sort of behavior, that's their choice." Young also stated that the committee was largely inactive during his tenure due to the illness of its chair, Charley Eugene Johns, and that he was not involved enough in the committee to be either proud or regretful of its work.
Young was elected to Congress in 1970 from what was then the 8th District and was reelected 20 times. The district, which changed numbers four times during Young's tenure (it was the 8th District from 1971 to 1973, the 6th District from 1973 to 1983, the 8th District again from 1983 to 1993, the 10th from 1993 to 2013 and has been the 13th since 2013) was once considered a Republican stronghold. However, it has become much friendlier to Democratic candidates in recent years, at least on the national level. Since 1988, it has supported a Republican for president only once, in 2004. Despite the Democratic trend in his district at the national level, Young usually skated to reelection. He only twice received less than 60% of the vote, in 1992 and 2012.
Having been a member of the Appropriations Committee for his entire time in congress, Young is known best for bringing federal dollars to Pinellas County. His earmarks have been used for U.S. Highway 19, high tech jobs, healthcare for children, clean water, and defense contractors. This was a major reason why he was able to hold onto his seat for so long; it is considered extremely difficult to defeat an Appropriations Committee member at an election.
Young married Marian Ford on August 20, 1949, when he was an 18-year-old high school dropout and she was 17, entering her senior year at St. Petersburg High School. They had three children: Terry, Pamela, and Kimber. In 1985, after 36 years of marriage, Young divorced Marian. As part of the divorce agreement, Marian received $2,000 per month in alimony in exchange for agreeing to seal the divorce records and not speaking publicly about it during Young's lifetime. Eight days after the divorce became final, Young married Beverly Angello, who had worked as a secretary in his congressional office and was 25 years his junior. Young and Beverly had two children together: Charles William "Billy" (who was born in 1984, while Young was still married to Marian) and Patrick, in addition to Beverly's son, Robbie, from her first marriage.
On October 18, 2013, Young died at Walter Reed Hospital in Bethesda, Maryland at the age of 82. He had been hospitalized for almost two weeks after suffering a broken hip and fractured pelvis. Doctors could not perform hip surgery because of brittle bones caused by multiple myeloma, a blood cancer that forms in bone marrow.  On January 6, 2014, Marian Young and the three children from his first marriage spoke out for the first time since Young's death. Marian said that her lawyer had specifically asked her to keep silent about her husband's affair with Beverly due to concerns that he would lose his congressional seat. Even though the divorce records were sealed, many journalists at the time "knew about the affair and the [extramarital child's] birth, but believed such issues fell outside the public's right to know." Terry, Pamela and Kimber also claimed that they had only heard from their father sporadically in the three decades following the divorce.
Born
December, 16, 1930
USA
Harmarville, Pennsylvania
Died
October, 18, 2013
USA
Bethesda, Maryland
Cemetery
Bay Pines National Cemetery
Bay Pines, Florida
USA
17077 profile views