Bill Waddington
(Bill Waddington)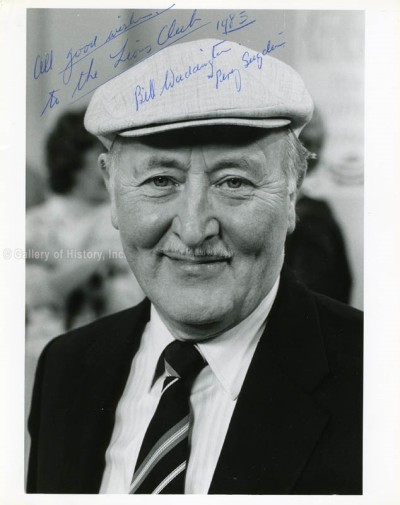 Waddington was born at Oldham on 10 June 1916, the son of a builder. He played the ukulele and became a member of a group called the Blue Pencils, recruited to entertain forces during the Second World War.  After the war "Waddy" became a comedian, often appearing on the same bill as Jill Summers, who would eventually play Phyllis Pearce, Percy Sugden's foil in Granada TV's Coronation Street. In 1955 Bill was chosen for the Royal Variety Performance, and when American stars such as Frankie Laine, Lena Horne, Billy Daniels and Dorothy Lamour toured Britain, he was the opening comedian in their shows. His agent was Lew Grade.
Waddington appeared in more than 800 variety and comedy programmes on radio, and made his mark on television, starring with Margaret Lockwood as early as 1946. In the 1970s he enjoyed a stage partnership with Sid James, only ended by James's death in 1976.  He appeared as a magician in Victoria Wood's first play Talent for Granada Television in 1979.  Bill played his best known role of cantankerous pensioner Percy Sugden on Coronation Street from August 1983 until quitting the serial in October 1997.
In 1995, he released a cover of "Always Look on the Bright Side of Life" along with the rest of the Coronation Street cast, the single reached No. 35 on the UK Singles Chart.  In later life Bill became brother-in-law to the Chuckle Brothers when he married their sister Sheila. He died in Rotherham General Hospital on the morning of 9 September 2000 at the age of 84 after a 50-year acting career. He had been suffering from Parkinson's Disease. Bill had two daughters. He can be found at St Peters grave yard Bradfield Green Nr Crewe.
Born
June, 10, 1916
England
Oldham, Lancashire
Died
September, 11, 2000
England
Rotherham, South Yorkshire
16993 profile views