Bill Carlisle
(William Tolliver Carlisle)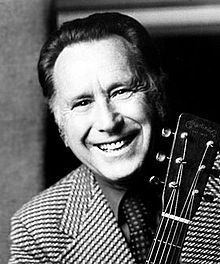 Bill Carlisle
Yodeling singer/songwriter/guitarist Bill Carlisle was the younger brother of popular 1930s country singer Cliff Carlisle. During the '30s, Bill established himself as an expert purveyor of racy, blues-tinged country songs, but during the '50s and '60s, he was best-known for his novelty songs as he and his family band, the Carlisles, became regulars on the Grand Ole Opry.
The brothers performed as part of a Carlisle family group on Louisville radio in the 1920s in an early manifestation of the barn-dance format. Brother Cliff gave Carlisle his start as a soloist in 1933 by letting him sit in on an audition at the ARC label. His first single, "Rattlesnake Daddy," became quite popular and later evolved into a bluegrass favorite. Dubbed "Smilin' Bill" by publicists, Carlisle was noted for his precise and extremely fast runs on the guitar. Eventually Bill became almost as popular as his older brother, with whom he shared a talent for yodeling and a tendency to sing songs filled with risqué double entendres, such as "Copper Head Mama" (1934) and "Jumpin' and Jerkin' Blues" (1935). The Carlisle brothers signed with Decca in 1938 and built outward from the blues/Hawaiian core they had established around Cliff Carlisle's pioneer dobro stylings. During a long stint on Knoxville radio station WNOX, they became stars of two barn-dance programs, and Bill continued to appear on other stations around the Southeast as a solo artist.
After World War II, the Carlisle brothers signed with the upstart King label, based in Cincinnati, scoring a giant hit with a cover of Ernest Tubb's wartime classic "Rainbow at Midnight" in 1946. Two years later, Bill had his own Top 15 hit with "Tramp on the Street." Cliff eventually retired around 1950, and Bill then organized the Carlisles, a group that despite its family moniker actually included a succession of unrelated individuals, gospel singer Martha Carson and songwriter Betty Amos among them. Carlisle also performed with several 1950s stars in the early stages of their careers — Don Gibson, Chet Atkins, and Homer & Jethro, among others. It was during these performances that he began to leap about on stage and develop his comical alter ego, Hotshot Elmer, a character he had created earlier in his career. As Elmer, Carlisle would interrupt performances by jumping over chairs, falling off the stairs, and creating general mayhem on stage. Carlisle's trademark athletic leaps earned him the nickname "Jumpin' Bill."
The scene was set for the recordings that brought Carlisle his greatest renown in the 1950s: a series of novelty songs, delightfully off-center gospel pieces like "Rusty Old Halo," and straight-country harmony numbers recorded for the Mercury label. The first, "Too Old to Cut the Mustard," hit the Top Ten in 1952 and was covered by Rosemary Clooney and other pop artists. The 1950s were much less friendly to lyrics of sexual tension than were the decades in which Carlisle began his career, but "Too Old to Cut the Mustard" was one of several Carlisles numbers (another was the "The Old Knot Hole") that evoked the styles of a more tolerant era. "No Help Wanted" climbed to number one the following year and stayed there five weeks. That year he had three more hits, all of which made it to the Top Ten, including the Ira Louvin song "Taint Nice (To Talk Like That)." Though seemingly striking an old-fashioned pose in their cornball humor, these recordings crackled with an energy in tune with the stirrings of what became rock & roll; they featured sharp electric guitar solos and such instrumental novelties as a bass saxophone. This string of successes led the Opry to invite the Carlisles aboard in 1953. Carlisle's children joined his band in the 1960s, and he had another hit in 1965 with "What Kind of Deal Is This." Carlisle was a fixture of the Opry in later years, performing there up until ten days before his death on March 17, 2003.
Born
December, 19, 1908
Wakefield, Kentucky
Died
March, 17, 2003
Nashville, Tennessee
Cause of Death
Cemetery
Other
Cremated and ashes given to family
17158 profile views