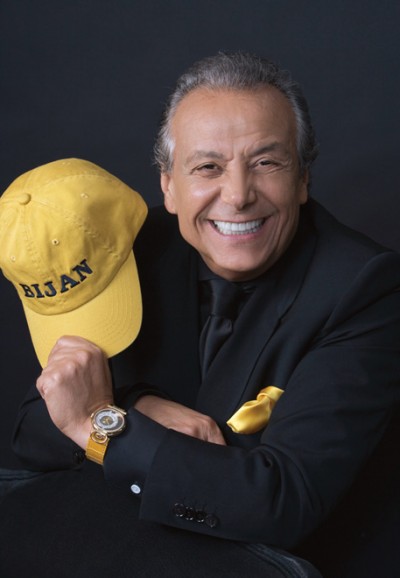 Born in Tehran, Iran, Bijan migrated to Los Angeles in 1973. His exclusive boutique on Rodeo Drive in Beverly Hills was established in 1976. It has been described as "the most expensive store in the world".  Bijan's main residence was in Beverly Hills, California, but he was also known to own residences in New York and Malibu, as well as Milan and Florence, Italy. Up until the time of his death, Bijan was one of few Iranians in the media limelight who were still permitted to enter Iran. Bijan was also known for his automobiles. Most notable in his car collection was a yellow Bentley Azure with black interior, as well as a Black Bentley Azure with yellow interior. He was also known to have a black Mercedes-Benz SLR McLaren with a customized paint scheme, a yellow Ferrari 430 Spider, a yellow Rolls-Royce Phantom Drophead Coupé, and a Bugatti Veyron, all of which he parked outside of his Rodeo Drive boutique.
In the late 1980s Bijan designed a golden Colt revolver. The gun had a mother of pearl handgrip fashioned for a Colt Detective Special in the caliber .38 special. Inlaid in the cylinder was 56 grams of 24-karat gold. The gun was placed in a mink pouch in a Baccarat crystal case embossed with the customer's name. Bijan's own signature is engraved in gold on the frame of the gun. Only 200 such guns were made. In 2005, one of these guns sold to Jacob Nahamia at Christie's auction house for over $50,000 USD.  In 2000 Bijan courted controversy when an advertisement featuring a "rotund [nude] model named Bella" and himself was at first rejected by many New York magazines before it was accepted by Tina Brown's Talk magazine.
On April 14, 2011, Bijan suffered a stroke and was rushed to Cedars-Sinai Medical Center in Los Angeles. He had brain surgery but never recovered and died two days later on April 16, 2011 at 8:05 am. He was 67 years old.
Born
April, 04, 1944
Tehran, Iran
Died
April, 16, 2011
USA
Beverly Hills, California
Cause of Death
Cemetery
Pacific View Memorial Park
Corona del Mar, California
USA
17095 profile views