Big Pun
(Christopher Lee Rios)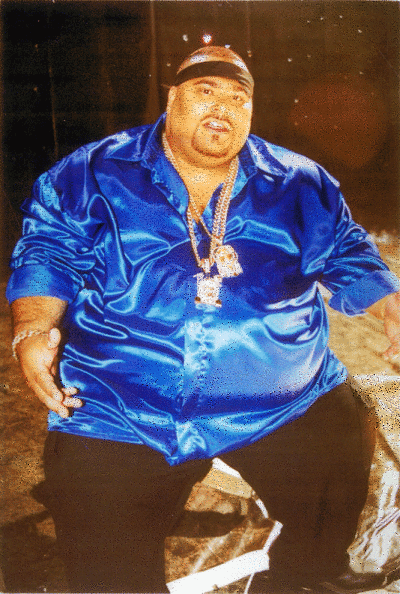 Rios was born on November 10, 1971 in The Bronx, New York City, United States, to parents of Puerto Rican descent. He grew up in the South Bronx neighborhood of the city. At the age of five, Rios broke his leg while playing in a park, which would later lead to a large settlement from the city.  By all accounts from Pun's family, his early years were very difficult, including witnessing his mother's drug abuse and his father's death.  Sometime during the mid-1980s, he began to write rap lyrics. He later formed the underground rap group Full-A-Clips crew which included rappers named 'Lyrical Assassin', later to become famous as Cuban Link and Triple Seis. At this point Rios was operating under the alias 'Big Moon Dawg'. After changing the alias to Big Punisher , Rios met fellow Puerto Rican and Bronx rapper Fat Joe in 1995 and made his commercial debut on Fat Joe's second album, Jealous One's Envy, in addition to appearing on Fat Joe's song, "Watch Out".  Later, "I'm Not a Player" (featuring an O'Jays sample) was supported by a significant advertising campaign and became an underground hit.
In 1997, producer Knobody's production partner Sean C took advantage of his new role as A&R at Loud Records to play Knobody's tracks to Big Pun. Suitably impressed the rapper hired Knobody to remix "I'm Not a Player". The remixed song, featuring Joe and titled "Still Not a Player," became Big Pun's first major mainstream hit and major breakthrough for Knobody. The full-length debut Capital Punishment followed in 1998, and became the first album by a solo Latino rapper to go platinum, peaking at #5 on the Billboard 200. Capital Punishment was also nominated for a Grammy. Pun's second album Yeeeah Baby, although not as successful as his first also went platinum producing two solid hits in "It's So Hard" and "100%".  Big Pun became a member of Terror Squad, a New York-based group of rappers founded by Fat Joe, with most of the roster supplied by the now-defunct Full-A-Clips Crew who released their debut album The Album in 1999. The album did not fare well commercially but it was well received critically and the album was meant to start the foundation for all other Terror Squad members to release their solo projects.
Pun struggled with a weight problem for all of his adult life. His weight fluctuated in the early 1990s between obese and morbidly obese. Pun later enrolled in a weight-loss program in North Carolina in which he lost 80 pounds (36 kg), but he eventually quit the program before completing it, returning to New York and gaining back the weight he had lost.  On February 7, 2000, Big Pun suffered a fatal heart attack and respiratory failure while temporarily staying with his family at a Crowne Plaza Hotel in White Plains, New York, during a home renovation. Pun was pronounced dead at the hospital after paramedics could not revive him. Big Pun was at his highest weight at the time of his death: 698 pounds (317 kg). He was cremated a few days later. Big Pun is survived by his wife, Liza, and their three children, Amanda (born 1991), Vanessa (born 1993), and Christopher Jr. (born 1994).
Born
November, 10, 1971
USA
The Bronx, New York, New York
Died
February, 07, 2000
USA
White Plains, New York
Cause of Death
heart attack and respiratory failure
Other
14896 profile views