Bessie Love
(Juanita Horton)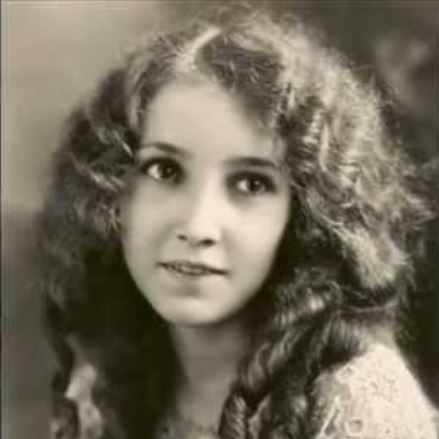 On actor Tom Mix's recommendation that she "get into pictures", BessieLove's mother sent her to Biograph Studios, where she met pioneering film director D.W. Griffith. Griffith, who introduced Bessie Love to films, also gave the actress her screen name. He gave her a small role in his film Intolerance (1916). Love dropped out of Los Angeles High School to pursue her film career, although she completed her degree many years later. Her "first role of importance" was in The Flying Torpedo; she later appeared opposite William S. Hart in The Aryan and with Douglas Fairbanks in The Good Bad Man, Reggie Mixes In, and The Mystery of the Leaping Fish (all 1916). In her early career, she was often compared to Mary Pickford, even called "Our Mary" by D.W. Griffith. Bessie Love took an active role in the management of her career, upgrading her representation to Gerald C. Duffy, the former editor of Picture-Play Magazine, and publicizing herself by playing the ukulele and dancing for members of the military. Even glowing reviews of her films criticized the venues in which they were shown, citing this as a reason she was not a more awarded actress. In 1922, Bessie Love was selected one of the WAMPAS Baby Stars. In 1923, she starred in Human Wreckage with Dorothy Davenport and produced by Thomas Ince. As her roles got larger, so did her popularity. Because of her performance in The King on Main Street (1925), Love is credited with being the first person to dance the Charleston on film, popularizing it in the United States. Her technique was documented in instructional guides, including a series of photographs by Edward Steichen. She subsequently performed the dance the following year in The Song and Dance Man. She starred in The Lost World, a science fiction adventure based on the novel of the same name by Sir Arthur Conan Doyle. Three years later she starred in The Matinee Idol, a romantic comedy directed by a young Frank Capra.
Bessie Love was able to successfully transition to talkies, and in 1929 she was nominated for the Academy Award for Best Actress for The Broadway Melody. She appeared in several other early musicals, including The Hollywood Revue of 1929 (1929), Chasing Rainbows (1930), Good News (1930), and They Learned About Women (1930). However, by 1932, her American film career was in decline. She moved to England in 1935 and did stage work and occasional films there. Love briefly returned to the United States in 1936 to seek divorce. During World War II in Britain, when Love found acting work hard to come by, she was the "continuity girl" on the film drama San Demetrio London (1943), an account of a ship badly damaged in the Atlantic but whose crew managed to bring her to port. She also worked for the American Red Cross. After the war, she resumed work on the stage and played small roles in films—often as an American tourist. Stage work included such productions as Love in Idleness (1944) and Born Yesterday (1947). She wrote and performed in The Homecoming, a semiautobiographical play, which had its opening in Perth, Scotland in 1958. Film work included The Barefoot Contessa (1954) with Humphrey Bogart, Ealing Studios' Nowhere to Go (1958), and The Greengage Summer (1961) starring Kenneth More. She also played small roles in the James Bond thriller On Her Majesty's Secret Service (1969) and in Sunday Bloody Sunday (1971). In addition to playing the mother of Vanessa Redgrave's titular character in Isadora (1968), Love also served as dialect coach to the actress. In October 1963, Love was the subject of This Is Your Life, when she was surprised by Eamonn Andrews in central London. Bessie Love appeared in John Osborne's play West of Suez, and as "Aunt Pittypat" in a large-scale musical version of Gone With the Wind (1972). She also played Maud Cunard in the TV miniseries Edward & Mrs. Simpson in 1978. Her film work continued in the 1980s with roles in Ragtime (1981), Reds (1981), Lady Chatterley's Lover (1981), and—her final film—The Hunger (1983).
Bessie Love married agent William Hawks (January 29, 1901 Neenah, Wisconsin – January 10, 1969 Santa Monica, California) at St. James Episcopal Church in Pasadena, California on December 27, 1929. Mary Astor (William's sister-in-law), Carmel Myers, and Norma Shearer were among her bridesmaids; William's brother Howard Hawks and Irving Thalberg ushered. They then lived at the Havenhurst Apartments in Hollywood. They had a daughter, Patricia Hawks (February 19, 1932, Los Angeles, California), who had some bit parts in movies in 1952. They divorced in 1936. Love was a Christian Scientist. She died in London, England from natural causes on April 26, 1986.
Born
September, 10, 1898
Midland, Texas
Died
April, 26, 1986
United Kingdom
London, England
Cause of Death
Cemetery
Breakspear Crematorium
Rulslip, London, England
4699 profile views