Bess Truman
(Bess Truman)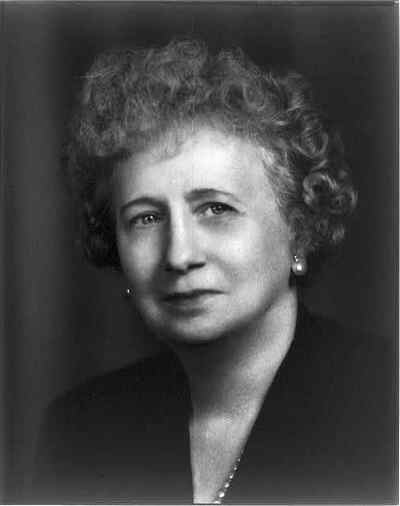 Bess Truman was born Elizabeth Virginia Wallace on February 13, 1885, to David Willock Wallace (1860–1903) and his wife, the former Margaret Elizabeth Gates (1862–1952), in Independence, Missouri, and was known as Bessie during her childhood. She was the eldest of four; three brothers: Frank Gates Wallace, (4 March 1887 – 12 August 1960), George Porterfield Wallace, (1 May 1892 – 24 May 1963), David Frederick Wallace, (7 January 1900 – 30 September 1957).  Harry Truman, whose family moved to town in 1890, always kept his first impression of when he saw her at Sunday school: "Golden curls" and "the most beautiful blue eyes." A relative said, "there never was but one girl in the world" for him. They attended the same schools from fifth grade through high school.
After graduating from William Chrisman High School (then known as Independence High School) she studied at Miss Barstow's Finishing School for Girls in Kansas City, Missouri. In 1903 her father got up very early one morning, climbed into the family bathtub and committed suicide by shooting himself in the head. According to biographer David McCullough, the cause for his suicide is unknown, with speculation ranging from depression to mounting debts.
Bess found the White House's lack of privacy distasteful. As her husband put it later, she was "not especially interested" in the "formalities and pomp or the artificiality which, as we had learned…, inevitably surround the family of the President Harry Truman." Though she steadfastly fulfilled the social obligations of her position, she did only what she thought was necessary. When the White House was rebuilt during Truman's second term, the family lived in Blair House and kept their social life to a minimum. In most years of her husband's presidency Mrs. Truman did not live in Washington other than during the social season when her presence was expected. The contrast with Bess's activist predecessor Eleanor Roosevelt was considerable. Unlike her, Bess held only one press conference after many requests from the mostly female press corps assigned to her. The press conference consisted of written questions in advance and the written replies were mostly monosyllabic along with many no comments. Bess's response to whether she wanted her daughter Margaret to become President was "most definitely not." Her reply to what she wanted to do after her husband left office was "return to Independence" although she had briefly entertained the thought of living in Washington after 1953.
In 1953 the Trumans went back to Independence and the family home at 219 North Delaware Street, where the former president worked on building his library and writing his memoirs. Following a 1959 mastectomy Bess thought she was going to die (her husband was quoted as saying the tumor was the size of a grapefruit, but it was benign).  When President Lyndon Johnson signed Medicare into law in 1965, the Trumans were the first to be given its benefits.
At the time of her husband's death in 1972 at age 88, she was 87 making them the oldest couple having occupied the White House at that time. Bess agreed to be the honorary chairman for the reelection campaign of Sen. Thomas Eagleton (D-Missouri).  Bess continued to live quietly in Independence for the last decade of her life, being visited by her daughter and grandchildren. She died October 18, 1982, from congestive heart failure at the age of 97; a private funeral service was held October 21, afterwards she was buried beside her husband in the courtyard of the Harry S. Truman Library.
She remains the longest lived First Lady in United States history. There were only three close relatives of a US president to live longer than Bess Truman. They were James Madison's mother, Nelly Conway Madison, who died in 1829 at the age of 98, and John F. Kennedy's mother, Rose Fitzgerald Kennedy, who died at 104 in 1995, and grandmother, Mary Josephine Hannon Fitzgerald, who died at 98 in 1964.
Born
February, 13, 1885
USA
Independence, Missouri
Died
October, 18, 1982
USA
Independence, Missouri
Cemetery
Harry S. Truman Library and Museum
Independence, Missouri
USA
17320 profile views