Bert Cooper
(Bertram Cooper)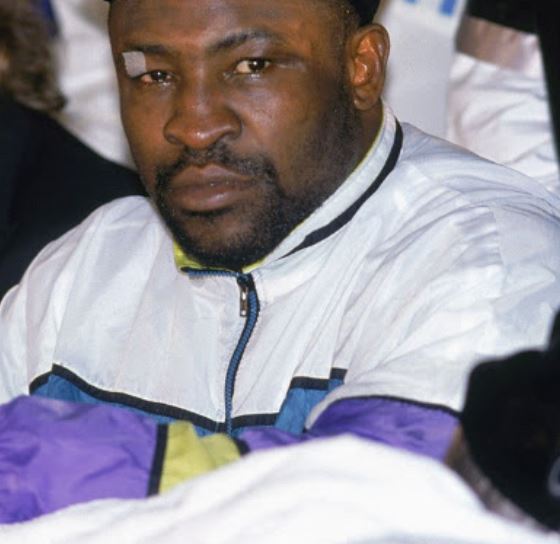 Bert Cooper
The stout, strong Cooper made a name for himself in the heavyweight division during the early 1990s. Cooper lost to various heavyweight champions or former champions during that time – most notably Riddick Bowe, George Foreman, Evander Holyfield, Ray Mercer and Michael Moorer.
Cooper, who fought out of Philadelphia and was trained by Joe Frazier early in his career, is most known for his entertaining, back-and-forth fight with Holyfield in November 1991.
Once two of Holyfield's opponents withdrew, Cooper took that heavyweight title fight against the renowned champion on short notice in Atlanta, Holyfield's adopted hometown. Holyfield floored Cooper during the first round, but Cooper came back to buzz Holyfield and captivate the crowd during the third round.
Cooper and Holyfield exchanged many power punches before referee Mills Lane stopped their scheduled 12-round bout for Holyfield's IBF and WBA titles in the seventh round.
Two fights later, Cooper dropped Moorer twice. Moorer also floored Cooper twice on Moorer's way to winning by fifth-round technical knockout in May 1992 in Atlantic City, New Jersey.
Cooper went on to lose to an array of heavyweight prospects and contenders over the following 10 years. He didn't box from September 2002 until, at 44, he made a comeback in June 2010.
Cooper was brutally honest about his struggles with drug addiction once he launched his comeback. He also spent a lot of time working with the youth of Philadelphia.
Eventually, he lost three straight fights, including a second-round TKO to Luis Ortiz, before he retired for good after a second-round TKO loss to Carl Davis in September 2012. Cooper finished his 28-year career with a record of 38-25, including 31 knockouts and one no-contest.
Born
January, 10, 1966
Sharon Hill, Pennsylvania
Died
May, 10, 2019
Sharon Hill, Pennsylvania
Cause of Death
1058 profile views