Benny McCrary
(Benny Lloyd Benny McCrary)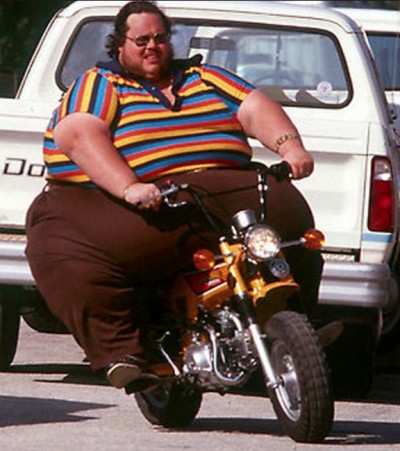 Benny McCrary
Benny McGuire, half of the famous giant McGuire twins, died Monday of heart failure in Hendersonville, N.C. at 54.
Benny and Billy, whose real last name was McCrary, at 814 pounds and 784 pounds in the Guinness Book of World Records, are most widely recognized in a famous photograph of them on motorcycles. It was taken as they rode across country for a Honda promotion.
In the 1970s, the twins traveled around the world as tag team partners. They called themselves the McGuire twins because announcers in foreign countries had difficulty pronouncing McCrary. They appeared several times on 'The Tonight Show.'
In an interview with Scott Teal's Whatever Happened to …? publication a while back Benny McGuire talked about the cross-country promotion. "We worked out a deal with Honda Motorcycle Company and rode mini-bikes from New York to L.A. Three thousand miles. We rode a hundred miles a day and it took us thirty days. I also had a deal worked out with Holiday Inn where we'd stay at night, and we'd ride into town and give autographs at a dealership for a couple hours."
During the cross-country trip, they stopped in El Paso, Texas and went to the wrestling matches. Gory Guerrero approached them about wrestling. "Gory Guerrero came up to me and Billy and thought we were gonna wrestle. We said, 'No. We sure love rasslin', and we've done a lot of rasslin' between each other, but we'd be interested in gettin' into it.' He said, 'Go ahead and finish your engagement for Honda. When you come back through El Paso, stop by and see me.' We did … and he trained us."
Eddie Guerrero, Gory's son, was one of the youngsters watching the twins learn the mat game in Juarez, Mexico. Gory Guerrero worked out a routine for the McGuires where they didn't take bumps like regular wrestlers, instead other wrestlers would run at them and fall down.
Benny remembered that Gory took the training seriously. "Gory wanted to make it strictly rasslin'. We didn't wave our butts and wave them at people, like the other heavy guys did. We had some high spots, though. I'd get 'em in the corner and Billy would run in against me. The steamroller … we'd get 'em down and just roll up and down 'em. That was one of our finishing moves. And the big splash … that's what blew my knees out. I did the move most of the time, then Billy would come sit on top of me. I've had wrestlers poo-poo in their pants from the weight. (laughs)"
They trained about two months in Mexico and began wrestling there, often in bullrings. From there, they went to work with Dory Funk Sr. in Amarillo, Texas. Later, they worked for Leroy McGuirk in Oklahoma City and in Nashville. After that, they were pretty seasoned and hit the road.
In Japan, they switched from being the McCrary Twins to the McGuire Twins. "The announcers would have trouble with it. They would pronounce it Queary and we'd say, 'We ain't no queers.' We changed it to the McGuires. Nick Gulas come up with the idea, by the way. He said, 'The McGuire Sisters done good. Let's see how the McGuire Twins do.' That stuck with us."
After Billy died in 1979, Benny teamed up with other wrestlers, including Andre the Giant, before retiring from the sport. He later bought a pawn shop in Hendersonville, where he worked as an auctioneer.
In 1998, McCrary moved with his wife Tammie to Walkertown and began working for the Christian Golfers Ministry at the Pine Knolls Golf Course.
In a 1998 interview with Inside Wrestling magazine, McCrary said he and his brother began gaining weight when they were 4 years old after their pituitary glands were damaged by German measles.
"That's why our parents bought the farm," he said. "They said 'Maybe they'll burn the calories up working on the farm."'
The twins weighed 200 pounds each by age 10 and had topped 600 pounds by age 16. The McCrary brothers grew up in Hendersonville, but dropped out of East Henderson High School to travel to Texas, where they worked branding cattle.
Born
December, 07, 1946
Hendersonville, NC
Died
March, 26, 2001
Hendersonville, NC
Cause of Death
Cemetery
Crab Creek Baptist Church Cemetery
Henderson, North Carolina
18178 profile views