Belle Archer
(Belle Archer)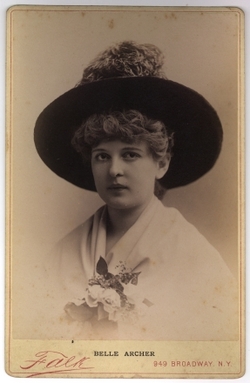 Actress. Though few people remember her today, she was at one time a nationally renowned actress of the stage. Known for her beauty, style, grace, and acting excellence, she was reputed to be the most photographed stage actress of the 1890's. During her career she was as well known and respected as any film actress is today. Christened Arabella "Belle" Mingle, she was born in a stately brick building that still stands on Spring Garden Street, across from the Trinity Episcopal Church. Her father, James L. Mingle, was for a time Easton's Postmaster, and in the late 1850's became the superintendent of the local Telegraph Company. His office was in the south west corner of Center Square, near today's entrance to the Crayola Museum. By 1860 Mr Mingle had moved the family to 45 N. 2nd Street, and the family resided there during the years of the Civil War. By 1870 the family had moved to the first block of Bushkill Street, directly across from today's Prudential Paul Ford Reality office, in a home torn down in the late 1940's for the construction of Route 22.
Belle Archer was raised and educated in Easton, and moved with her family in 1874 to Philadelphia when she was sixteen years old. She began her acting career through the benevolence of John T. Ford, a friend of her father's, and a well known owner of theaters in Baltimore and Washington D.C. Under the stage name of Belle Mackenzie, she had the distinction of beginning her acting career in a play entitled, "The Mighty Dollar," along with the then-famous actor, William J. Florence. In this play, which was Belle's very first acting experience, she was given one solitary line. Throughout the late 1870's Belle's career blossomed. In 1880 she married an English actor named Herbert Marshall Archer, and her name changed to Belle Archer. She then appeared as the leading lady alongside both her husband and the popular actor E.H. Sothern in the play, "The Highest Bidder." Unfortunately, her marriage ended in divorce in 1889. Her acting success continued, and she toured extensively with John T. Ford's stock company, appearing in different plays and numerous theaters throughout the South. She even had two different roles in the stage production of "Uncle Tom's Cabin." She continued acting without rest, appearing in a play entitled, "Hazel Kirke," which was shown at the Madison Square Theater in New York in 1882, and in Tennyson's "The Foresters," in which she had yet another leading part. She also appeared in other plays such as, "The Three Musketeers," and "Lord Chumley," in 1888. According to Harold D. Smith, who wrote an essay in 1975 entitled, "Memories of Belle Archer," it was during the presentation of this play in Boston that Belle became good friends with the young and aspiring actress, Maude Adams.
Her most noted role came in early 1898 when she was chosen to replace an actress named Caroline Miskle Hoyt, the star of a play entitled, "A Contented Woman." The young Miss Hoyt had died unexpectedly, and Belle stepped into the deceased actress's role and continued it very successfully for another three years. During this time she toured across the country amid great fanfare. In her obituary in the Easton Daily Express on September 21, 1900, the editor commented on her success in this play, noting, "She was particularly fitted for it – her beautiful face and form and the grace and ease of her carriage – captivated her audiences wherever she appeared." In 1899 Belle had engaged a playwright named Forbes Hermans to write for her a play with a western theme. This play, "Jess of the Bar Z," opened in Syracuse, New York in September, 1900 to rave reviews. It seemed as if Belle Archer was at the beginning of yet another season of theatrical success and stardom. But yet, it was not to be.
On Sunday, September 16, 1900, while waiting to change trains at the station in Jamestown, New York, Belle Archer fell due to a broken board on the platform. She apparently careened head first onto the railroad tracks, causing a serious head injury. She was eventually able to board a train, and by Monday morning she seemed to be recovering. However, later that day she took a turn for the worse. By very early Tuesday morning she had become completely paralyzed on her right side, and by 5:30am she lost consciousness. She was taken to an emergency hospital in the tiny town of Warren, Pa., where she died on the evening of Wednesday, September 19, 1900. After her untimely death, Miss Archer was first brought to New York City. She was then transported back to Easton by the Lehigh Valley Railroad on the 3:34pm train. Her coffin was personally met by Easton Mayor B. Rush Field, who had been a friend of the family, along with countless other local admirers and mourners. Mayor Field also made all the funeral arrangements.
Her funeral was held in the tiny chapel at the Easton Cemetery, where the Easton Daily Express noted that she was given "a simple but impressive Episcopal burial service." The Rev. B.J. Davis, of the Trinity Episcopal Church of Easton, assisted by the Rev. Dr. Otis A. Glazebrook of St. John's Episcopal Church at Elizabeth, NJ, conducted the service. The funeral ended by Easton citizen Albert Rute singing the solo, "Angels Ever Bright and Fair."
Miss Archer was buried in the family plot in the north eastern section of Easton Cemetery. Fittingly, her grave is surrounded by some of Easton's most notable people, including Andrew Reeder, who was the governor of Kansas during the turbulent 1850's; Herman Simon, whose 13th Street silk mill was at one time the largest in the world; and Henry C. Tilton, a Civil War hero who fought in 1864 with David Farragut at the Battle of Mobile Bay, and was later Easton's first police chief in the 1880's. not far away is the grave of Solomon Bush, co-owner of Bush & Bull's, once Easton's largest dry goods store. Her tombstone is an impressive sight, a six foot tall stone. On its northern side is a bronze plaque with a copy of her favorite portrait. Her epitaph, though somewhat oddly worded, is a fitting and moving tribute to one of the stage's brightest stars, and one of Easton's finest citizens, cut down prematurely in the prime of life.
Born
September, 05, 1858
USA
Pennsylvania
Died
September, 19, 1900
USA
Pennsylvania
Cemetery
Easton Cemetery
Pennsylvania
USA
16972 profile views