Bea Arthur
(Bernice Frankel)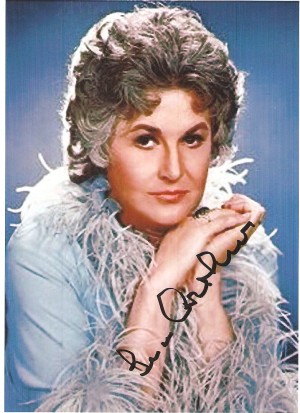 Bea Arthur
Actress. A versatile performer, she earned both Tony and Emmy Awards in a stage and television career that spanned 60 years. Born Bernice Frankel, she was raised in New York City, moved with her family to Maryland at 11, and received a degree in medical technology from now-defunct Blackstone College in Virginia. During World War II she served in the US Marine Corps as a clerk typist at Headquarters Marine Corps and elsewhere, reaching the rank of Staff Sergeant, though in later years she was, for reasons unknown, reluctant to discuss her military career. Returning to New York, she took her stage name from a brief marriage, enrolled in a drama course at the New School, and began her show business career at the Cherry Lane Theatre, off-Broadway. Miss Arthur broke into television with the "Kraft Television Theatre", which ran from 1951 to 1958, and the early "Studio One" (1951 to 1953) and had numerous appearances on the small screen during the 1950s. In 1954 she took part in an English version of Kurt Weill's "Three Penny Opera"; appearing on Broadway in a number of productions, she was Yente the Matchmaker in the original cast of the 1964 "Fiddler on the Roof" and won a 1966 Tony Award for her portrayal of Vera Charles, Angela Lansbury's friend in "Mame". (She was to reprise the role for the silver screen with Lucille Ball in 1974). After appearing in a few episodes of "All in the Family" as Edith Bunker's liberal cousin "Maude", she was to star in her own spin-off series of that name from 1972 until 1978, winning an Emmy in 1977. A second Emmy was to follow in 1988 for her role of Dorothy Zbornak in "Golden Girls", which ran from 1985 through 1992. Besides "Mame", her movie credits include Mel Brooks' 1981 "History of the World: Part I". Miss Arthur made her Metropolitan Opera debut on February 14, 1994 in the speaking role of the Duchess of Krakenthorp from Donizetti's "The Daughter of the Regiment", returned to the Great White Way in 2002 for a one-woman show entitled "Bea Arthur on Broadway: Just Between Friends", was inducted into the Academy of Television Arts and Sciences Hall of Fame in 2008, and died of cancer.
Born
May, 13, 1922
New York City, New York
Died
April, 25, 2009
Los Angeles, California
Cause of Death
Cemetery
Other
Cremated, Ashes given to family or friend.
16832 profile views