Barry Morse
(Herbert Morse)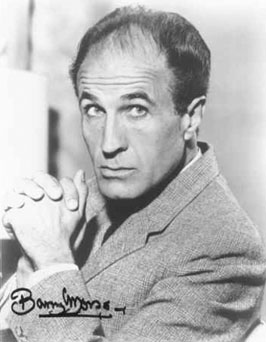 Born to a Cockney family, Morse was a 15-year-old school dropout and errand boy when he won a scholarship to the Royal Academy of Dramatic Art. He performed the role of the Lion in Androcles and the Lion and as a result came to know George Bernard Shaw, a patron of the academy. His first paid job as an actor while still a student was in If I Were King. At graduation he starred in the title role of Shakespeare's Henry V, presented as a Royal Command Performance for King George VI and Queen Elizabeth. Upon graduation, Morse won the BBC's Radio Prize which led to several parts and a leading role in The Fall of the City. Later, among dozens of other roles, he played the lead in William Shakespeare's Hamlet and starred as Paul Temple in the radio series Send for Paul Temple Again. He later performed on CBC radio beginning in 1951 and continuing to the 1980s, including the long-running series A Touch of Greasepaint, the Joe McCarthy-inspired The Investigator, and 1984. He also starred in a number of U.S. productions in the 1970s and 1980s for producer Yuri Rasovsky, including The Odyssey of Homer, which won a Peabody Award. Morse's final radio performance, Rogues and Vagabonds – A Theatrical Scrapbook, aired on internet radio KSAV 7 August and 9 August 2007, prior to being released on compact disc. The hour-long special audio drama was composed of a half-dozen vignettes and performances culled from theatrical history, including William Shakespeare and George Bernard Shaw. Morse was a member of repertory theatre companies in Peterborough, Nottingham and other cities where he gained experience as an actor while playing more than 200 roles. In 1941 he joined the national tour of The First Mrs. Fraser starring Dame Marie Tempest and A.E. Matthews. He debuted on the London West End stage in The School for Slavery. Other West End productions included Escort, The Assassin, and A Bullet in the Ballet. He was directed by John Gielgud in Crisis in Heaven. Morse developed a theatrical partnership with actress Nova Pilbeam, and they worked together both in film and on stage, most notably in the hit stage productions of The Voice of the Turtle and Flowers for the Living.
Morse made his film debut in the 1942 comedy The Goose Steps Out with Will Hay and continued with roles in Thunder Rock, When We Are Married, and This Man is Mine (released as A Soldier for Christmas in North America) with Glynis Johns and Nova Pilbeam. Other notable films include Kings of the Sun with Yul Brynner, Justine, and Puzzle of a Downfall Child with Faye Dunaway. He also appeared in the thrillers Asylum (1972) with Peter Cushing, Funeral Home with Kay Hawtrey and Lesleh Donaldson, (1980), and The Changeling with George C. Scott (1980). He worked on several Lacewood animated productions, notably as the voice of Dragon in The Railway Dragon, alongside Tracey Moore who played Emily. In 1993, he made a brief uncredited cameo in The Fugitive as a hospital doctor. In 1999 he filmed the dramatic comedy Taxman with Billy Zane, released as Promise Her Anything and on DVD as Nothing to Declare. His final film appearance was in I Really Hate My Job, released in 2007. Morse performed on Broadway in Hide and Seek, Salad Days, and the lead of Frederick Rolfe in Hadrian the Seventh, which he also played in Australia, co-starring with Frank Thring. He directed the historic Broadway debut[why?] of Staircase starring Eli Wallach and Milo O'Shea, seen at the time as a groundbreaking depiction of homosexual life. He also starred in the U.S. national tour of Harold Pinter's The Caretaker as Davies.
He first presented a version of his one-man show Merely Players in 1959, which explored the experiences of actors through history, with the definitive version of the show debuting in 1984 for a Canadian national tour. Morse was perhaps the only actor to have performed in every play of William Shakespeare and George Bernard Shaw. Morse served as Artistic Director of the Shaw Festival of Canada for the 1966 season and as an Adjunct Professor at Yale Drama School in 1968. In 1995, he premiered the Elizabeth Sharland play The Private Life of George Bernard Shaw in Toronto, also starring Shirley Knight. The play featured Morse in the role of George Bernard Shaw with ten actresses portraying the various women in Shaw's life. Morse later performed the play in 1997 at the British Theatre Museum in London. With his son Hayward Morse, he starred in the 2004 North American debut of Bernard and Bosie: A Most Unlikely Friendship by Anthony Wynn, performed at the University of Florida, Sarasota. This two-act stage drama is based on the correspondence between playwright George Bernard Shaw, played by Morse, and Lord Alfred 'Bosie' Douglas (the intimate friend of Oscar Wilde), played by Hayward. The following year, Morse appeared in the world premiere performance of the science fiction play Contact by Doug Grissom, co-starring Ryan Case and presented in Tampa, Florida. Barry Morse died 2 February 2008 at University College London Hospital, aged 89, from undisclosed causes. His body was donated to medical science.
Born
June, 10, 1918
United Kingdom
Shoreditch, London, England
Died
February, 02, 2008
United Kingdom
2 February 2008
Other
Body donated to medical science
7801 profile views