Barbara Loden
(Barbara Loden)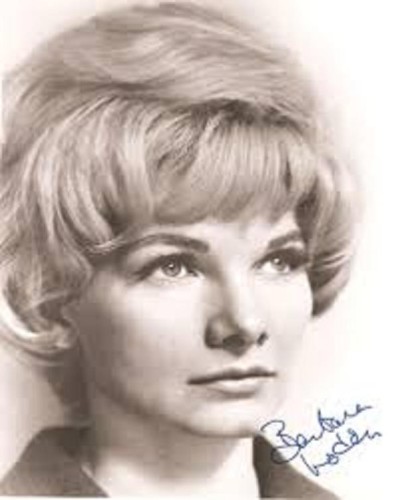 Barbara Loden made her New York theater debut in 1947 in Compulsion and also appeared on stage in The Highest Tree with Robert Redford as well as Night Circus with Ben Gazzara and in the stage version of Come Back to the Five and Dime, Jimmy Dean, Jimmy Dean.  She made her television debut on The Ernie Kovacs Show as a "scantily clad" sidekick to Kovacs, a job that her first husband television producer and film distributor, Larry Joachim helped her to attain. According to Loden, she owed a lot to Ernie Kovacs, as another producer on the show had initially vetoed Kovacs' decision to hire her. In interviews, Loden said he had "felt sorry" for her and said, "You can be on the show anyway." He gave her the job of stunt sidekick, rolling around in a rug or getting hit in the face with a pie.  In 1960, Loden appeared in Elia Kazan's film Wild River as Montgomery Clift's secretary. Loden was perhaps better known for her role in Splendor in the Grass (1961), in which she played Warren Beatty's sister. Loden famously portrayed "Maggie", a fictionalized version of Marilyn Monroe in Kazan's Lincoln Center Repertory Company stage production of After the Fall (1964), which was written by Monroe's former husband, playwright Arthur Miller. Loden received a Tony award for best actress for her performance in After the Fall, as well as an annual award of the Outer Circle, an organization of writers who covered Broadway for national magazines. After the Fall reviews touted that Loden was the "new Jean Harlow" a "blonde bombshell". Loden would marry director Kazan, her second husband.[citation needed]
Loden was originally cast in the Frank Perry-directed film The Swimmer, starring Burt Lancaster. It was to be Loden's first major screen role, following smaller parts in other films such as Splendor in the Grass and Wild River. However, during post-production there was a dispute about the scene between producer Sam Spiegel and the film's writer/director team, the Perrys. According to notes by screenwriter Eleanor Perry, Spiegel began showing the troubled rough cut of the film around Hollywood, polling several of his famous film director friends about what he should do with it. Kazan was still a major film director who still had great influence. Kazan had also secretly been shown a private screening of the film by his friend and producer Spiegel (producer of Kazan's On the Waterfront), and had reportedly interfered with the final cut. Perry was ultimately fired from the film. Several of the film's scenes were re-cast and re-shot by Sidney Pollack who was hired to replace Perry and with Lancaster reportedly paying for some of the reshoots himself. Among the scenes that were entirely re-cast and re-shot was the notorious Loden scene, with Broadway stage actress Janice Rule replacing Loden. Neither Loden nor Sidney Pollack were credited on the film. All that remains of the lost scene are still photos taken on the set, which appear in the 2014 documentary, The Story of The Swimmer, by Chris Innis.  In Kazan's autobiography, Elia Kazan: A Life, he revealed his desire and lack of ability to control Loden. As the New York Times reported, Kazan wrote about Loden, "with a mix of affection and patronization, emphasizing her sexuality and her backcountry feistiness." In a "condescending" way, Kazan bemoaned that Loden had depended on her "sexual appeal" to get ahead, and that he was afraid of "losing her". Kazan was, in his words, "protective" of Loden.
In spite of this, in 1970 Loden wrote, produced, directed, and starred in her own independent film, Wanda, made with the collaboration of cinematographer and editor Nicholas T. Proferes, on a meager budget of $115,000. Wanda is an semi-autobiographical portrait of a "passive, disconnected coal miner's wife who attaches herself to a petty crook." Innovative in its cinéma vérité style, it was one of the few American films directed by a woman to be theatrically released at that time. Film critic David Thomson wrote, "Wanda is full of unexpected moments and raw atmosphere, never settling for cliché in situation or character." The film was the only American film accepted to, and which won, the International Critics' Prize at the Venice Film Festival in 1970, and was presented at the 1971 Cannes Film Festival. In 2010, with support from Gucci, the film was restored by the UCLA Film & Television Archive and screened at the Museum of Modern Art in Manhattan.  Loden had received a lot of interest at the Cannes Festival for this first directing venture. Although proud of her accomplishments,"I realized I was losing her", Kazan wrote about the attention she was receiving. Kazan went so far as to state that she had then irritated him by dressing in a more masculine fashion in boots and trousers, as her new role of film director might have required. Although the two remained married, Kazan and Loden reportedly grew apart emotionally, even through Loden's later breast cancer crisis. According to Kazan, Loden blamed him for the "negativity" that she thought had caused her stress, and thus her cancer. Despite her work in several monumental films and stage plays and her relationship with Kazan (or perhaps because of it), Loden "found most doors closed to her" in the film business and like her character in Wanda, was not embraced by society.
Loden was described as shy, humble, statuesque and soft-spoken loner who was born in a small town in North Carolina. She was raised by her religious maternal grandparents, after her own parents had divorced and her mother went to another town to find work. Loden moved to New York at the age of 16 and worked her way up as a pin-up girl, model, and dancer at the famed Copacabana nightclub, before studying at the famed Actor's Studio and becoming an actor.  Loden was married to film director Elia Kazan, her second husband, who was twenty-three years her senior. Though the couple had become estranged and had previously considered divorce, they were still married at the time of her death from breast cancer at the age of 48. She had one child, Leo, with Kazan. Loden had another child, Marco, by her first husband, film and television producer and film distributor, Larry Joachim, whom she had married in the 1950s. She died at Mt. Sinai Hospital in New York from breast cancer after a two-year battle.
Born
July, 08, 1932
USA
Marion, North Carolina
Died
September, 05, 1980
USA
New York, New York
Cause of Death
9021 profile views