Barbara Bush
(Barbara Pierce)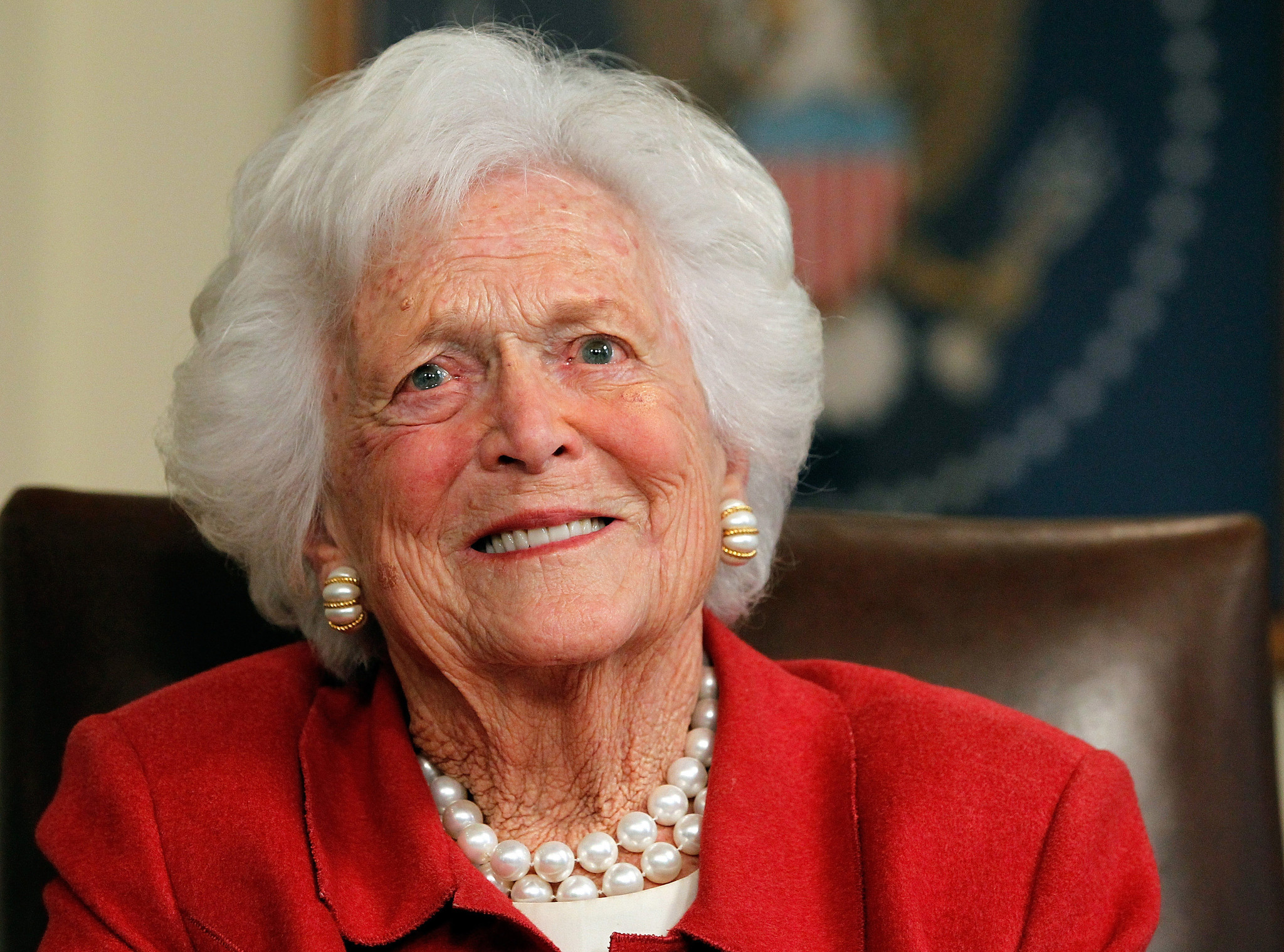 Barbara Bush
In the days leading up to First Lady Barbara Bush's death, at the age of 92, news reports about her condition often mentioned that she had Graves' disease.1-3 Those unfamiliar with this thyroid disorder could have been left with the impression that the disorder might have contributed to her death. That is simply not the case. When diagnosed and treated properly, Graves' disease is not a fatal condition.
"Barbara Bush died with her Graves' disease, not because of it," Robert Courgi, MD, an endocrinologist at Northwell Health's Southside Hospital in Bay Shore, NY, who has not treated Mrs. Bush tells EndocrineWeb, "If you recognize and treat Graves' disease, patients should do very well."
The former first lady died from complications of chronic obstructive pulmonary disease (COPD) and congestive heart failure, according to a statement issued by a spokesperson for George HW Bush.
In Graves' disease, an autoimmune disorder that causes hyperthyroidism, the thyroid gland becomes overactive, causing symptoms like trembling hands, feelings of anxiety, palpitations, undesirable weight loss, and heat intolerance, explains Elizabeth N. Pearce, MD, MSc, an associate professor of medicine in the section of endocrinology, diabetes, and nutrition at Boston University School of Medicine in Massachusetts, and president-elect of the American Thyroid Association.
"Graves' disease is eminently treatable," she tells EndocrineWeb, "There are actually three different ways to treat it: with medication that decreases the amount of thyroid hormone in the system, surgery to remove the thyroid gland itself, or a one-time treatment with radioactive iodine that gets rid of the thyroid gland."
Generally, antithyroid medications are offered to patients who have a high likelihood of remission (usually most women, or patients with mild disease). When these medicines are taken in the correct doses, they are effective at controlling the symptoms of Graves' disease, although they don't cure it,4 according to the American Thyroid Association.
An individual with Graves' disease who has had the thyroid surgically removed or destroyed by the radioactive iodine must then take a medication to replace the thyroid hormone that her body no longer produces since the thyroid is gone, Dr. Pearce explains.
Mrs. Bush, after being very open with the public about her initial Graves' diagnosis in 1989, managed her disease for many years. Initially, she was treated with medication. In 2010, she was hospitalized and put through a battery of tests, after which the doctors diagnosed a recurrence of the thyroid condition and adjusted her medications.
Who is At Risk for Graves' Disease?
Grave's disease most commonly develops in women as well as people with a family history of thyroid disorders, people with other autoimmune conditions, and women during pregnancy or who recently went through childbirth, Barrie Weinstein, MD, assistant professor of endocrinology, diabetes and bone disease at the Icahn School of Medicine at Mount Sinai Medical Center in New York City tell EndocrineWeb.
"It is very unusual for both a husband and wife to be diagnosed with Graves' disease," says Dr. Weinstein, who did not treat the Bushes. Yet in 1991, Mrs. Bush's husband, George H. W. Bush, who was our 41st President at that time, was himself diagnosed with Graves' disease.5 He was given radioactive iodine, according to news reports, and after which he received the standard treatment of a daily dose of thyroid hormone.
Regular Treatment and Follow-Up Care is Essential
While very manageable, Graves' disease, if not diagnosed and treated, can lead to serious consequences, Dr. Courgi says.  "Untreated Graves' disease leads to an irregular heartbeat and atrial fibrillation, which can have dire consequences," he explains, "and it can cause osteoporosis."
Thyroid storm is a rare but life-threatening complication of Graves' disease, Dr. Weinstein says. "It results from a sudden and severe increase in thyroid hormone production," she explains. This leads to a very irregular and fast heartbeat, high fever, severe weakness, profuse sweating, confusion, diarrhea, vomiting and low blood pressure, he adds. "This condition usually occurs when the disorder is either not treated or treated inadequately, he tells EndocrineWeb.
Barbara Bush presents to us an example of how well people with Graves' disease can do when they receive proper treatment, says Dr. Courgi. "In the case of Mrs. Bush's Grave's disease, they found it and they treated it, and she had the disease for decades. A lot of thyroid disease goes undiagnosed so we need to continue to educate the public that Graves' disease does exist and that it needs to be diagnosed and treated properly," he explains.
Born
June, 08, 1925
Flushing, New York
Died
April, 17, 2018
Houston, Texas
Cause of Death
Cemetery
George H.W. Bush Presidential Library and Museum
College Station, Texas
1217 profile views