Augusta Dabney
(Augusta Dabney)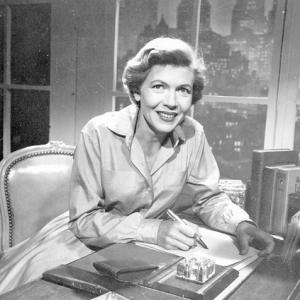 Augusta Keith Dabney (October 23, 1918 – February 4, 2008) was an American actress known for her roles on many soap operas, most notably as the wealthy but kindly matriarch Isabelle Alden on the daytime series Loving. She played the role from 1983 to 1987, from 1988 to 1991, and again from 1994 to 1995, returning to the part after Celeste Holm and Patricia Barry had played the role.
In the early days of live television, she appeared in numerous episodes of such anthology drama series as Studio One, Kraft Television Theatre, and Robert Montgomery Presents. In addition to her role on Loving, she had roles on numerous other daytime soaps, including Young Dr. Malone as leading character Tracey Malone, Another World, As the World Turns in two different roles, Love is a Many-Splendored Thing, Guiding Light as the original Barbara Norris (1970), A World Apart as leading character Betty Kahlman Barry (1970-1971), General Hospital as Lee Baldwin's second wife, Caroline Chandler (1975-1976), One Life to Live as Pat Kendall's mother, Helena Ashley (1979) and The Doctors as Theodora Van Allen (1980-1981).
Dabney was married twice. Her first husband was actor Kevin McCarthy, with whom she had three children. They were married in 1941 and divorced in 1961. She was therefore sister-in-law to writer Mary McCarthy during this marriage. Her second husband was actor William Prince. They were married from 1964 until his death in 1996. Dabney and Prince appeared together on at least four soaps: Young Dr. Malone (before their marriage), Another World, As the World Turns, and A World Apart. They also appeared together in one film, The Paper (1994), where they portrayed a married couple (the parents of the lead character, Henry Hackett, played by Michael Keaton).  Dabney's last performance was on an episode of 100 Centre Street (2001).
Born
October, 23, 1918
USA
Berkeley, California
Died
February, 04, 2008
USA
Dobbs Ferry, New York
16195 profile views