August Schellenberg
(August Schellenberg)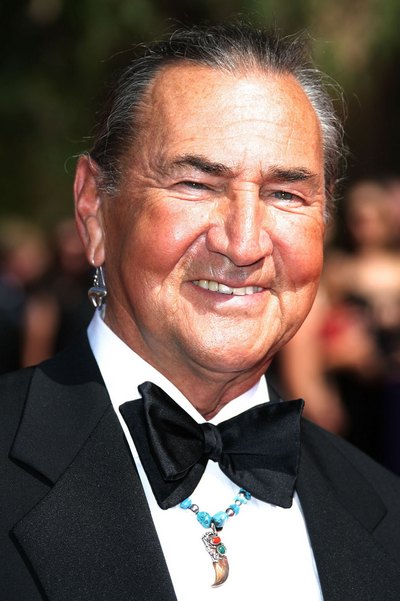 According to his official website, Schellenberg was born and lived in Montreal, Quebec until moving to Toronto, Ontario in 1967. He was of Mohawk and Swiss-German descent. He established himself in Toronto until 1995. He lived in Dallas, Texas with his wife, actress Joan Karasevich. He was the father of three daughters, two with Karasevich. He was trained at the National Theatre School of Canada.
His first film was Rip-Off in 1971. In 1981, he did voices for the animated film Heavy Metal. During the late 1990s he had major roles in Black Robe (as Chomina), Free Willy and its sequels (as Randolph Johnson), Iron Will (Ned Dodd), True Heart (Khonanesta), and TV film Crazy Horse (Sitting Bull). He went on to star as Chief Powhatan in Terrence Malick's 2005 film The New World. He also had roles in Disney's Eight Below and the doco within a film The Green Chain (2007). In 2011, he appeared in two episodes of the television series Stargate Universe as Yaozu. His favorite role was that of Sitting Bull in the film Crazy Horse, a character he reprised in the film version of the Dee Brown bestseller Bury My Heart at Wounded Knee, for which he received an Emmy nomination. Also starred in Dreamkeeper (2003) as Pete Chasing Horse.
Schellenberg was nominated for three Genie Awards and has won one (for Black Robe). He was also nominated for two Gemini Awards, Schellenberg won one (for the television movie The Prodigal).  In 2012, he performed the title role in an all-aboriginal production of William Shakespeare's King Lear at the National Arts Centre in Ottawa, alongside a cast that also included Billy Merasty as Gloucester, Tantoo Cardinal as Regan, Jani Lauzon in a dual role as Cordelia and the Fool, and Craig Lauzon as Kent and Lorne Cardinal as Duke of Albany as well as Assistant Director.  In the past, Schellenberg taught acting seminars at Toronto's Centre for Indigenous Theatre and York University. He conducted motivational workshops in schools and for cultural and community organizations across North America.  Schellenberg died on August 15, 2013 in Dallas, Texas after a long battle with lung cancer. His interment was at Sparkman-Hillcrest Memorial Park Cemetery.
Born
July, 25, 1936
Canada
Montreal, Quebec
Died
August, 15, 2013
USA
Dallas, Texas
Cemetery
Sparkman Hillcrest Memorial Park
Dallas, Texas
USA
15937 profile views