Audie Murphy A u d i e M u r p h y
(Audie Murphy)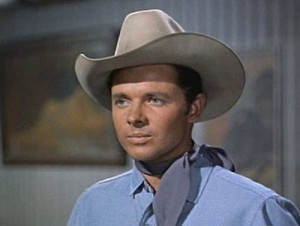 Audie Murphy
On 28 May 1971, Murphy was killed when the private plane in which he was a passenger crashed into Brush Mountain, near Catawba, Virginia, 20 miles (32 km) west of Roanoke in conditions of rain, clouds, fog and zero visibility. The pilot and four other passengers were also killed.[180] The aircraft was a twin-engine Aero Commander 680 flown by a pilot who had a private-pilot license and a reported 8,000 hours of flying time, but who held no instrument rating. The aircraft was recovered on 31 May. After her husband died, Pamela Murphy moved into a small apartment and got a clerk position at the Veterans Administration Hospital in Los Angeles, where she remained employed for 35 years. In 1975, a court awarded Murphy's widow and two children $2.5 million in damages due to the accident.
On 7 June 1971, Murphy was buried with full military honors at Arlington National Cemetery. In attendance were George H.W. Bush, William Westmoreland and many of the 3rd Infantry Division. Murphy's grave site is in Section 46, headstone number 46-366-11, located across Memorial Drive from the Amphitheater. A special flagstone walkway was later constructed to accommodate the large number of people who visit to pay their respects. It is the cemetery's second most-visited grave site, after that of President John F. Kennedy.
The headstones of Medal of Honor recipients buried at Arlington National Cemetery are normally decorated in gold leaf. Murphy previously requested that his stone remain plain and inconspicuous, like that of an ordinary soldier. In 1974, a large granite marker was erected just off the Appalachian Trail at 37.364554°N 80.225748°W at 3,100′ elevation, near the crash site.
Civilian honors were bestowed on Murphy during his lifetime and posthumously, including a star on the Hollywood Walk of Fame. In 2013, Murphy was honored by his home state with the Texas Legislative Medal of Honor.
Born
June, 20, 1924
Kingston, Texas
Died
May, 28, 1971
Roanoke, Virginia
Cause of Death
Cemetery
Arlington National Cemetery
Arlington, Virginia
18319 profile views