Art Donovan
(Art Donovan)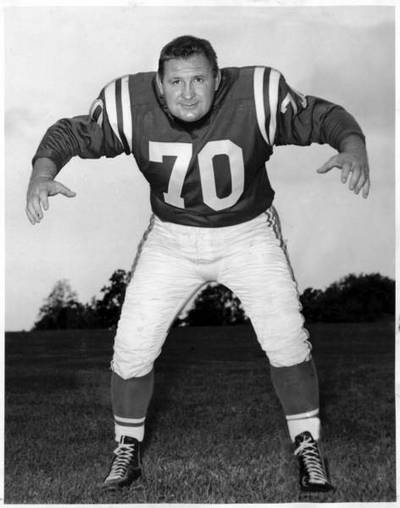 Art Donovan, born June 5, 1924, was the son of Arthur Donovan, Sr., a famed boxing referee, and the grandson of Professor Mike Donovan, the world middleweight boxing champion in the 1870s.  Art attended Mount Saint Michael Academy in the Bronx. He received a scholarship to the University of Notre Dame in 1942 but left after one semester to join the United States Marine Corps, where he spent four years during World War II. He was stationed in the Pacific Theatre and took part in some of the conflict's fiercest engagements, such as the Battle of Luzon and the Battle of Iwo Jima. His earned citations, which included the Asiatic-Pacific Campaign Medal and the Philippine Liberation Medal, and would later earn him a place in the U.S. Marine Corps Sports Hall of Fame, the first pro football player so honored. After the war, he completed his college career at Boston College.
In each of his first three seasons, Donovan played for a team which went out of business. He started out with the first Baltimore Colts, who folded after his rookie season in 1950, followed by the New York Yanks in 1951, and their successor, the Dallas Texans, in 1952. After the Texans franchise was moved to Baltimore in 1953 and became the second Baltimore Colts, Donovan played with that team. He became one of the stars in an outstanding defense and was selected to five straight Pro Bowls, from 1953 through 1957. The Colts won back-to-back championships in 1958 and 1959. He was selected to the Pro Football Hall of Fame in 1968.
During his career, Donovan played in what many believe was one of the most important games in NFL history, the 1958 title game between the Colts and the New York Giants. The contest between the two teams took place on December 28, 1958 and ended in a 17-17 tie. Because it was the championship game, it went into overtime, the first NFL game to do so. Donovan made an important tackle during the overtime, stopping the Giants and allowing Johnny Unitas to lead the Colts on an 80 yard scoring drive to win the game.
He published an autobiography, Fatso, in 1987. He was noted as a jovial and humorous person during his playing career and capitalized on that with television and speaking appearances after retiring as a player. He owned and managed a country club near Baltimore. Donovan also appeared ten times on the Late Show with David Letterman, telling humorous stories about his old playing days and about other "old school" footballers he played with and against. He relayed a story that he played without a helmet and in fact is shown on football cards without a helmet. Letterman wore Donovan's No. 70 Colts jersey in the famous Super Bowl XLI commercial with Oprah Winfrey and Jay Leno.
Donovan also made a guest appearance in the Nickelodeon show The Adventures of Pete & Pete in the episode, "Space, Geeks, and Johnny Unitas." Art also appeared as a guest commentator at the WWF 1994 King of the Ring.  He was co-host of the popular 1990s program Braase, Donovan, Davis and Fans on WJZ-TV in Baltimore with Colt teammate Ordell Braase. The trio talked more about Art Donovan's fabled stories than contemporary NFL football, but the show held high ratings in its time period. He was also a pitchman for the Maryland State Lottery and ESPN.
Donovan died August 4, 2013 at Stella Maris Hospice in Baltimore from a respiratory disease at age 89. He was surrounded by 15 to 20 family members. At the time of his death, he was survived by his wife; a sister; a son, Arthur J. Donovan III of New York City; daughters Debbie Donovan Smith of Towson, Maryland; Christine Donovan of McLean, Virginia; Mary Donovan O'Hern and Kelly Donovan-Mazzulli, both of Lutherville; and seven grandchildren.
Born
June, 05, 1924
USA
Bronx, New York
Died
August, 04, 2013
USA
Baltimore, Maryland
Cemetery
Dulaney Valley Memorial Gardens
Timonium, Maryland
USA
16160 profile views