Arnold Rothstein
(Arnold Rothstein)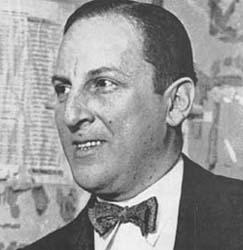 Arnold Rothstein
Nothing gave a stronger boost to organized crime in America than Prohibition, which took effect on January 16, 1920. The ban on the manufacture and sale of drinking alcohol did nothing to dry up the demand for whiskey and wine. Some observers speculated, in fact, that banning alcoholic beverages made them more appealing to those who might otherwise not have indulged. In 1989, retired Detroit gangster Hershel Kessler told historian Robert Rockaway that, during Prohibition, "People wanted booze, they wanted dope, they wanted to gamble and they wanted broads. For a price, we provided them with these amusements. We only gave them what they wanted."
Historians speculate that Jews comprised half of the nation's leading bootleggers and that Jewish gangsters like Meyer Lansky and Bugsy Siegel dominated organized crime certain cities. Of course, with the largest Jewish population, New York produced the largest number of Jewish gangsters. The kingpin of the New York Jewish underworld was not a street tough gangster, but a refined gambler: Arnold Rothstein. According to Rockaway, "Rothstein is recognized as the pioneer big businessman of organized crime in the United States."
Historian Leo Katcher described Rothstein as "the J. P. Morgan of the underworld; its banker and master of strategy." Meyer Lansky, a man of some intelligence himself, observed, "Rothstein had the most remarkable brain. He understood business instinctively and I'm sure that if he had been a legitimate financier he would have been just as rich as he became with his gambling and the other rackets he ran."
Rothstein was born with a business pedigree. His father, wealthy businessman Abraham Rothstein, was dubbed by New York governor Al Smith "Abe the Just." A pious man with a reputation for philanthropy and honesty, Abraham Rothstein served as chairman of the board of New York's Beth Israel Hospital. His older son became a rabbi. Younger son Arnold was interested in business, but not his father's type. After flunking out of school because he spent his time and money gambling, Arnold Rothstein figured out that "if anyone was going to make money out of gambling he had better be on the right side of the fence. I was on the wrong end of the game." In his late 20's, Rothstein opened a gambling parlor. By 1912, when he was thirty, Rothstein was a millionaire from the profits of his gambling parlors and the racetracks he owned.
As Rockaway observes, "With gambling as his base, Rothstein had access to the cash and political protection needed to make big deals in many other spheres," notably bootlegging. He was among the first to purchase fine liquor in England, smuggle it to America by the boatload and distribute it to the "speakeasies" and "blind pigs" that replaced legal taverns during Prohibition.
Rothstein did not stay in liquor smuggling for long. The business was too decentralized for him to control and the profit margins were small. Rothstein turned his experience as an "importer" to narcotics smuggling, a far more lucrative and less competitive business. By 1926, Rothstein was the "financial overlord" of the American narcotics trade.
Rothstein had an eye for talent. His henchmen during the 1920s included celebrity thugs such as "Legs" Diamond, "Lucky" Luciano, Dutch Schultz and Frank Costello. Luciano worshipped Rothstein. "He taught me how to dress … how to use knives and forks and things like that at the dinner table, about holdin' a door open for a girl," Luciano reminisced. "If Arnold had lived a little longer, he could've made me pretty elegant.
Rothstein captured the public imagination. Damon Runyan modeled the character Nathan Detroit in Guys and Dolls after Rothstein. In The Great Gatsby, F. Scott Fitzgerald called his Rothstein-based character Meyer Wolfsheim. Nothing Rothstein accomplished in his life of gambling, bootlegging and dealing drugs compares, however, with his fixing the World Series – the Black Sox Scandal of 1919.
In 1919, baseball was truly "America's pastime." Because they considered themselves grossly underpaid by team owner Charles Comisky, eight members of the Chicago White Sox, led by first baseman Chick Gandil, conspired to lose the World Series to the Cincinnati team– if they could find a gambler willing to pay them to lose. Gandil approached Abe Attell, a former featherweight boxing champion who fought under the name "the little Hebrew" and who, in retirement, served as Arnold Rothstein's bodyguard. Gandil told Attell that, for $100,000, he could guarantee that his teammates would lose to Cincinnati. By most accounts, Rothstein rejected Attell's initiative, sensing that Attell wanted to build his own reputation as an important gambler. Rothstein apparently did arrange, through another intermediary, to pay the White Sox players $80,000 on the condition that they lose. They did, and Rothstein made a significant sum betting against Chicago.
In 1921, the eight players were convicted of fraud and banned from baseball. Abe Attell was convicted of trying to fix the Series. Rothstein, who never met the players and could honestly say that he never approved Attell's scheme, testified in his own behalf and was acquitted.
In 1928, a fellow gambler shot Rothstein. True to the underworld code, he died several days later without revealing his assailant's name. Historian Rockaway reports, "Out of respect for the older Rothstein, Arnold received an Orthodox Jewish funeral with the renowned Orthodox rabbi, Leo Jung, delivering the eulogy."
Born
January, 17, 1882
New York City, New York
Died
November, 06, 1928
New York City, New York
Cause of Death
Cemetery
Union Field Cemetery
Queens, New York
17660 profile views